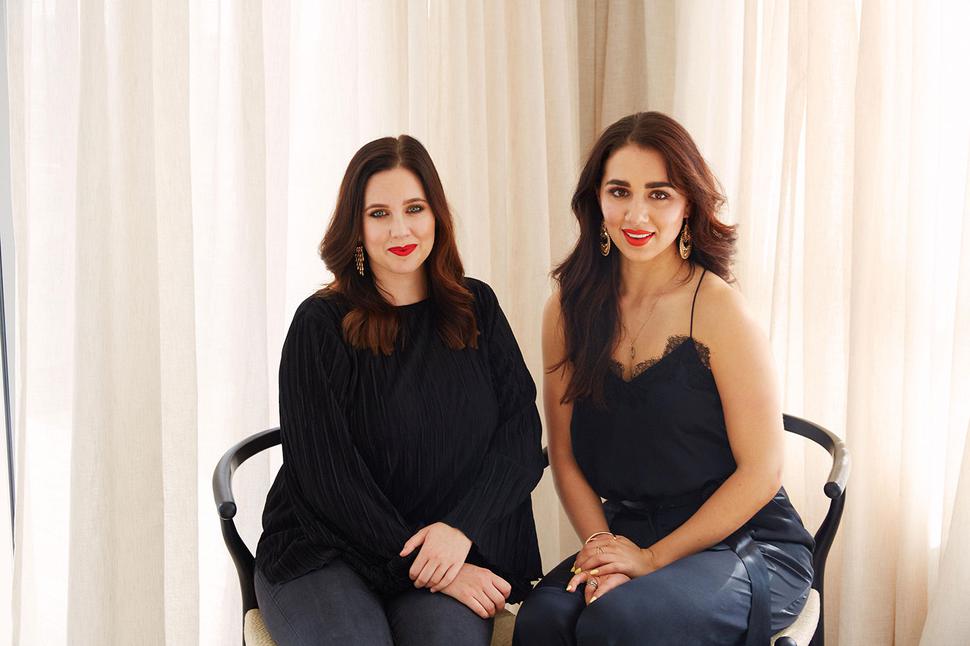 Meet The Inspiring Duo Behind Kate Solley Makeup Workshops
Kate Solley and Amanda Vela's skills ended up being the perfect match to make their beauty business dreams a reality
Friday Oct. 12, 2018
Seeking better work-life balance is a see-saw quest for many women, but friends Kate and Amanda were determined to attain equilibrium while launching their makeup workshops and, respectively, juggling impending motherhood and running a second business.
"We're living in an Instagram-centric world, where everything seems possible and attainable," says Amanda. "We thought there was no reason why we couldn't design the life that we loved too."
READ: The Expert's Guide To Finding The Perfect Foundation Match
The women met during their years working at M.A.C in Auckland, where Kate was a makeup artist and trainer. Amanda left her job as brand and events co-ordinator mid last year to set up Celebrate, a special occasion platter-and-bubbles catering service, with Kate exiting a few months later to extend her freelance work. Combining their skills, they then launched Kate Solley Workshops together, conducted by Kate and organised, styled and catered for by Amanda.
Now, nearly a year on from the launch, Kate, 29, and her husband have a 3-month-old son and Amanda, 26, continues to run Celebrate and has resumed business diploma studies. After Kate's short baby break, the makeup workshops are resuming too. As well as scheduled sessions, private group classes can be booked.
The upbeat duo love that their work outlook is positive and flexible, and involves entertaining and uplifting other women.
We saw that there was a gap in the market for makeup training that wasn't intimidating or overwhelming, that could be learnt in a short time (not a month-long course), and was in a relaxed space [a private home in Orakei] where you could just as comfortably attend on your own or with your girlfriends/mum.
Our target consumer wants to learn how to create a beautiful makeup on themselves in a simple yet effective way. We understand that women don't have hours to get ready every morning, so we teach all our best tips and tricks. We have mums, corporates, groups of girlfriends, hen's parties and even teenage girls who are just being introduced to makeup and don't want to solely learn from YouTube tutorials.
Our strengths and weaknesses complement each other's perfectly, which has led us to this dream-team working situation. Our friendship has been only strengthened through our shared vision. Coming from M.A.C head office means we have always been surrounded by strong and inspiring businesswomen, who knew their strengths and owned them. We both feel grateful to have worked in a female-run corporate environment.
We want to remain a trustworthy source in a noisy market that is constantly telling consumers what the "latest and greatest" products are. We only ever discuss and recommend beauty products that we use and love. We don't sell products so you never have the pressure of feeling like you need to buy everything at the end.
A key point of difference is Kate demonstrates several makeup steps before stopping for attendees to do the same on themselves. We personalise products used and techniques to suit each person, depending on their skin concerns and desired look. While we have all the makeup and brushes that you need, we encourage attendees to bring their own makeup bag if they want, so they know how to use the products they already own.
Our highlight was actually our initial launch post on Instagram. We released our first set of five dates and we sold out of every class in the first 24 hours. It was such pinch-me moment after months of hard work planning.
Find out about upcoming dates and themes @KateSolleyWorkshops. Workshops are $100 per person for a two-hour hands-on experience.
Share this:
More Beauty & Wellbeing / Features & Profiles