Meet Amandla Stenberg, the Star of Stella McCartney's New Fragrance
Stella McCartney was so impressed with Amandla Stenberg that she chose the talented young actress and activist to star in the campaign for her new fragrance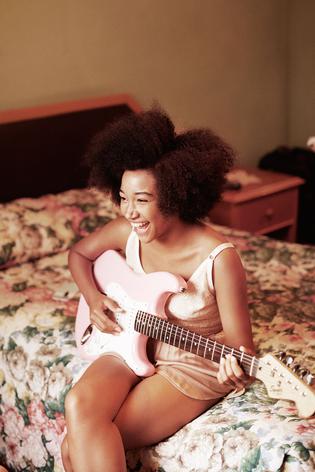 Actress, artist and activist Amandla Stenberg is having quite a year, appearing in Beyonce's visual album, Lemonade, and being described by Gloria Steinem as "miraculous".
READ: Life Lessons with Gloria Steinem
The 17-year-old has become one of the figureheads of the Black Girl Magic movement, originally started as a hashtag to celebrate black women and girls.
You may know Amandla from her role as Rue in the first Hunger Games film, or perhaps you've watched her YouTube clip, "Don't Cash Crop On My Cornrows", a "crash course on black culture" that cleverly explained the cultural appropriation of the traditionally black hairstyle.
Having just graduated high school, Amandla's latest role is starring in the campaign for Stella McCartney's new fragrance, Pop, alongside musician Grimes, Madonna's daughter, Lourdes Leon, and model Kenya Kinski-Jones.
The fragrance, Stella's first in four years, combines tuberose and sandalwood and, the designer explains, is "a celebration of the moment a young girl becomes a woman, and everything that symbolises".
She chose Amandla because of her talent and voice. "She is a great young girl who has a lot to say and I love that about her."
For her part, Amandla agreed to appear because she loved the message of empowerment. "I think female friendship is one of the most important bonds. I'm also a huge supporter and fan of Stella. "Also when I was younger I always wanted to see girls of colour in these kinds of campaigns and now that I get to be in one is great."
What do you think about the youth of your generation?
I think we're at a crucial point right now, where we can organise and share information so quickly that we can help change things in a powerful way.
What does friendship mean to you?
Friendship means being with someone who supports you and gives you the opportunity to grow.
How has the internet changed the way you maintain friendships?
The internet has made it easier to connect with people one-on-one. It's also been a way for me to learn and meet different people with different perspectives.
Who are your icons?
My icons are my friends. Tavi Gevinson, who started Rookie magazine, and Willow Smith, who is a revolutionary by just being herself.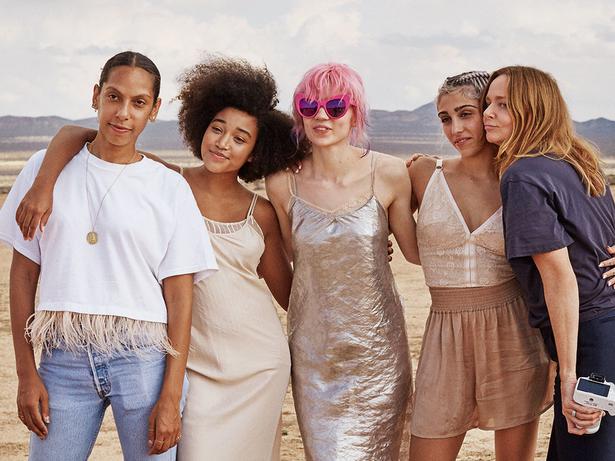 What's your favourite smell?
One of my favourite smells is the moment you open an old book; it's almost as if you can smell the sap that it has been made of. When you put your face in it, it's warm and dusty and the smell is incredible.
How did you get interested in acting?
When I was 4 years old, I told my parents I wanted to be on TV. First I did commercials, it was more of a hobby, but then it started taking over because I was so passionate about it. When I was 11, I acted in my first movie, Colombiana. My second movie was The Hunger Games. I read all the books obsessively, and went into my audition all dressed up with twigs in my hair and dirt on my face. I got the role and it was life-changing. I was part of a project I was so passionate about, and it made me realise how powerful it can be to be part of a movie.
READ: Stella McCartney's Best Quotes
In terms of messages, are there any mottos you tend to live your life by?
Something my mum has taught me is to surrender. What that means is, knowing whatever your purpose is in this universe, it will shine through if you just surrender and let it happen.
What would you like to see change in this world?
I'd like to see a lot of things change. Any type of change starts with conversation. I want to see all kinds of people have their stories told through the media because we're so influenced by what we see growing up. I want everyone to be represented in the media.
What do you love about Stella?
I love her cheeky British humour. She also has an incredible artistic vision that I respect.
What do you like about the fragrance?
The fragrance is awesome. I'm a huge fan of florals. I love how fresh it feels and also how sandalwood brings the warmth to the fragrance.
Who has been an inspiration for you?
I have so many different inspirations. Solange for her vision and aesthetic, she's my style icon. Ava DuVernay, who has become a mentor for me. Also artists such as Frida Kahlo and actresses such as Meryl Streep. Women who are creative inspire me.
What is your idea of modern day beauty?
Just being yourself, there's something that's so powerful from the light that radiates from you when you're comfortable in your own skin. It's something my mum taught me, that when you're comfortable with yourself, it becomes contagious.
What makes you stand up and pay attention?
People who really care about the world and are trying to create change really catch my attention.
Do you have any words that you live by?
Surrender, and radiating inside and out.
Can you tell us about the causes you care about and what you're doing to help change that?
I get frustrated when I see that people's voices are being silenced. Hopefully, I can change that by just creating a space for them. In a lot of ways, my job is to be a megaphone for other people. I have been given this powerful tool of having people listen to what I actually say and I want to use that to inspire change.
• Pop by Stella McCartney, $115 for 50ml, is in store now, from leading pharmacies and department stores.
Share this:
More Beauty & Wellbeing / Features & Profiles