Annabel Langbein's Beauty Routine & Favourite Products
The Free Range Cook's keep it real approach to eating is mirrored in how she presents herself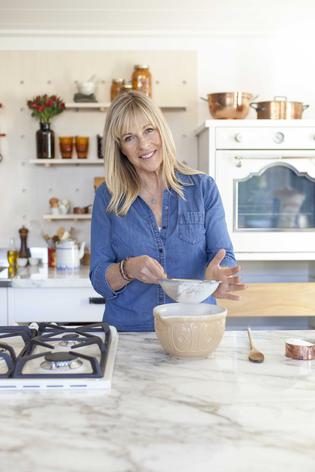 Whipping up delicious meals – and sharing her skills with enticing recipes – is Annabel Langbein's forte.
But New Zealand's leading cook book author and internationally successful television series presenter says she hasn't yet developed any beauty recipes. "I haven't had time, but I love the idea!"
With her busy schedule, she relies on a simple but effective beauty regimen and tips picked up over the years. The Free Range Cook, who contributes to the Herald's Canvas magazine, favours a relaxed everyday look, but likes to glam up for nights out – and also to make an effort for cosy dinners at home.
Pre-Christmas, Annabel represented New Zealand at a big food festival in China, followed by an adventure as a guest of Antarctica NZ's community engagement programme. A week working with Lincoln University combined with a few days in her pop-up shop in Christchurch was to follow.
Christmas Day is a gathering at the family property in Wanaka. Annabel is happily in charge of food, but everyone pitches in to make it a relaxing day.
In homes across the country, copies of her latest book Essential Annabel Langbein are certain to be under many trees. This beautifully illustrated compendium draws together her best savoury recipes and handy tips.
As to whether we are what we eat, she says: "What I eat (and drink) is incredibly important to my energy and sense of vitality. I'm a total believer that you eat your way to good health."
In Wanaka that means a fresh vegetable-focused diet. "We really don't each much that comes out of a packet – we're big on the idea of not eating barcodes. If I go out and eat a rich meal I feel like I've been hit by a truck for a couple of days – it's like a massive hangover as my body just isn't used to heavy food anymore."
But she's not anti some measured indulgence. "I love a glass of wine when I'm making dinner – it gets me into a relaxed space – and we always serve wine and water on the table. I drink a lot of water, no fruit juice or mixers."
Approach to appearance
I think it's all about feeling in the right zone for whatever you're doing. If I'm gardening then I'm in my rough old garden clothes and all I have on my face is sunscreen. If I'm testing recipes for work I'm in loose, comfortable clothes so I can cook and think (there's a fascinating essay Umberto Eco wrote many years ago about how tight clothes and high heels restrict your thinking).
I don't feel like I have to put on makeup and get glammed up if I'm going into Wanaka to shop or pick something up. Sometimes people say, 'Oh it's you ­– I didn't recognise you!' but I like to think that we can all have different looks and faces depending on mood or occasion, and give ourselves permission to not always be fully made-up.
I do like to change for dinner. Even if it's just Ted and I, I always get a bit of glam on rather than turning up to the table in a onesie. It's something my mother always did to make everyday life feel a bit special – throw on a frock and a bit of lippy before dinner – and it works!
Beauty is…
I think being happy and relaxed makes everyone look good. It's less about the makeup and the glamour and glitz and more about someone's energy and warmth.
Best beauty tip
Sunscreen, sunscreen, sunscreen – I did so much damage to my skin when I was young by living in the sun and never wearing sunscreen.
Regular routine
I like having a little ritual in the morning and again in the evening before I go to bed. In the morning I wash my face with L'Occitane Immortelle Divine Foaming Cleanser, tone with Immortelle Divine Lotion, then massage in a lovely L'Occitane oil, Immortelle Divine Youth Oil, followed by Immortelle Divine Cream and Divine Eyes.
The whole process takes about five minutes, but it's like a little moment for myself and a chance to get myself grounded and ready for the day ahead. Once that's done it's on with the sunscreen and, if I'm going to work, some mineral make-up, mascara and a little blush. Job done!
At night I go through a similar routine but if I've had make-up on I use L'Occitane Immortelle Oil Make-Up Remover, then I tone and moisturise and apply my lovely oil again.
Glam time
I love a good glam-up and I've learned lots of tips for quick transformation from the clever makeup artists I've worked with filming my TV series and on photo shoots. I can go from zero to glam in less than five minutes.
A great trick one make-up artist showed me is to mix M.A.C. Prep + Prime Fix with a little Thin Lizzy foundation in your hand and then smooth it over your face – you get a flawless but light finish.
Use Jane Iredale mineral bronzer to create definition, especially around your jawline, and then use a big, soft brush to apply blush onto the rounds of your cheeks (you can see where to put it when you smile).
The trick is to blend, bend, blend so there are no lines. Then work a crayon eyeliner in with a brush to soften out the line and give a smokier effect. Eyeshadow is also great way to get some more drama into your eyes. A flick of mascara and lipstick and you're done!
Hair care
I can have REALLY bad hair days and I've never been able to manage my hair myself, so at least once a week I get a wash and blow-wave. If I'm travelling I take a photo to show how I want my hair, and in China recently I had to show them how to get the right curl so I didn't end up looking like Farrah Fawcett in the 1970s!
Top 5 beauty foods
Green vegetables, berry fruits, yoghurt, oily fish, and nuts and seeds.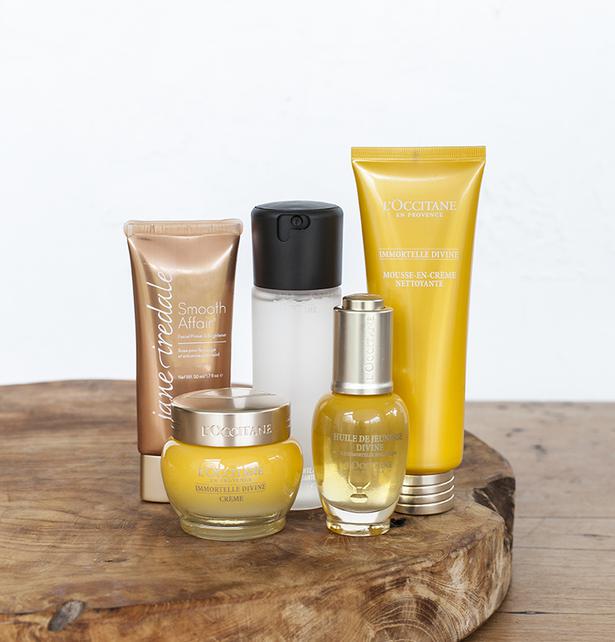 Top 5 beauty products
1. L'Occitane Immortelle Divine Youth Oil: An incredibly light oil that never feels greasy on my skin. I love all the L'Occitane products, their philosophy aligns so closely with my own beliefs around using natural products to nourish you inside and out.
2. Jane Iredale Smooth Affair Facial Primer & Brightener: It works like putty filler, but feels so smooth and fine and just glides over your skin. It's the best primer I know. I like the Jane Iredale range and philosophy – natural products made ethically.
3. M.A.C. Prep + Prime Fix: Delivers a fresh, dewy look and holds make-up but feels like it's adding moisture.
4. Lypo-Spheric Vitamin C: An incredibly cheap way to feed your face with a potent healing and strengthening vitamin.
5. L'Occitane Shea Butter Ultra Rich Body Cream and Hand Cream: Very natural and great for gardeners like me. The climate in Wanaka is so dry that a good moisturiser is crucial.
Evolution
I was such a hippy for so many years in my teens that I never wore any makeup! Until I started filming and working with makeup artists, I was always a bit frightened of it, as I didn't really know how to put it on. Now I know how to get different looks that I can change that out depending on the occasion or mood.
Worst look
That big 80s hair! I even permed mine. SO BAD!
Face first
I had an incredibly expensive facial in New York a few years ago, but I really didn't think it was worth it. The Osmosis facial, on the other hand, is the most amazing facial I've ever had and afterwards my skin looked amazing.
It made me realise that you do need to get on the bus with a skincare and nourishment regime as a habit, rather than just the occasional random effort.
Beauty goal
To age gracefully.
WATCH: Annabel Langbein's Essential Bacon And Egg Pie:
Share this:
More Beauty & Wellbeing / Features & Profiles