Ashley Hart's Healthy Approach
Australian model Ashley Hart has chosen a life of health and fitness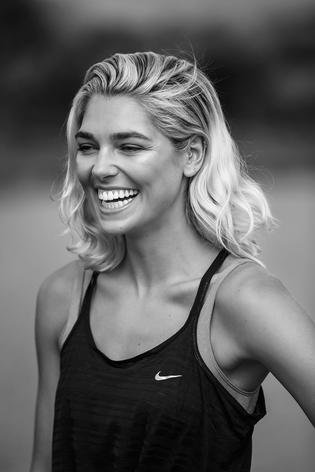 "I went to a Steiner school so I would definitely say I've always been a hippie kid," laughs LA-based Australian model Ashley Hart, speaking exclusively to Viva during a visit to Auckland in her role as an ambassador for Swisse. "[It was] going through the struggles of trying to be skinnier than I was and just being judged for external beauty," she recalls of her early modelling years, "that made me really look at true health and acceptance."
After following in the footsteps of her hugely successful sister, Victoria's Secret model Jessica Hart, Ashley quickly realised she wasn't prepared for the superficial world of modelling. So at the age of 17, two years after her first modelling job, she did her yoga teacher training. These days she has a successful career as a health and fitness model and a balanced view on life.
"Modelling was a beautiful blessing, it forced me quickly and early to look at those deeper truths and reflections and think about who I truly am beyond the skin, you know?" From anyone else it would sound cliche. Only Ashley, with her down-to-earth nature and incredibly engaging persona, comes across as a genuine embodiment of the lifestyle she so heartily advocates. She found the answers to these questions through yoga, and in the process carved a niche for herself within the crowded world of professional modelling. "And, through that, I learned how to look after myself."
These days, looking after herself includes a daily yoga practice as well as 20-minute meditation sessions each morning and afternoon. These are non-negotiable; as well as helping with her mental clarity, Ashley finds they ground her no matter which time zone she may be in. Up for more flexibility, however, is her diet. "My sister laughs at me. She'll say, 'are you having coffee this week? Are you vegan? Do you eat meat now?', because I am constantly changing."
While that flux may be infuriating for dinner companions, Ashley says it's afforded her the ability to work out what works best for her body. "Sugar, for example, definitely makes a big difference to my ability to focus, I really notice the spikes and falls." She also avoids wheat and most processed foods. "But again, I've learned being too strict about everything is worse mentally. If I'm going to have something I just love and accept it, and really enjoy it!"
She admits to not being infallible. "Sometimes I'm still like 'oh I'd like to be skinnier', or 'I'd like my thighs to be two inches smaller'," but she laughs it off with a genuineness that cannot be forced. She has an innate confidence common among the genetically blessed, but rare among models. Especially those with an internationally successful big sister.
Ashley and Jessica (who is two and a half years older) grew up in suburban Melbourne with their mother, Rae. Rae admitted to Australia's 60 Minutes earlier this year that she waited to leave a bad marriage to Jessica's father until she got pregnant with Ashley, "so if anything happened to me they'd always have each other".
The sisters didn't have a lot in a material sense, although they were clearly rich in love. "Mum deserves a medal," says Ashley. One suspects just as much for bringing up two headstrong, beautiful daughters and maintaining her sanity, as for her ability to put food on the table for them. "We had to grow up pretty quickly," Ashley admits. "I'm still a bit of a warrior woman, I've brought that aspect of my childhood into my adulthood."
Ashley married fellow model (and meditation teacher) Buck Palmer earlier this year and credits yoga with her awareness that, "it's okay to be open and to allow people to give. I'm so independent, I have to soften now".
Ashley laughs heartily when asked if there's any competition between her and Jessica. "In terms of modelling she's on a different level, there's nothing to compete with. But as far as getting Mum's attention, probably!"
When the sisters were interviewed together for 60 Minutes, reporter Karl Stefanovic delicately skirted around the subject: "You're different physically, did it hurt you that you weren't..." To which Ashley laughingly threw him a bone, interjecting, "legs eleven and with bigger boobs? Yeah!" She admits she never wanted to be a model, a sentiment backed by Jessica. "She struggled with it a lot."
She is clearly much more comfortable in her role as an ambassador. "With Swisse I can talk about consciousness and health in the most authentic way and help facilitate change for people, it's the most awesome job."
Ashley laughs that she's ready to give up modelling as soon as she falls pregnant. Having studied yoga and Thai massage, and with a husband who recently spent four months in India completing meditation teacher training, it's only natural that their next step will be to open some kind of centre or community for wellbeing. (Albeit one run by people who are really, really ridiculously good-looking.)
"I love Australia," she says a little wistfully. "But right now we're staying in LA. It will be good to start there and potentially bring whatever we do there home."
Share this:
More Beauty & Wellbeing / Wellbeing