Athleisure Cosmetics for Active Women
Inspired by the action of the Commonwealth Games, we present the latest in performance makeup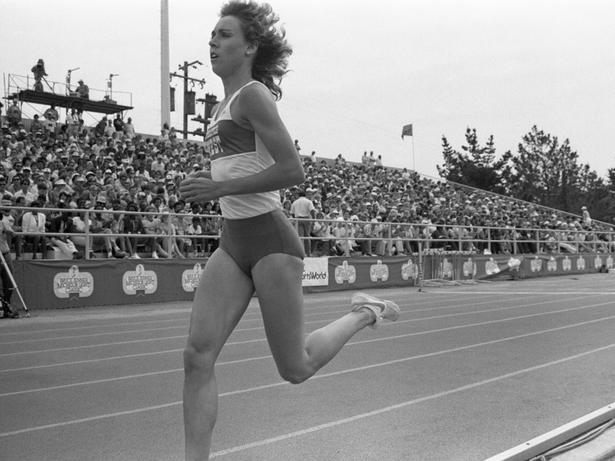 Saturday April 14, 2018
Performance cosmetics and body care are fast-growing sectors of the beauty business, spinning off from the athleisure fashion movement targeting image-conscious active women.
Though many of those who head to the gym prefer to keep their face free of makeup, others like a little coverage while working out — or in the cool-down, post-shower, off-for-a-smoothie time afterwards. Enter athleisure cosmetics, a handy option for women who spend a lot of time outdoors or who experience pronounced temperature fluctuations.
With the Commonwealth Games beginning, it seems timely to focus on this trend, but also to consider how we judge elite female athletes. Games spectators would do well to remember that admiring healthy bodies trained to be fit for purpose and praising human individuality and endeavour sends better messages to young women than making negative comments and comparisons about athletes' looks.
READ: We-ar Launch New Swimwear Collection
Women athletes are as varied as the rest of us in whether and when they wear makeup. If they do, it makes sense to look for something fit for purpose. Think lightweight foundation engineered for action without looking obvious, and incorporating sunscreen.
One of the first athleisure cosmetic ranges to be developed several years ago was American brand Sweat Cosmetics. This was co-founded by a former professional footballer, Courtney Jones, who had resorted to wearing heavy foundation during matches to disguise blemishes.
She believed from enhanced confidence would come enhanced performance, but wanted products better suited to an ultra-fit lifestyle, so developed her own brush-on mineral foundations.
Sweat was picked up by Sephora, along with Tarte's athleisure range. Other overseas examples include Birchbox's Arrow range and Sport FX.
CliniqueFit, recently launched in New Zealand, and fronted internationally by our own Nike master trainer Kirsty Godso (interviewed in Viva last month), is a comprehensive collection.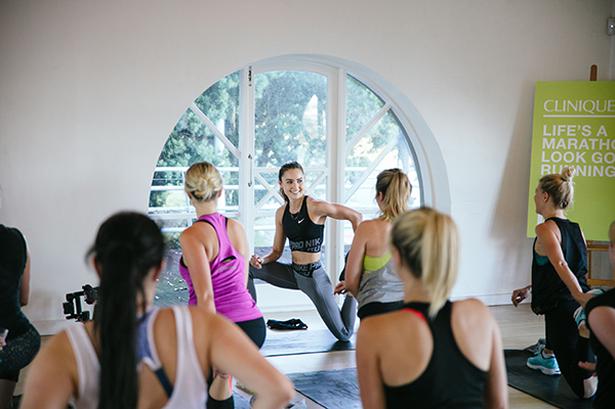 Shiseido has amped up its BB creams for "athletic beauty" with strong sunscreen and a so-called functional fragrance that, rather than masking the smell of perspiration, transforms it into a pleasant scent.
READ: Why You Should Be Double Cleansing
Sweat and humidity resistance are also part of the focus of next generation primers and moisturisers. These typically function by forming a sheer polymer matrix, a veil if you like, that better adheres to skin rather than dripping or wiping off.
Products not (yet) labelled "athleisure" may still fit the criteria. Look for lighter oil-free formulas that wear well, don't clog pores or irritate skin and ideally offer added benefits of locking in hydration and offering environmental protection.
Good cleansing is always advisable after strenuous exercise to ensure sweat, grime, sunscreen and makeup is removed.
TRICKS TO GET THE ATHLEISURE LOOK
1. Hair in a high ponytail or slicked back
2. Brows brushed up, filled, and kept in place with clear gel
3. Waterproof or tube mascara on upper lashes only
4. Oil-free tint or gel colour lightly applied on cheeks and lips
5. A sweep of bronzer for facial warmth and definition
5 PRODUCTS TO TRY RIGHT NOW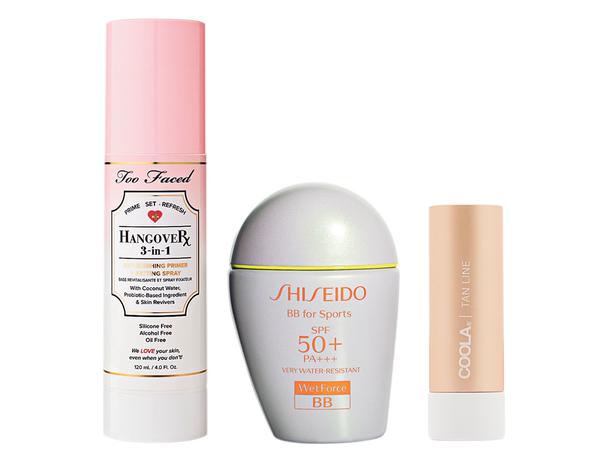 Too Faced Hangover 3-in-1 Replenishing Primer & Setting Spray $50
This mist can be used to prime skin for a smooth makeup application, as a setting spray to keep it in place, or for a refreshing spritz when the heat goes on. Plus the name makes for good changing room chat.
From Mecca Maxima stores or Meccabeauty.co.nz
Shiseido SPF50 BB Cream for Sports $60
Combining protection and care, this tinted moisturising sunscreen foundation contains a clever technology that sees its sun protection veil strengthen if the wearer perspires. Negative ions in the mineral sensor bond with water and perspiration to create a more water-repellent layer. The feel is light, the finish flatteringly dewy and there are three shades to choose from.
From selected department stores and pharmacies.
Coola Mineral Liplux SPF30 in Tanline $32
Nourishes lips with plant butters while offering sun protection and a hint of colour in a gluten-free formula.
Selected salons and Coolasuncare.co.nz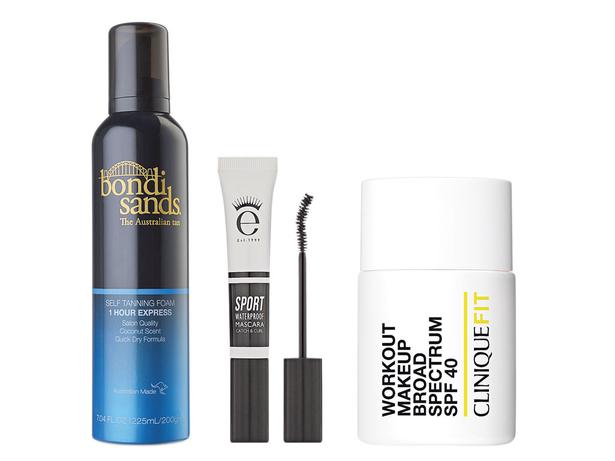 Bondi Sands; Eyeko Sport; Clinique Fit. Pictures / Supplied
Bondi Sands 1-Hour Express Self-Tanning Foam $30
Tanning gets wings with this new high-speed formula. It gives light-medium coverage that lasts for days after being left on for as little as 30 minutes, and a darker tan after an hour. Apply with a mitt to evenly smooth on the coconut-scented foam to leave limbs looking sun-kissed.
From Life and Unichem pharmacies and Farmers.
Eyeko Sport Waterproof Mascara $39
A waterproof mascara is the best way to retain dark lashes without smudges — if you're not one to go to the trouble of getting tints or extensions. This Eyeko example enhances curl and volume and has conditioning extracts. The flip-side of water-resistant formulas is that they are harder to take off, so you will need a good eye-makeup remover.
From Mecca Maxima stores or Meccabeauty.co.nz
Clinique Fit SPF40 Post Workout Makeup $65
This shine-free fluid formula in four shades has a long-wearing matte finish ideal for oilier or combination skins. It is part of a seven-piece gym-friendly range including post-workout pH-balanced wipes and mattifying moisturiser, plus a tubing mascara that washes off in warm water.
From department stores and selected pharmacies.
Share this:
More Beauty & Wellbeing / Trends