Auckland-Based Milliner Claire Hahn's Beauty Routine
To celebrate Auckland Cup Week, take your raceday beauty cues from the city's queen of fanciful hats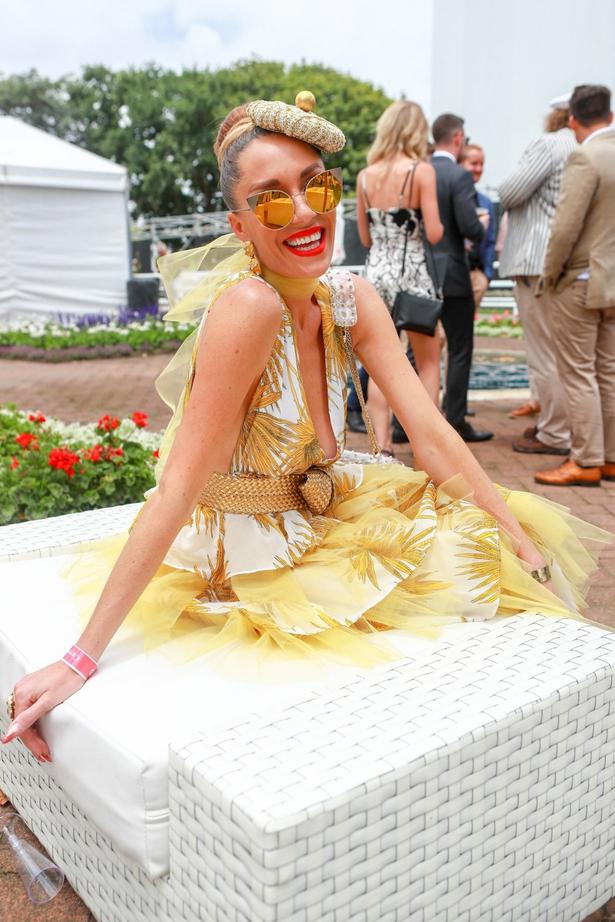 Monday March 4, 2019
A headpiece created by Claire Hahn is living proof of the old adage: 'the only limit is your imagination'.

It's evident that imagination is something Claire has in spades; one glance at her elaborate creations is enough to send your visual input into overdrive. Ornate flowers, ruffles, pearl buttons and bows don't look out of place when piled high onto hats or headbands. They're certainly a feast for the eyes.
SEE: Celebrity-Inspired Summer Racewear Ideas To Try
Her pieces are often spotted worn by women on tracks throughout New Zealand and overseas, including Fashions in the Field entrants. After all, the previous racewear winner lives and breathes racing. She's been a mainstay in millinery for the last 16 years, and when she's not making hats for entrants, she had had six-year stint serving as Ellerslie's head judge of the Fashions in the Field competition.
Between the multitude of racedays and polo events filling up our social calendars over the next month, there's no shortage of occasions to don one of Claire Hahn's whimsical headpieces. Viva chats to the millinery maven about her raceday beauty routine ahead of this weekend's Cup Day celebrations.
Signature raceday look
For an evening out or a day out at the track I do embrace my inner 'glamazon'. My signature look would be a stronger eye with a well-defined socket and lashings of mascara, with a neutral matte lip. I love highlighter and using blush to keep my look soft by adding a little healthier glow to my slim face. When it comes to a day at the races specifically, I do give my makeup more thought and how it works with my look, hair, and headpiece.  A truly successful race day look pays attention to the smallest of details.
Makeup memories
My earliest memory of makeup was borrowing my Mum's Shiseido foundation compact and applying liberally post-swim at our local public pools.  She was fairly brutal about how ridiculous I looked! As a child I was very self-conscious about my freckles and this carried on well into my teenage years.  In high school, I wore heavy foundation every day to cover them only to then be teased for wearing too much makeup. Kids can be so cruel. My freckles have faded over time but my skin is still well marked by pigmentation. I am much more relaxed about it than I possibly should be.
Describe your beauty ethos
My beauty ethos is very much in line with the way I feel about my personal fashion choices — it's all about the way it makes me feel and not a lot to do with the way I look.  Makeup and beauty to me is incredibly ritualistic. With three busy children it's those moments alone and spending a little time pampering myself that gives me a sense of confidence and calm.
Daily beauty routine
My everyday makeup is extremely minimal. For the most part I work from home in my studio, so unless I have a meeting or session with a client I am more than likely to be bare faced.  I always feel groomed and together when my eyebrows are done. Last year I finally plucked up the courage to have them microbladed by Amber Sagar at Brows Inc. Without sounding too dramatic, it completely changed my life and my morning routine.  This year I am booked in for a bolder, power brow and I can't wait for Amber to work her magic. Amber also switched me from Botox to Xeomin and I love the way this has softened my deep lines without that frozen look. I am pretty religious with cleansing morning and night, I don't have a firm favourite but my skin is much happier with a creamy, non-foaming formula.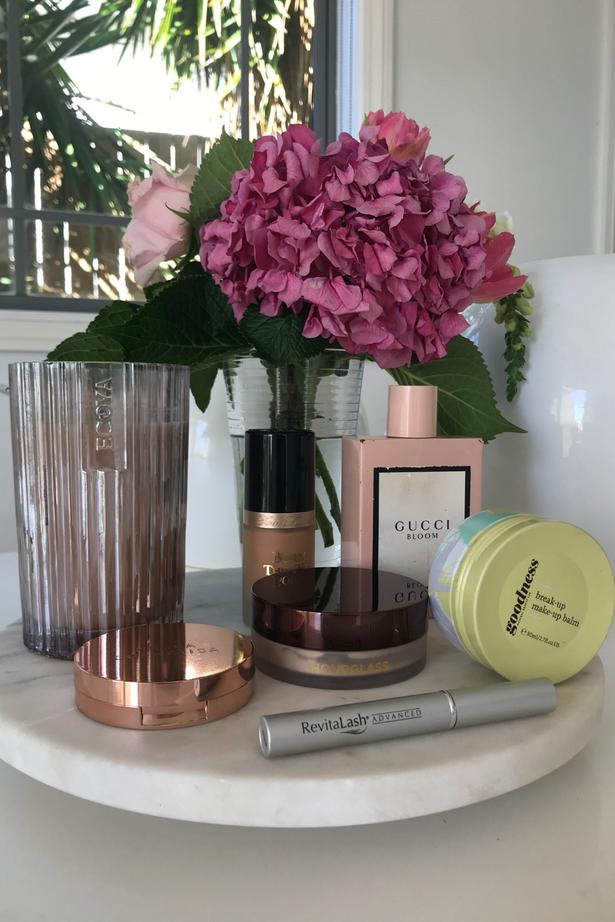 Five favourite beauty products:
1. Revitalash. I used this lash growth serum many years ago when it first became available in New Zealand.  I am not even entirely sure why I stopped using it to be honest! I have never liked lash extensions but do love a fuller more glamorous lash, so I started using it again about nine months ago. I've been thrilled with the length and volume I've gained and won't be giving this habit up in a hurry.
2. Little Honey Tan. I always feel so much better with a healthy touch of tan and this New Zealand-made product is truly a tanning game-changer.  The colour is so natural, it dries in 10 seconds, but the best part is it has zero transfer. Finally no more orange sheets!
3. Too Faced Born This Way Foundation. My extremely talented friend Phoenix Renata of Phoenix Cosmetics put me on to this cult classic. It layers beautifully to cover those pesky sunspots without looking too heavy or cakey.
4. Smashbox Photo Finish Primer. When I do wear a full face of makeup it's really important that it lasts as long as I do. Especially a day out at the races — the last thing I need to be worrying about is touching up. I have been pretty dedicated to this primer for a number of years and it hasn't let me down yet! I recently tried their primer oil and will certainly be adding this into the mix over the cooler months.
5. Goodness Break-up Make-up Balm. I like to support as many made in New Zealand products as I can and this one is a firm favourite.  My skin always feels surprisingly nourished and soft when I use this makeup remover.
Beauty evolution
As I grow older (and hopefully somewhat wiser) I do find my look softening. No more bleach blonde hair, fewer lashes… less really is becoming more. I am always aware of beauty and hair trends, but far pickier about the way I experiment with them.  
Hair and its care
I am notoriously lazy with my hair. It grows ridiculously fast and I am back to long lengths from a recent bob. Long hair takes such a long time to dry and style so I prefer to leave it in the capable hands of Oscar and Co. in Takapuna. I try to pop in once a week for a wash, blow dry and finish. I always feel so much better with my hair done; they understand my hectic lifestyle and don't overload me with product so it lasts all the way to my next visit.
Quick fix
I hate to be rushed getting ready for anything!  I love a super calm environment with no time pressures. I suffer from bouts of anxiety especially in unfamiliar social situations so I find allowing myself time to prepare mentally as well as feeling confident about the way I look helps keep me in the best frame of mind. In saying that, I have three small children so I also have getting ready in a flash down pat. The best advice really though is too focus on what matters most to you.
Last beauty buy?
My last beauty buy was a trip to the nail salon. Working with my hands is pretty rough on my nails and it's incredibly important to me to have groomed, tidy, very long nails.  I try to go in once a fortnight — but I absolutely despise nail art and prefer classic with an edge.  
Share this:
More Beauty & Wellbeing / Features & Profiles