The Sweet Pooches Gallivanting With Auckland's Most Popular Dog Walkers
It's a dog's life for the hounds who take regular adventures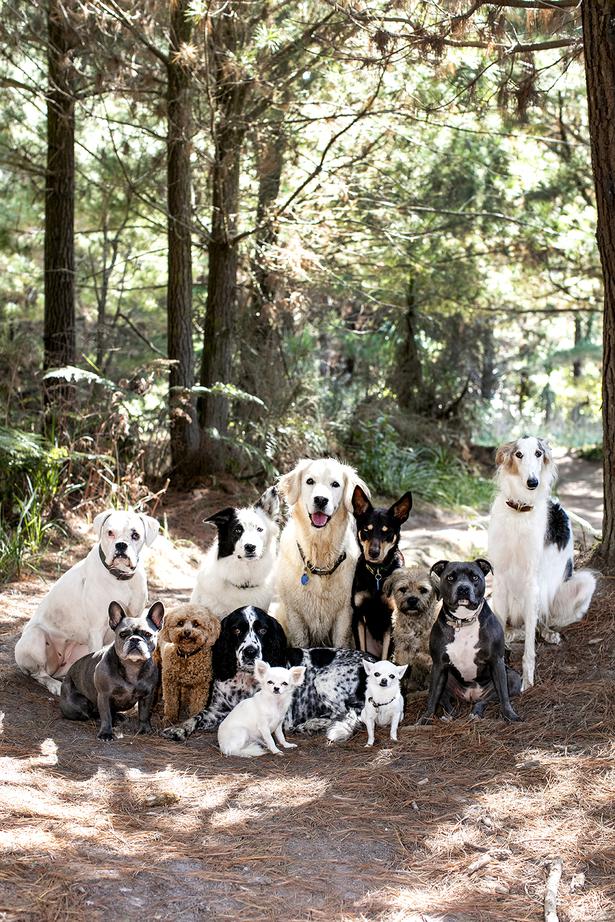 Wednesday March 31, 2021
Pack adventures are the ultimate in dogocracy. Where else would you find Betty the great dane sharing quality time with Beanie the teacup chihuahua and 23 of their four-legged mates?
"Everyone really loves each other," says Follow the Leda's chief dog walker, Leda Taylor.
From Mondays to Thursdays, Leda and her photographer fiancee, Camille Courtois, collect up to 30 dogs from their owners in central Auckland and take them on cavorting canine capers: sniffy off-lead walks through Riverhead Forest, boardwalk blats by the marina boats, and when the sand's not too hot, glorious gallivanting after frisbees at Muriwai, bringing much of the beach home with them.
Today's mission to the parks and pines of Riverhead was a muddy one, involving Peppa Pig-style puddle paddling and later, all of Leda's dog shampoo.
"They do get super-excited," says Leda. "Louis St Bernard has a best friend called Ted, a staffy-collie mix who is tiny compared to Louis. Even if there are a million other dogs, you'll still find them playing and rolling in the mud together. They look ridiculous."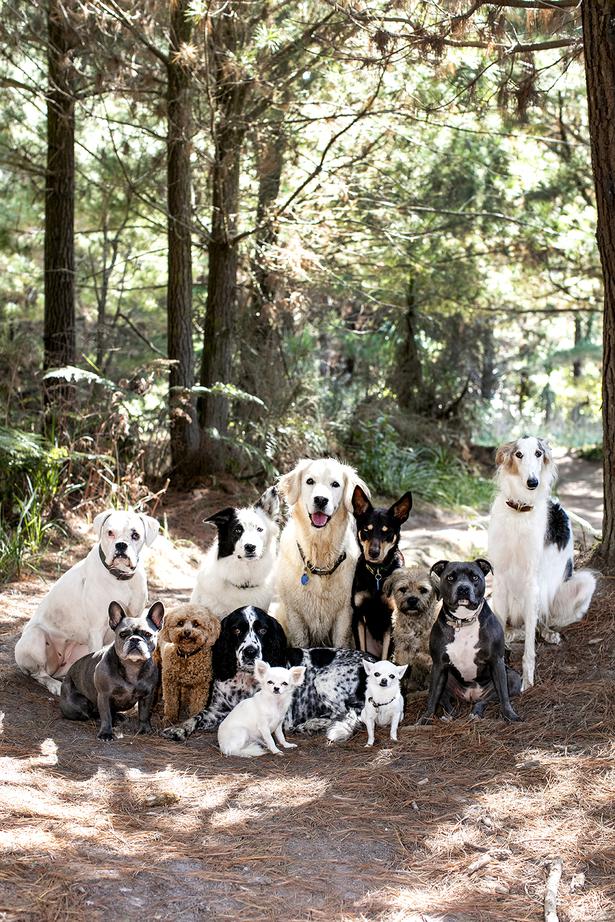 Their forest bathing and coastal escapades are the stuff of urban legend. On Follow the Leda's Instagram page, fans tune in daily to see where and what the pooches have been up to, and marvel at the formality of Camille's portraits, some of which feature the dogs all lined up like obedient school children.
Although some may sniff at the notion that such a service exists to begin with, Leda says they're not taking responsibility for lazy owners — it's actually the opposite.
READ: Confessions Of A Dog Groomer: Meet Devonport's Pampered Pooch Expert
"The people who book us are generally those who are very attached to their dogs. Many clients will actually walk their dogs before we pick them up," she explains.
The day begins between 8am and 9am and finishes mid-to-late afternoon, and missions go ahead rain, shine or (extra-muddy) thunderstorm.
As well as getting exercise, the dogs are socialised and trained, including learning the "up" command, crucial for those Instagrammable group poses atop logs and park benches.
"It's not like we say, 'Be free! Go off and have fun!' We'd never get them back," says Leda, who has just returned from the walk through Riverhead, where Camille captured the furry group in all their windswept glory. "Our aim is to teach each dog boundaries, to have fun but make them work for it."
Naturally, there's a pack hierarchy but the top dog role goes squarely to the humans.
Newbies — and there aren't many at a time, due to the long wait-list — must go through an initiation, whereby Leda will test their basic skills such as recall, because no one wants a runaway — "my worst nightmare in the world".
This ensures each pack member has mastered the art of the "down-stay", meaning they won't get spooked by bikers or horses and bolt into the bushes.
On the rare occasion this has happened — twice in the eight years Leda has run the business — the owner has ended up sending their dog to Leda more regularly, to help correct their behaviour.
Between them, the couple own five dogs, who join them on their walks, as do their foster dogs (of which there are currently two).
Louis St Bernard, who weighs 70kg, was originally owned by a client who was in over their head.
"He was more demanding than the owners thought, even though they'd done their research," says Leda. "He came in for training for a long time and we ended up falling in love with him. He needs someone to keep him in line."
Zephyr is a deaf border collie who Leda trained using hand signals and touch. Walks with Zephyr rely on dogs' preferred mode of communication — through body language.
READ: The Best Dog Washes & Cleansers To Pamper Your Pooch
"He's taught me so much," says Leda. "I've learned that I don't need much of a voice when working with dogs — it can often make it more frustrating if they're not listening."
Then there's Neva, a 3-year-old borzoi (Russian wolfhound) and the mother of the pack who takes new pups under her wing; Echo, a 2-year-old deaf boxer who lives up to the breed's reputation as the class clown; and Beanie, the teacup chihuahua, who Leda describes as "the perfect mixture of dog, cat and human".
The couple's fosters include Bill, Echo's brother, and a greyhound rescue named Zeus, who has retired from racing. Naturally, holidays are busy affairs; Leda and Camille have been known to take 11 dogs to the Coromandel for the weekend.
"It was actually really relaxing because we're so used to having double that number."
A road trip to Wellington with 12 dogs is next and later in the year they plan to take five dogs — plus their three cats — on a road trip through the South Island.
Despite this obvious passion, Leda says during her university days she parked her desire to work with animals and studied fine arts.
READ: Auckland's Most Fetching Dog Walks
It was during this time she started a casual dog-walking service during her down-time.
She also adopted Cassie and would spend up to four hours a day training her.
Not one for pack life, Cassie has since chosen to live with Leda's parents, but Leda's fascination with dog behaviour was just getting started.
She learned to train by essentially training herself, reading and watching dog behaviouralists online, and learning from her own animals and trainer friends.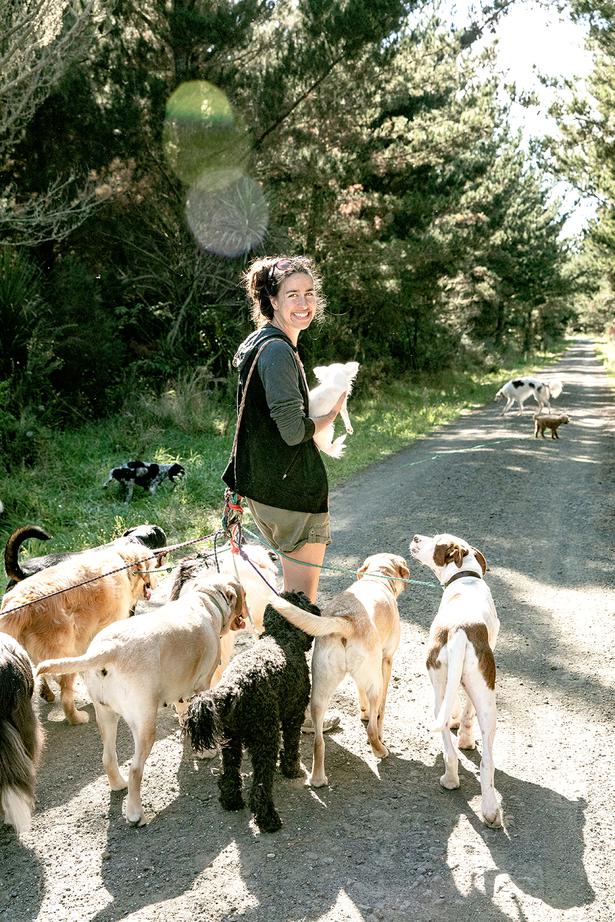 Leda walking her pack in Riverhead Forest. Photo / Babiche Martens

"Every dog is different," she says. "You have to adapt to each. Some need encouragement to feel comfortable while others need to be brought down in their confidence."

Meanwhile, Camille fell into the business accidentally. After a stint in New Zealand, she was about to return home to France when she met Leda while working at a cafe.

"We connected as soon as we spoke to each other," says Leda. "It was the first time I'd had a relationship with a woman, so it was all pretty crazy and amazing."

A romance blossomed, and the couple were together long-distance for three months. Unable to work in New Zealand for a year until a work visa came through, Camille started shadowing Leda and taking photographs along the way. "I still have a lot to learn," says Camille, "but Leda is an amazing teacher and the dogs are incredible."

Although a friend is pipped to help them out as the service's popularity continues to rise, Leda says they are wary of expanding the pack too much lest they lose the intimate relationships they have fostered.

"This is our life. We love the clients, and putting in that work with the dogs. Although," she laughs, "I've often thought if we just left Louis St Bernard at home and only took out little breeds, we'd get 50 dogs in the van."

Check out Follow the Leda on Instagram @Followtheledapack or visit Facebook.com/ledaofthepack
Share this:
More Beauty & Wellbeing / Wellbeing