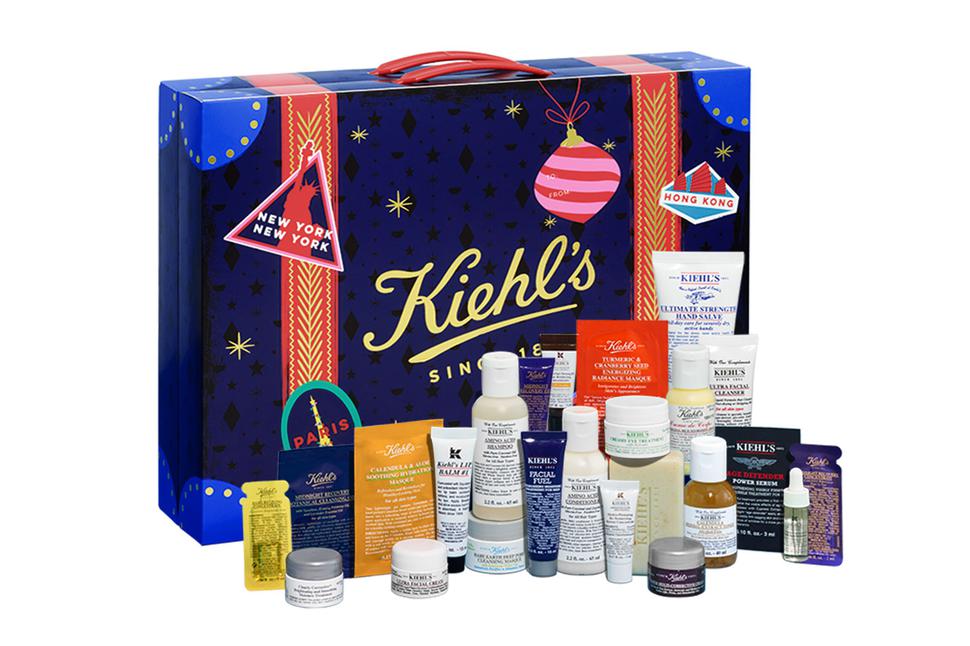 Counting Down: The Best Beauty Advent Calendars For Christmas
We have to admit to being a little obsessed by these dinky Christmas delights which are ideal for gift giving – or treating yourself
Wednesday Oct. 24, 2018
Christmas may seem a while away still, but eager calendar watchers know the countdown has well and truly begun. We're talking Advent calendars here, and the wait listing that goes on to get the best of them. This savvy marketing spin on the traditional Christian practice of chalking off the days in December until Christmas, sees a daily treat – usually tucked behind a dated door in a box – used on the journey from December 1 to 25.
READ: 15 Top-Shelf Colognes & Fragrances To Gift
In recent years, more and more branded Advent calendars have taken the place of home-made versions. Gift calendars were first used in Victorian days and typically filled with small items, such as fruit or lollies, mostly for children. In this earlier era, improving messages and even thimbles might have found a home in an Advent calendar.
The DIY approach is still followed in some families. For those who don't have time to hammer up a box for their gifts, Christmas stores sell decorated wooden ones. But the temptation of buying readymade cardboard versions, embedded with items from a favourite brand, is now well established. Beauty companies have been quick to pick up on the trend from confectionery makers, with various cosmetic items slotting in nicely.
Some of the beauty Advent calendars have developed quite a following because they are valued well in excess of their usual purchase price, being a special seasonal promotion. Others are more of a lucky dip sampler. Expect to find mostly handy travel-sized products, but some calendars do supplement this with the odd full-sized item or disappoint with a few too many teeny weeny examples.
READ: 14 New Lip Products To Add To Your Beauty Arsenal
This year, for the first time Kiehl's is bringing its calendar to New Zealand. Jo Malone London already has customers reserving its deluxe edition. Because of this sort of early demand, Viva has rounded up some of those we like the look of that have arrived in stores here already or are soon to do so. Online shoppers may have spotted other examples overseas, from the likes of Harrods, Net-a-Porter and Charlotte Tilbury, but we're shopping local.
Should you miss out in stocking up by the December 1 start date, then your shopping solution is to look out for those Advent calendars that substitute the full countdown for the 12 days of Christmas. We've included a few of those as well.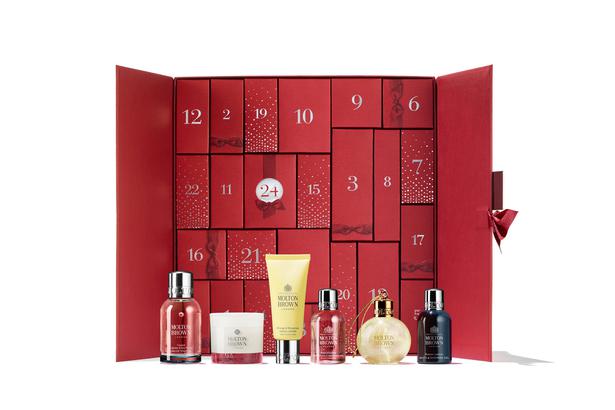 Molton Brown Merry Muddlement Luxury Advent Calendar $429
As you might expect from an upmarket English company, this calendar has a traditional look. The red box is tied with a little grosgrain ribbon and opens to a generous lineup. There's a glistening bauble, a mini candle and hand and body items aplenty, some full sized. Russian Leather shower gel and Rose Absolute bath oil, might satisfy two different occupants of the en suite. Seasonal fragrances Muddled Plum and Coastal Cypress & Sea Fennel are new for 2018. Molton Brown is exclusive to Smith & Caughey's in New Zealand. Smithandcaugheys.co.nz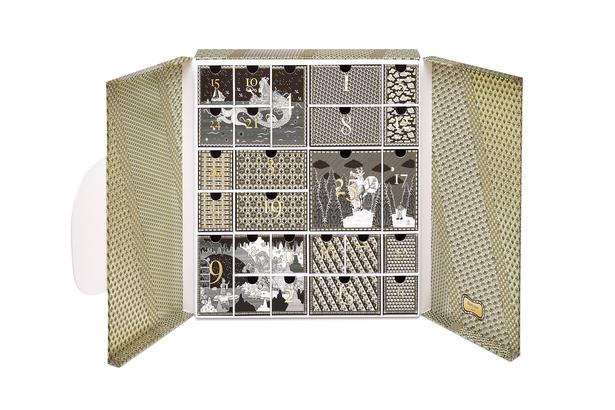 Diptyque Advent Calendar $681
Candles, fragrance, skincare… Diptyque. What's not to love? Then we get to the stunning keepsake monochrome box, with the date numbering picked out in gold, by long-time Diptyque design collaborator Peter Marie. More than half of its drawers contain mini candles in fragrances including Baies, Feu de bois, Tubereuse, Roses; then there are a selection of small scent vials of Philosykos, Tam Dao and Vetyverio. Sold! There's 25 treasures in all, consider the one larger size pine candle as your bonus extra on the usual 24 items in an Advent countdown. Meccabeauty.co.nz
Kiehl's Limited Edition Advent Calendar $125 (pictured above)
The Kiehl's calendar contains a few full-sized products, plenty of deluxe samples and a smattering of sachets. The lip balm will be a summer staple alongside other haircare and skin savers such as Ultra Facial Cream and Ultimate Strength Hand Salve. Revitalise with the Turmeric and Cranberry Masque or a shot of Midnight Recovery Concentrate. Personalised boxes are also part of the Christmas range which comes decked out in vivid colour by American artist Andrew Bannecker.
From November in Kiehl's boutiques at Sylvia Park, Westfield Albany and at Smith and Caughey's stores, all in Auckland; Westfield Riccarton in Christchurch, Farmers Wellington and Farmers.co.nz
La Mer The Twelve Days of Radiance set $610
La Mer followers are like members of an exclusive cult, cosseted by the knowledge they can afford to slather themselves in this sumptuous skincare. Fancy packaging doesn't just come along at Christmas to sway these sorts of consumers, so they expect the goods within to deliver. And even they have to downsize when travelling, so the 12 smaller items in this set will be just the ticket. From November 8 in Smith & Caughey's and David Jones.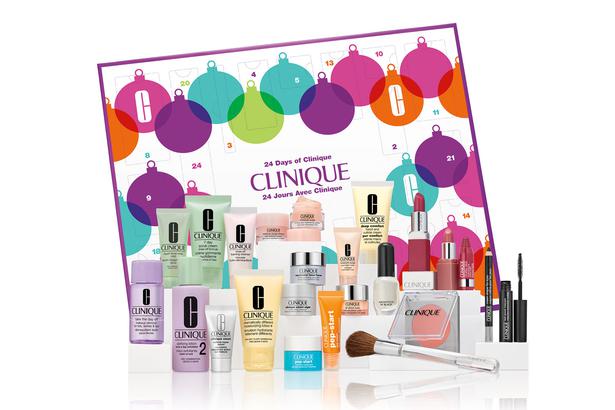 Clinique 24 Days of Clinique $169
This bauble bedecked box is filled with skincare from Clinique's classic, Pep-start and Moisture Surge ranges, plus the sort of handy everyday makeup you'll use all holiday long. The enticing Aromatics fragrance will carry you through into the New Year. From November 8 in Clinique counters in department stores and selected pharmacies.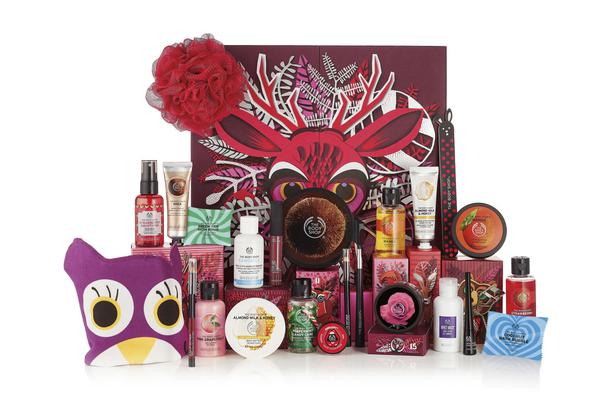 The Body Shop Deer Advent Calendar $259
With their generously sized bottles and pottles, The Body Shop calendars are renowned for delivering satisfying surprises to the spoiled younger set. This calendar does contain minis, but they are larger and more useful than many, meaning the recipient is likely to use or could happily divert a few into cracker little re-gifts. The product mix ranges from body and skincare (in favourite fruity flavours such as strawberry, coconut and mango) to makeup items. This Deer set is said to be valued at $329 (if items were purchased separately). There's also a less generously stocked Owl-themed calendar which still has 24 items but it costs less at $189, with a stated value of $239. Both will be on sale from November 1. Thebodyshop.co.nz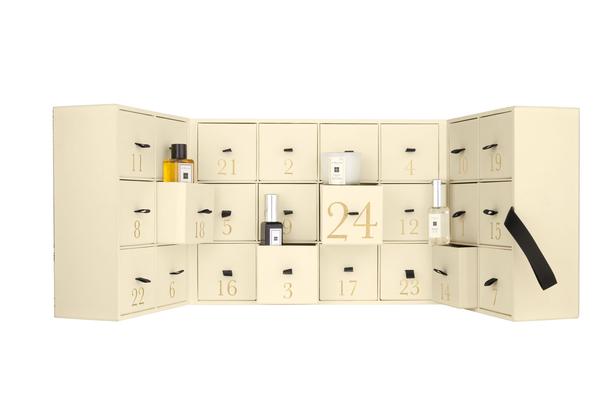 Jo Malone London Advent Calendar $795
Fans of the luxury brand thrill at the sight of a cream and black carrier bag, knowing within is grown-up indulgence. This will turn to child-like delight at the sight of the matching box, this time with a Georgian townhouse sketch on the outside. It opens out to reveal drawers that house favourite fragrances, seasonal delights and unexpected little extras. For something more substantial, there's always the Deluxe Candle Collection, $1240.
Both very special gifts are exclusive to the Britomart boutique, ph (09) 309 4418 from November 8. (Other brand stores and Smith and Caughey's will feature the House of Jo Malone London, $350)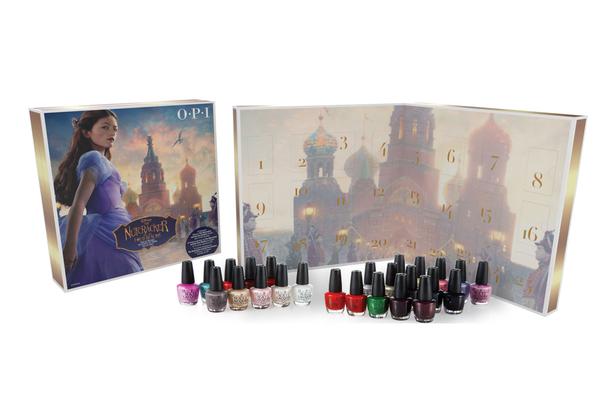 O.P.I x Disney The Nutcracker Advent Calendar $90
With 25 mini bottles of nail lacquer this box of colour will decorate your tips and toes throughout the silly season. Thirteen of the shades are O.P.I old favourites, including Samoan Sands, a subtle summery beige-pink and Black Cherry Chutney, an ideal festive berry dark red. The final dozen bottles are a fairy tale pretty collection that ties in with the upcoming The Nutcracker and the Four Realms movie. Compared with buying a boxed set of four mini bottles from the collection for $35, the Advent calendar has nailed it. From Farmers, selected pharmacies and salons.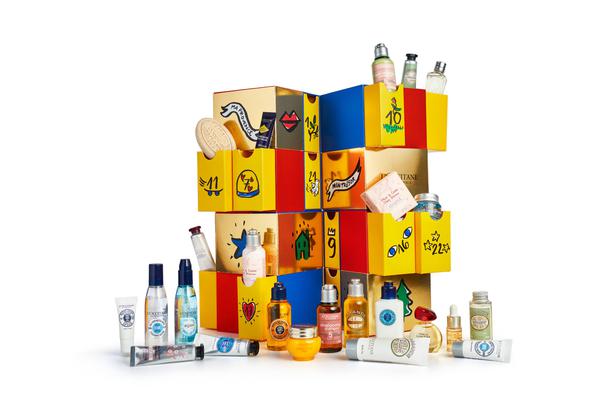 L'Occitane Advent Calendar of Constellations $190
The French beauty brand collaborated with Parisian design house Castelbajac on its premium festive season packaging, including this calendar. The colourful box opens out and its drawers slide open to deliver 24 treats including hand creams, skincare, soaps and perfume. The aromatic delights of Provence are evident across the range, including in the sunshine-filled Terre de Lumiere perfume. A smaller Advent Calendar of Dreams is also available for $105. Both pre-orderable and in stores and online from November 1. See Loccitane.co.nz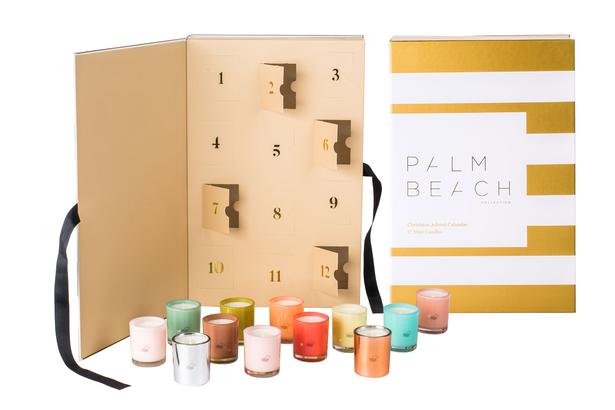 Palm Beach Christmas Calendar Advent Gift Pack $99
This set of a dozen hand-poured mini candles, each with a burn-time of 12 hours, features two seasonal special aromas in festive favourite Pine and moreish Summer Bellini. Then there's 10 more fragrances to discover from the Australian makers' core range, including Coconut & Lime, Clove & Sandalwood, White Rose & Jasmine and Watermelon. Well suited come sundown this side of the Tasman too. From Smith & Caughey's Queen St.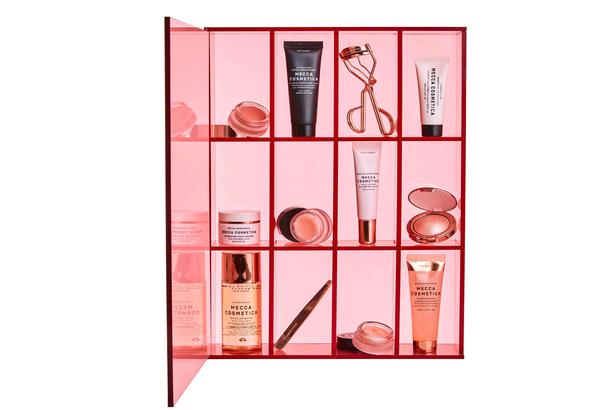 Mecca Cosmetica Beauty Resolutions $200
The blush pink Perspex compartmentalised box that houses this 12-day dripfeed of products is one of the collection's star attractions. Not that we don't want the contents: skincare essentials, beauty tools, balms and luminisers. We reckon Mecca's To Save Face SPF50 hydrating sunscreen is worth seeking out alone. Meccabeauty.co.nz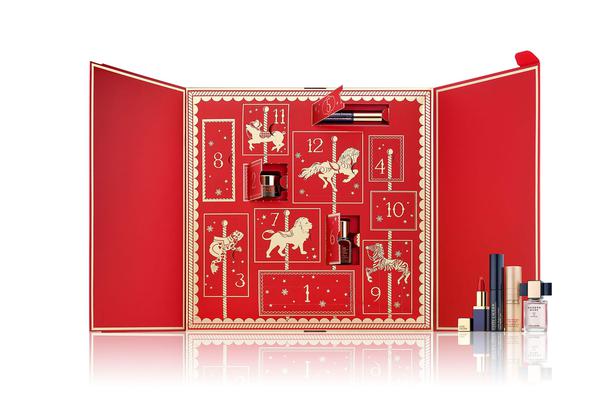 Estee Lauder Advent Calendar $159
This red and gold carousel has 12 choices of Lauder largesse. Fans of the American brand will be well pleased to find the pioneering Advanced Night Repair serum and mascara and lipstick in their smart navy turnout. The selection, which includes a spritz of Modern Muse perfume, is exclusive to Smith & Caughey's from November 8, at Smithandcaugheys.co.nz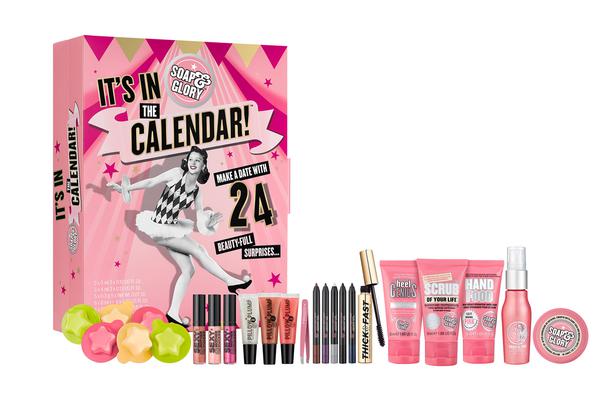 Soap & Glory It's In The Calendar $88
This retro fun brand with product names likes The Righteous Butter, Heel Genius, Scrub of Your Life and Hand Food spells out its task-oriented skincare side and then adds in some cosmetic aids for good measure. Twenty four in all, including Sexy Mother Pucker and Pillow Plump lip products and some a good lashing for eyes. Meccabeauty.co.nz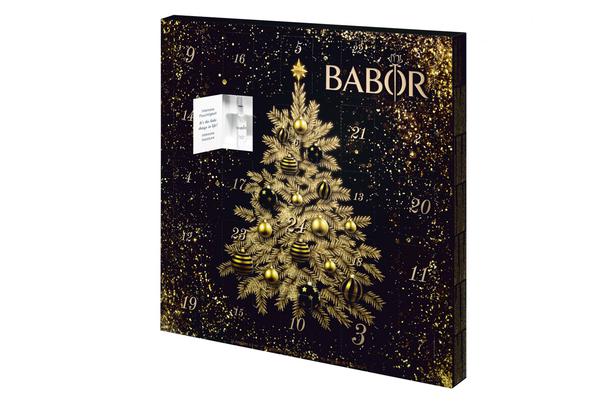 Babor Skin Ampoule Advent Calendar $219
Dedicated skincare fans will be interested in this one, it contains 24 ampoules of varying concentrated serums to moisture and tone skin, including among them some with marine and algal extracts. As befitting a German brand, the calendar box comes suitably decorated from the country that gave the world the Christmas tree. From Forme spas in November. Formespa.co.nz
Share this:
More Beauty & Wellbeing / The Latest