Is It Worth Buying Expensive Beauty Products?
Janetta Mackay discovers whether it's worth spending eye-watering amounts on the creme de la creme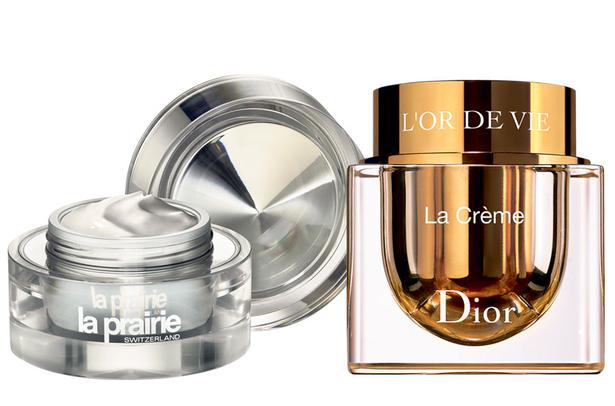 Thursday July 2, 2015
They're the dream creams, but who buys these prestige products sold at eye-watering prices in their weighty, often gold-trimmed, jars?
Quite a few New Zealanders, actually, and not all of them are women. Customers not uncommonly spend several thousand dollars on skincare at a time — one for the beach house too, darling! Among a handful of very-VIPs, annual spends can run to an out-of-Auckland house deposit.
We're not advocating you rush out and drop your savings on an anti-ageing promise in a pot but rather highlighting that some people consider spending up large on their skin a sound investment.
Prized repeat shoppers at swept-up skincare counters enjoy bonus extras such as facials and advance product demonstrations. It's a bit like being first to be invited to drive the latest Mercedes. You're in a similar exclusive club, although in taking pricey skincare for a spin, it's a secret club you belong to.
Unlike carrying a designer bag or driving the latest model European car, only people who dig in your bathroom cabinet know whether you stock up at Countdown or not.
Devotees say they model the difference on their faces. The attraction of buying the best on offer compels considerable customer loyalty but, interestingly, many of the premium moisturising creams have been in ranges for some years, albeit updated in line with latest cosmetic company research.
Much of the appeal of these super-creams then is that they are comfortingly familiar, delicately fragrant and beautifully presented. They're mostly lush and rich, although, in deference to modern and Asian preferences, many brands now offer lighter lotions in their top-shelf selections. Each has a hero ingredient, rare, expensive, and engineered. Each claims to be the ultimate, as you will see below.
Matching serums and eye, neck and body products are in most ranges, but creams are the strongest sellers, although serums sometimes out-price them. Skin clinics maintain, with some justification, that their mix of concentrated ingredients will be more active but, for cosseting — and cost — these creams are in a luxury league all of their own.

1. La Prairie Cellular Cream Platinum Rare $1550
Precious platinum-infused formula said to work in synergy with anti-ageing peptides, vitamins, antioxidants and firming agents to target ultimate rejuvenation of the skin and get your glow on. Climate-activated hydration adjusts to humidity levels and your temperature. La Prairie, which started out from a Swiss rejuvenation clinic, calls this stuff the pinnacle of art, science and luxury. If you're still ascending, there are nine other less expensive collections to choose from.
2. Dior L'Or de Vie Creme $695
Grape extracts are at the heart of Dior's L'Or de Vie, but not any old grapes. These come from the Chateau d'Yquem vineyard in Bordeaux, where the wine is known for exceptional longevity. So all good on the polyphenols and antioxidant activity then. Dior describes this skincare as the ultimate in science and luxury. Sound familiar? Less usual is that several items in the range are refillable in an industry first at this luxury level.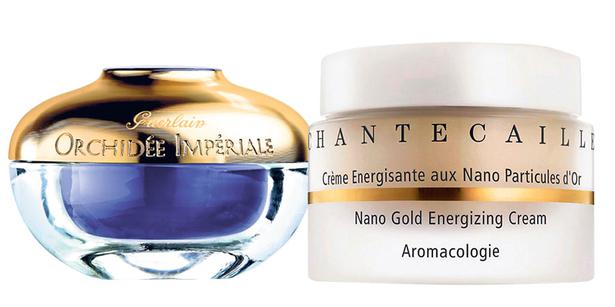 3. Guerlain Orchidee Imperiale Day Cream $678
From the Guerlain orchidarium comes gold orchid technology in this third generation version of the 10-year-old cream. Across France, Switzerland and China, researchers looked at 30,000 orchids, dubbed the flower of longevity, before settling on the one they thought would best aid skin's replenishment. The new technology, says Guerlain, is based on discoveries in cellular bioenergetics and is used to promote cell revitalisation. Silky talk to match the silky feel, which spreads to a body cream, priced at $725.
4. Chantecaille Nano Gold Energising Face Cream $635
Nanotechnology is not a dirty word for this New York-based company run by a French family. With tiny particles of gold and silk and three-quarters botanical in composition, this cream epitomises Chantecaille's luxe natural(ish) approach, with peptides thrown in for good measure. The focus is on soothing inflammation to help nullify the recognised role it plays in skin ageing.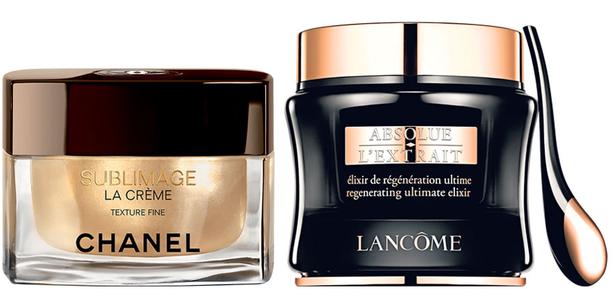 5. Chanel Sublimage La Creme Texture Fine $515
From the farthest reaches of Madagascar comes vanilla planifolia, a botanical fruit that Chanel's research team have harnessed to the anti-ageing cause. An exclusive enriched extract is the centrepiece of Sublimage and is said to deliver customised action on the "life factors" responsible for signs of ageing. This lighter textured version of the luscious original is designed to appeal to younger buyers or those with normal-combination skins or in warmer conditions. La Lotion, priced at $204, is an even newer, more liquid, addition to the range.
6. Lancome Absolue L'Extrait $498
Roses, or rather two million rose cells from Lancome's own signature rose, are at the heart of this cream. Extracted and cultivated with a trademarked biotech process, the cells' unique properties are said to be preserved to aid in skin regeneration. Or, as Lancome puts it: Our masterpiece is inspired by nature, perfected by science. The idea is that your skin should soon look like a dewy fresh rose, the good news is that it will certainly smell like one.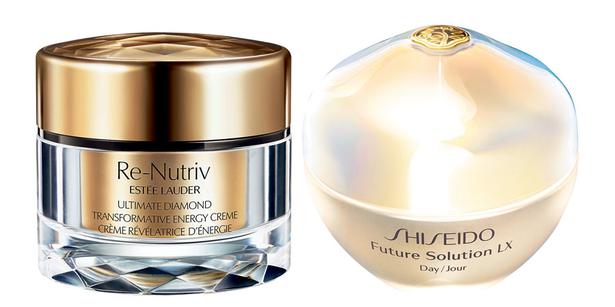 7. Estee Lauder Re-Nutriv Ultimate Diamond Transformative Energy Creme $498
Since 1956 Re-Nutriv has been a pioneering luxury cream. Despite the name of this latest one, it's not a precious stone but a rare fungus at the heart of the update. Black diamond truffles from France have been extracted because they are said to help renew skin's natural age-fighting abilities. It takes 10-15 kilograms of raw truffle to yield a kilogram that is ground and supplemented with algae, peptides, vitamin C and a touch of gold and pearl. As Estee Lauder said at the original Re-Nutriv launch: "Every woman wants a little luxury in life." For added luxury, Lauder makes Re-Creation, $1550, which has limited availability and is made with a glacial bio-extract said to help skin-cell survival.
8. Shiseido Future Solution LX Total Protective Cream $433
Future Solution's mission is to combat the action of a protein in skin called serpin b3, which Shiseido scientists were the first to identify as an ageing factor. Over seven years they engineered an ingredient aimed at doing this and in the latest LX version of Future Solution have supplemented the cream with botanical extracts to combat environmental stressors underpinned with new under-standing about "clock genes" that affect the way skin works at different times.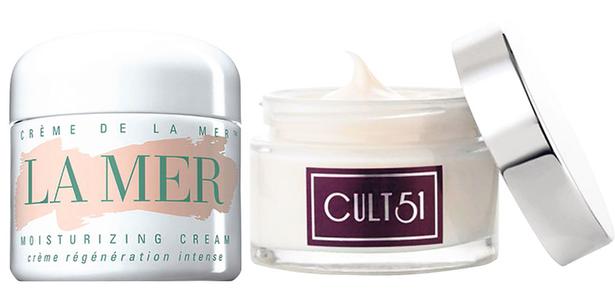 9. La Mer 60ml Creme de la Mer $465
The old story of the space scientist who suffered burns and developed a healing algal brew that became the basis of La Mer's so-called miracle broth still holds true. Less talked about is lanolin, which presumably Dr Max Huber used for its heavy duty moisture-locking abilities. Over the years La Mer has developed five different textures to suit all skin concerns and preferences. It also sells a 500ml jar of the rich original for $3100, for those who simply cannot get enough of the stuff.
10. Cult 51 Night Cream $295
Beyond anti-ageing, it says, which is a big call, but the elaboration is the skincare sector's standard spiel about a product with the power to work with your skin's own natural processes of renewal. That said, the mysterious Cult 51, which takes its name from 51 supposed benefits, has developed quite a buzz overseas. Its listed ingredients have plenty of goodies ranging from peptides and amino acids to seeds, algae, and yeast extract. The company suggests its cream can replace a whole lot of other products, which means you're spending to save.
Share this:
More Beauty & Wellbeing / The Latest