Dancing with Brushes
Behind the scenes at the ballet, Janetta Mackay watches a fairy kingdom evolve
Friday Sept. 4, 2015
It's three hours before curtain up on the Royal New Zealand Ballet's latest production and principal dancer MacLean Hopper is turning blue.
The 23-year-old is preparing for the biggest role of his career, as Oberon in the world premiere of new choreography for A Midsummer Night's Dream. Acclaimed at its opening season in Wellington, the Auckland run begins tonight.
"Normally, if a show starts at 7.30pm, I'd have warm-up class on stage at 6.30 till 7, then I'd start putting on my makeup and costume," he says. To become Oberon, the king of the fairy world, Hopper arrives much earlier than usual. Other dancers wander in after his transformation is well under way.
"Makeup for this production is more full on... it's so intense and so long," he tells Viva as we follow his progress readying for the dress rehearsal at Wellington's St James Theatre.
"There's lots of dancing and lots of acting. This is the first role where I've had to really combine the two in a ballet technical sense."
He also has to do his own makeup. This isn't new for dancers, including the males but, for Oberon, the look goes well beyond the usual face base and contour designed to ensure dancers don't look washed out and ill-defined under stage lighting.
"I love makeup — the whole idea of it, that you can transform yourself," he says wielding a brush. "People say, 'Mac, you look crazy, your hair looks cool, you look sparkly'."
Production designer Tracy Lord Grant sticks her head around the dressing room door and says he needs to be bolder and bluer.
"A blend with the hair colour at your hairline would look wonderful, as if your face and hair are one," she instructs quickly before heading through the backstage corridors to check all is well in the fairy dell she has constructed on stage. Later, she explains that the Oberon look, designed in conjunction with the ballet's makeup partner M.A.C, is, like the rest of the elaborate staging, a device to better tell Shakespeare's mischievous story.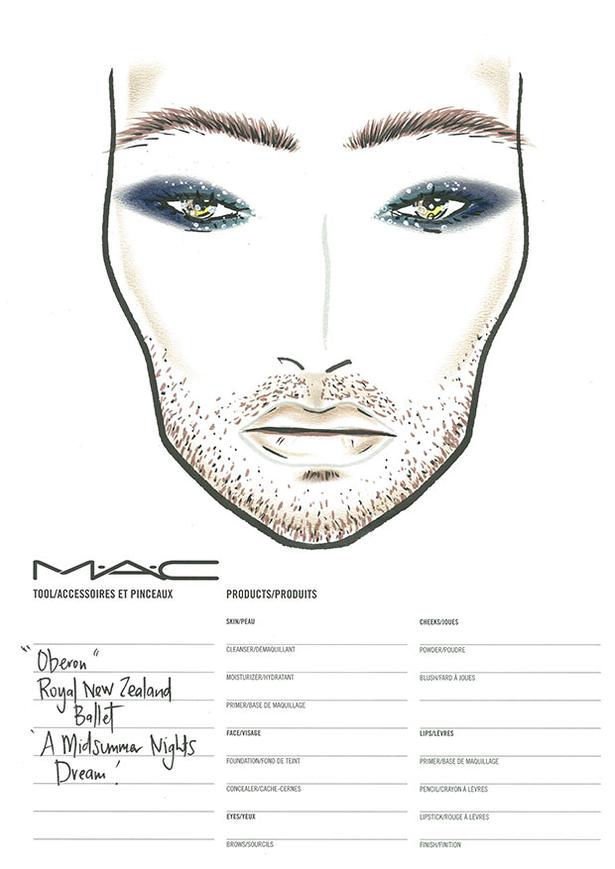 "Character is what we're looking for and a sense of the fairy world, says Lord Grant.
Hopper, who had only seven weeks to prepare for the role, was also put through his paces makeup-wise. M.A.C ran a masterclass for the company to ensure it had the techniques to deal with what its New Zealand senior artist, Kiekie Stanners, described as "heightened" makeup.
This is the company's second specially designed look, following Giselle in 2012, and its artists were on hand to advise on final tweaks at the dress rehearsal.
"It's a lot more makeup for the male leads than they've ever done in a show before," Stanners says. Female dancers were more comfortable with the process but "they get used to their makeup habits and it's great to refresh why they're doing something."
Hopper says putting on his own makeup helps him get into character. To play Oberon he applies foundation, uses eyeshadow for facial contouring, then a cream base on the eye area, before really going to town, defining his neck, collarbone and chest. Blue pigment and illuminators fan from the eye to the temples and into his slicked back hair. "It's about making me look supernatural — you have to go extreme."
English choreographer Liam Scarlett, who was co-commissioned by the New Zealand and Queensland ballet companies to develop the ballet which the RNZB plans to tour overseas, had definite ideas that he wanted his fairy king to come across as "immensely powerful". Oberon and Titania, danced by Tonia Looker, are capable of whipping up a storm and toying with the fate of humans. Their enchantments go comically awry, before they pas de deux.
"I've tried to think he's like 100 years old, but he's quite childish because that's what a fairy is."
And he's learned from the makeup professionals. "When we start performing and dumping our faces with makeup we start breaking out, especially with sweating."
He had come to appreciate the value of proper preparation, clean hands and brushes, and removal. "It saves your skin."
Even on the days when he had felt like he couldn't be bothered, he put the daily chore of applying makeup in the context of ballet's universal ability to create a magical experience. Dance had survived, because it was a universal language when someone could really emote with their body.
"We're about to transport people to a completely different world, so they can escape. It's enchantment."

• A Midsummer Night's Dream runs at Auckland's Aotea Centre from tonight until September 6, before moving to Rotorua, Palmerston North and Napier. For ticket details, see rnzb.org.nz.
Share this:
More Beauty & Wellbeing / The Latest