Beauty Entrepreneur and Author Zoe Foster Blake
Zoe Foster Blake talks about the selfie phenomenon and her new book Amazinger Face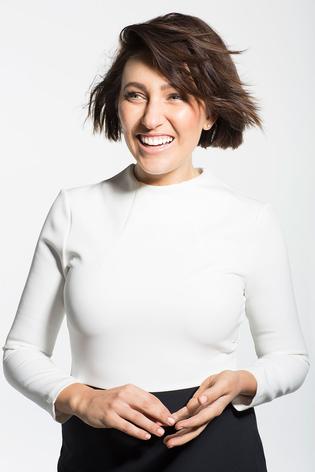 There is something endearing about Zoe Foster Blake: her wit, her straight-up attitude and an ability to make anything and everything hilariously funny. The Sydney-based writer and founder of natural skincare company Go-To has had a busy few months. In August she launched Bro-To (a men's skincare line that she admits is the same product in a grey bottle instead of peach), and back in June re-wrote her beauty guide, Amazing Face, with an appropriate new title: Amazinger Face. One of her earlier books, The Wrong Girl, has just been turned into a television show.
Prior to launching her skincare brand, Zoe was a beauty editor for over 10 years, working for the likes of Australia's Harper's Bazaar and Cosmopolitan magazines. She is married to the Australian comedian Hamish Blake, and the couple have an adorable 2-year-old son, Sunny, who makes frequent appearances on their Instagram accounts.
How has the beauty landscape changed since you wrote Amazing Face in 2010 and why did you decide to update the book?
It has changed a lot and in many ways. I was writing it in 2009 and 2010 when online shopping hadn't really hit Australia — we had no Sephora; you just couldn't get access to the more specialised makeup artistry brands which are now really huge. Also, the rise of social media, narcissism and the selfie phenomenon has made girls so much more aware of their face, their skin, their hair, their makeup, and all these things we just didn't put on show so much every day. So there is a huge new way of looking made up, and I sort of blame the Kardashians a little bit for that.
Technology change is very big in the beauty landscape, even year-to-year. It didn't surprise me that after five years, some things needed to be updated; what I didn't realise was how many. Products have been discontinued or new products have come into existence — you know, contouring didn't really exist back then. For me, I've been through pregnancy and I now suffer from pigmentation and things I couldn't have probably written about genuinely before I had been through it. Now I have my own skincare line, so I have a lot more information too.
What are your first memories of beauty? Is this a path you have always thought you'd go down?
I grew up pretty rural in a small town and I was a tomboy-tomgirl ratbag for a lot of years. I didn't blow-dry my hair until I moved to the city when I was 18. I was very naive, and I think the reason I wrote [the book] was I had no one to teach me how to do makeup. I had a mum who didn't use it and a sister who was a bit of a punk and didn't use it.
My friends had bad skin — so I had no one guiding me. I thought, how do women learn to look after their skin? How do they learn to do makeup and their own hair? That's not a given, that's something you have to learn. So I just wanted to do a book so that anyone anywhere could get the basics down, without feeling intimidated about going into a store.
Tell us about your funny Instagram captions — how long does it take you to come up with them?
I don't really overthink them — I think that because I am a fluid writer, writing all day, it just sort of fits in there. If I am struggling with one, I treat it like a caption competition: I will look at the photo and pretend I don't know anything about it or don't know anyone in it, and think "what would be the funniest thing in here?" if it's [a picture of] my cat or my son. But if it's a product post, I am very earnest and I want to share that. So it's very conversational, like I am talking to friends. I know they take what I say very seriously, so I don't mess with that.
You have a really fun approach when it comes to beauty — has it always been like this?
I am sort of using beauty, if I am honest. My main thing is to write — I love writing because it doesn't feel like work. I discovered pretty quickly when I got the job as a beauty editor — which I came into as a journalist not as a beauty expert — that people make the mistake of thinking you have to be good at skincare or whatever. What I realised about beauty was that it is a universal language between women. I would go to dinner parties and they would be fascinated with what skincare or self-tanner I use, or how do I get my hair to do this. I just loved being able to share all that information.
I have written relationship stuff too and I think that is another huge universal talking-point among women. I like being part of that and, honestly, I am interested in those topics but to me writing is the joy and being able to communicate the information I have been given and to make it palatable, and relatable and fun for the reader. Because it's not fun learning about blackheads, that's boring ... But, if you make it fun they don't notice they are being lectured and that I am telling them 10 steps to follow.
You have a successful group of friends, from Justine Cullen at Elle to Christine Centenera at Vogue and Bronwyn McCahon at Cosmopolitan — are people intimidated by you?
No. Well, maybe. I don't know, we very rarely get together. I think that the perception of mag girls, that sort of Devil Wears Prada glossy mag girl thing is a bit of bull****. Because we're all from the country — we are from Adelaide, we are from Brisbane, we are smalltown girls who have come to the city to make something of ourselves, and you never lose that. You can get quite a flashy job and live an exciting life, but you are still who you are, and that is why I love those girls — because they are still ratbags underneath. We might have a nice handbag but we are still being idiots, and they are great fun.
You've just introduced Bro-To to your range — what have you noticed when it comes to men and skincare?
Yes, it's very appropriate for New Zealand [laughs]. I've sort of done it to be tongue-in-cheek. As a beauty editor I would always snigger when I went to men's product launches because it was the same product just with different packaging and tougher words like "blaze moisturiser". I always thought it was pretty hilarious how the marketing changed so much. So, first and foremost, I am having fun with it, and second, I know we have a lot of men who use our Go-To product; my husband in particular.
We were getting all this feedback about how "my husband is always using my face wash and it's great, but now I have to buy a new one". I was like, hang on, my main purpose is to always have fun and to take the p***, and I thought this was a great opportunity. The main point is: look if men don't want to buy a coral-coloured product, we will make it a nice safe grey for them. But it's literally the same product.
BuzzFeed has done several listicles about your family — what do you think about this obsession with you?
I wouldn't stop at them. I will say theirs is one of a handful of sites — we will use the word loosely, but "news" sites — that just aggregate content you've posted to Instagram. And I know when you post something on Instagram it becomes a public product, I get that, I am in the media. But I think it's creepy putting up a gallery of a 2-year-old. People will throw that back at me and say, "well, you shouldn't post the pics". I think, really? Everyone I know puts photos of their children up, that's what we do — it's a huge part of our life. But what doesn't happen to most people's photos is that they get aggregated into 50 photo galleries: that is never not annoying. No matter how positively they phrase it, or how cute [it is], I just don't want it.
What are you working on at the moment?
I am at a really exciting stage. I've just finished promo for Amazinger Face. I've got The Wrong Girl television show which has just come out in Australia, based around my last novel. I'm the associate producer, but chiefly my role is that I wrote the book and I sit in the writing meetings but I don't write it; I just have awesome meetings. I love being involved. I'm not sure how helpful I was because there were so many talented TV writers in the room.
Then I consult on wardrobe. Essentially I feel like a competition winner. I am just really happy and thrilled and the show is brilliant and I am so pumped, it feels surreal. I am at a point now where I can start a new project, so it will be a book, probably. I love this bit because it is exciting: I am in tracksuit pants and Ugg boots and I can start writing again.
Where do you look for inspiration and advice?
My husband is a huge inspiration for me — he is very funny. I was going to say brilliant, but he is a very astute business person as well and we bounce all our ideas off each other. On a daily basis, I watch a lot of comedy and I read a lot of books, so that's what gets me going when I need to do work.
If you weren't a beauty writer or entrepreneur, what else would you be doing?
I would still be writing. I think everyone really gets one thing that they are good at and finding that can sometimes take a long time. I am grateful that I found it early and get to do it every day, and call it a job.
• Zoe Foster Blake's book Amazinger Face (published by Penguin Random House) is out now, $50.
Share this:
More Beauty & Wellbeing / Features & Profiles