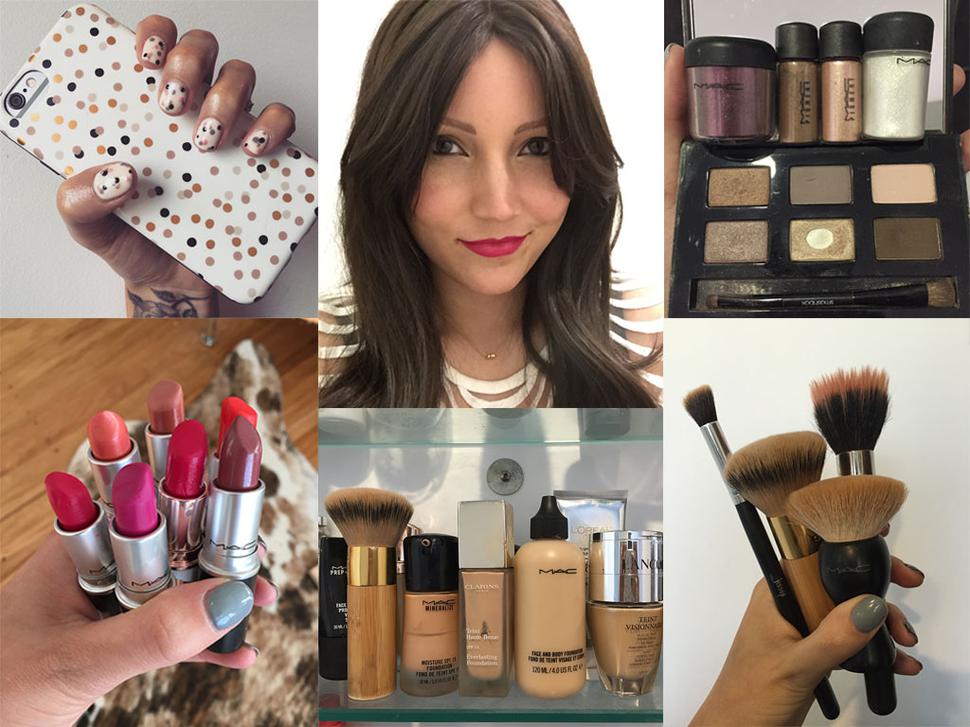 Going Out Beauty with Anna Reeve
The former model on her new look, nighttime beauty and extensive beauty cupboard
Monday July 20, 2015
Anna Reeve (formerly Fitzpatrick) was diagnosed with alopecia universalis, the rarest form of alopecia, at age 7, losing every hair on her body. Wearing custom-made wigs, Anna went on to have a successful career as a model.
"Ninety-nine per cent of modelling was without my wig. It wasn't until I was older that I was used for things with my wig — if I hadn't lost my hair, I wouldn't have had the modelling career that I did," she says.
Now a busy mother of identical twin boys Oscar and Hunter (nicknamed ''The Nuggets''), Anna recently decided to do away with her permanent fringe and replace it with permanent micro blade tattooed eyebrows. She talks us through the process, her new hairstyle and very extensive beauty cupboard.
First makeup memories
I remember using concealer first, and having typical teenage breakouts — I've got quite olive skin but if I ever get a pimple and the skin breaks I scar really badly, and then will fade within six months. I remember I stole concealer from my dad — he's got dark skin and has a big burn on his ankle, so he used to put concealer on it to stop it getting worse in the sun. I would steal it and use that, because my mum's makeup was all too light for me.
Makeup philosophy
It's about figuring out what works for your face. There are trends, but you really have to figure out what works for it and what doesn't. The whole contouring thing at the moment: it's not necessary for a lot of people. If you've already got a really angular face, you don't need to do it. I think people are going overboard with certain things. Not less is best, because I can wear quite a heavy makeup look and not be bothered. My advice is to go and get your makeup done by a professional and ask them to do what they think is a natural but pretty, or a good going-out look and learn from them.
Skincare
I've got pretty good skin. I'm not sure if it's because I don't have that fine hair all over my body, that maybe I have less pores because of it. Whenever I get my makeup done, artists always comment on it because it's really smooth. The only thing that bothers me is that if I get a hormonal pimple once a month and I usually always scar from it.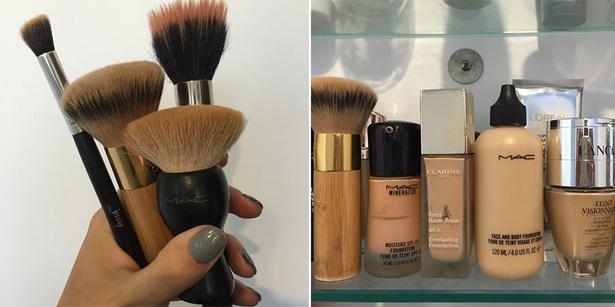 Tips for healthy skin
I have a Clarisonic, which is my new favourite thing in the entire world. Some people use it twice a day, others only like to use it once a week. I don't have very sensitive skin so I can use it twice a day and my skin never gets too over exfoliated. I use a Murad toner and cleaner. I don't always moisturise — I find my skin goes between being oily and dry, and it doesn't always need it. In the evening I will usually just spray on my toner, and if I need something more use a Murad repairing serum.
Sun protection
I was really bad with this — because of my darker skin I didn't really burn badly, but last summer I started using Lancome's City Block sunscreen and it made such a difference. I usually hate wearing sunblock. I don't like feeling like I have greasy face, and I never found a sunblock that sat on my skin and felt normal — but Lancome's I love. If I put foundation over the top it works really well as a primer.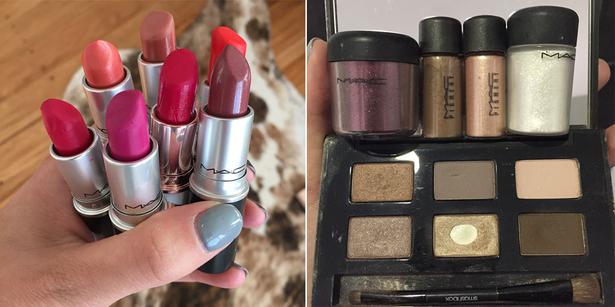 Signature day look
It depends how lazy and in "mum mode" I am in. I have the M.A.C BB cream, which I really love, it doesn't have very full coverage so it's more about evening out the skin tone — or if I have a little bit of rosacea, I use L'Oreal Youth Code. With a buffing brush I will just buff in the M.A.C Mineralize Powder and that can have a lot of coverage. It can make the skin look really matte and pretty but you don't feel like you are wearing to much makeup.
... and for night
I've got a new foundation that I am absolutely obsessed with called Lancome Teint Visionnaire Skin Perfecting Duo Demo — it's meant to help even pores, and comes with a corrector concealer in the lid. I discovered it over summer and have just bought my winter shade; it goes on beautifully and has good coverage. I've got this amazing brush that I bought at Sephora called Tart; it's a buffing brush but it makes it look like your makeup has been airbrushed on. I use a M.A.C Highlighter in a triangle under my eyes just so you don't get that darkness and I've got this mini kabuki brush and use that with concealer. I always put concealer over my foundation. Most people do it first but I figure you will need less if you are doing it on top. I learned that from a makeup artist.
I usually do a classic smoky eye with bronzy warm brown tones. I love the M.A.C Pigments. there's a sparkly one called Reflex Gold that I use if I want to make it look a little bit special. In the bottle it looks awful — like white glitter — but when it's on it just picks up the light and everytime I wear it I get so many comments.
Eyeliner
You know that I'm really sick if I don't have eyeliner on. I wear it every day and have done since I was 13. I use M.A.C Liquid Eye Liner in Boot Black on my upper lid and then a waterproof pencil liner on the bottom line. It gives the illusion of lashes because I don't have that — otherwise I look very alien like. If someone said I could only have one makeup item for the rest of my life, I would say eyeliner.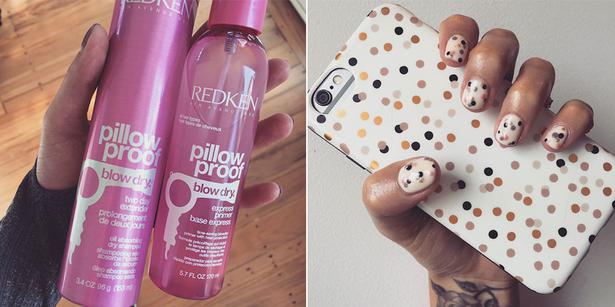 Lipstick
I'm a fan of bright lipstick. Sometimes I won't even put a base on, I will do my eyeliner and just put on a bright lipstick. Because if you put on a bright lipstick you feel like you have made more of an effort. I am a massive M.A.C girl — I like all the classics like Ruby Woo, Russian Red, and Up The Amp. I have so many lipsticks floating around in my handbags — I often just dig for one and go with that. Often on a night out, I could wear five different colours over the night because I just take one out and give it a whirl.
Nails
Petrina from Orly Nail Girls does my finger nails. I used to go to a nail bar, but started seeing her three years ago and I have only ever seen her since. I am a bit of a nail art girl. I'm definitely a fan of muted colours — grey and blues or white. Last week she did some marbling and the week before I had a light blue with a gradient. I get them done every two weeks with a gel colour. I have really weak nails due to alopecia, so if I didn't get my nails done they would be paper thin; the gel makes them thicker.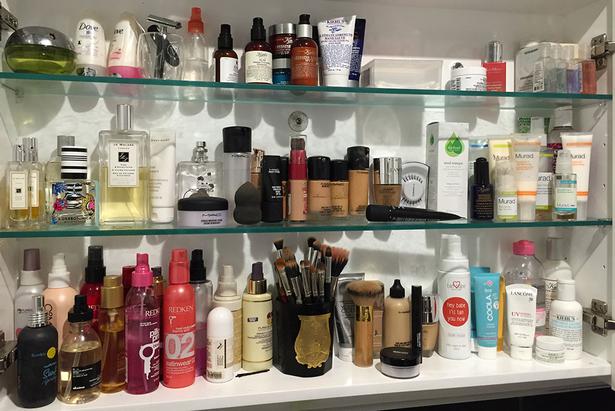 Fragrance
I wear the Balenciaga floral one. But my signature one that I love and is just the classic Issey Miyake that comes in the tall skinny bottle with the silver ball on top. I've worn that for years, my mum wore it and I remember just always loving it.
Permanent brows
Until now I've always had a fringe, and never wore my eyebrows really unless I was getting my makeup done. I couldn't draw them on myself as they would go all wonky. I had thought about permanent brows years ago, but they used to just do a big fat coloured block line and it looked so fake. If you've got eyebrows it doesn't matter so much because it adds a depth of colour, but if you don't have eyebrows, it looks like someone has taken a sharpie to your face. Now they do it with a micro blade, it's just fine strokes and looks like hair strokes. I never did it before because of modelling — that was kind of my look — but this year I realised that doesn't really matter anymore, and I wanted to try out a different look and not have a fringe.
I was always self-conscious of my brows. If I was swimming and my fringe would slip back I would be left without the eyebrows — they are a big thing of framing someone's face. I had heard that The Brow House was the best and just went with it. They use a dye and pretty much do strokes on my eyebrows to figure out the shape that I would want — usually if you have hair, you already have a shape to work with. We did three sessions to find a shape, followed by three individual tattooing sessions. You don't get depth of colour by starting with a really dark colour, it's by adding to it. The entire process took about six weeks, and each visit takes two hours. It doesn't hurt; they put a numbing cream on I was so surprised. I love being able to not have a fringe and to change the look; it's so good to be able to change things up.
Share this:
More Beauty & Wellbeing / Features & Profiles