Hair Helpers
Here's a heads-up of the latest snips and snaps
Friday Dec. 4, 2015
FASHION CRED
What do Victoria Beckham and Lulu Guinness have in common, other than both being British designers? They're Tangle Teezer fans. Beckham has tweeted about the brush and husband David was recently photographed carrying daughter Harper with one in her the pocket of her backpack. Accessories designer Guinness has come up with a cute heart-decorated one, adding to the buzz about what is essentially a piece of plastic with flexi bristles to navigate wet, curly and knotty hair. The device, designed by British hairdresser Shaun Pulfrey and available in varying sizes and colours has become an unlikely phenomenon, being cited as a hair helper by celebrities including Cara Delevingne, Rita Ora, Emma Watson, Lara Stone, Georgia May Jagger and Salma Hayek. The Lulu Guinness Tangle Teezer Compact Styler costs $34. Stockists ph 0508 734 466.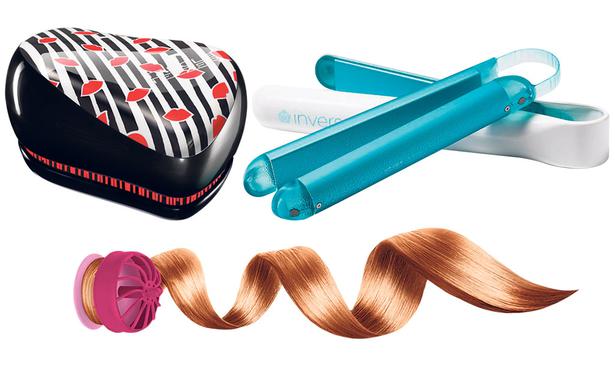 Roholm Inverse Conditioning System, Tangle Teezer, VS Sassoon Secret Curl pop-up hot roller. Pictures / Supplied.
HOMEGROWN GADGET
Tauranga hairdresser David Roe has a bright idea he hopes will catch on worldwide. The Inverse looks like a standard straightener, but it uses cold not potentially damaging heat to smooth hair. Roe got the idea from his wife using an icy rinse on her hair and says the process helps seal in moisture and promote shine. Hairdressers use a similar cool blast at the end of hot blowdry to "finish" a style. With backing from a Bay of Plenty start-up investors group and a deal with Brand Investors, the biggest direct response marketers in Australasia, chances are you will hear more about the Roholm Inverse Conditioning System. It is made in New Zealand and consumers insert special rods chilled in their freezers into the device before use. See inverse.com
NO BULL
What do you do with the, ahem, by-products of your cattle stud? If you're innovative Waikato woman Lynne Webster, you team up with a scientist and use purified plasma protein separated from bovine semen as the basis of a hair product range. Imprivo leaves hair silky soft — yes, we've tried it — and it is in use at several top Auckland salons. They say it gives impressive results in conjunction with colouring for strong, shiny hair. An at-home shampoo and spritz are available, alongside products for professional use. Find out more at imprivo.co.nz
NANA KNOWS BEST
Heated rollers are one of the easiest ways to style your own hair. Modern ones heat quickly and don't snag, and styling time can be quicker than with wands or irons. Simply pop in a few rollers, do your makeup, then brush out your hair to the desired curl. New VS Sassoon Secret Curl pop-up hot rollers are made of silicone so won't damage your hair and they're clip free, so you just roll up and snap in place. The lightweight set has 12 rollers and costs $119 from Farmers, Harvey Norman and leading electrical retailers.
Share this: