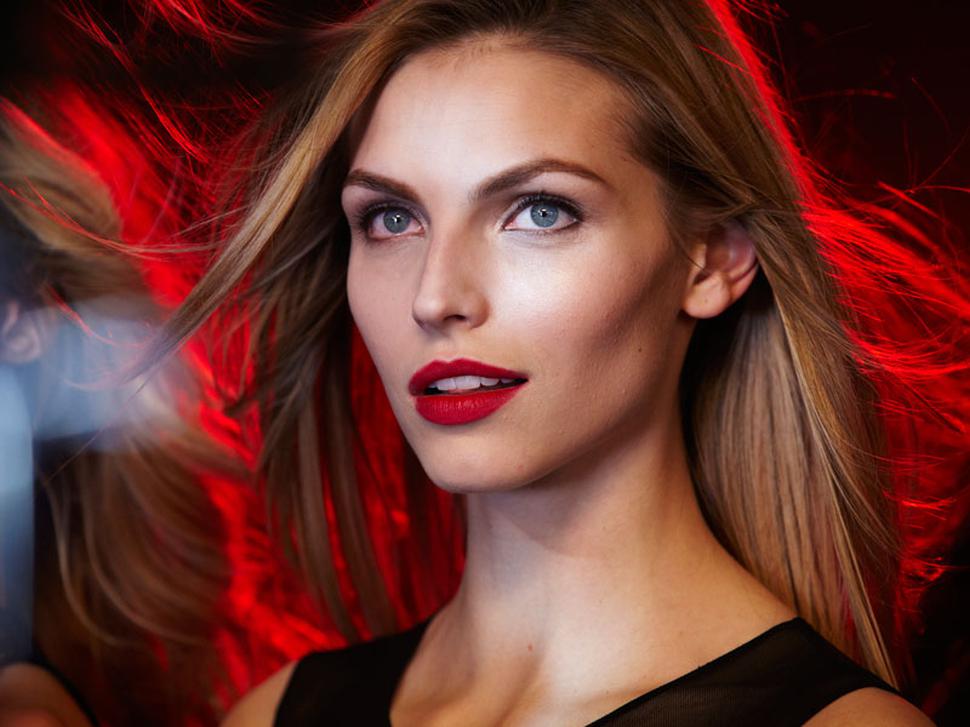 Model Karlina Caune Reveals Her Beauty Secrets
This top runway model will soon be gracing a billboard near you
Tuesday Sept. 15, 2015
The new face of Elizabeth Arden is a Latvian-born model who hit the runway after a stint as an army sharpshooter. Karlina Caune was chosen for the global role to typify the sort of strong modern look the century-old brand wanted to pioneer. She follows in the footsteps of big names, including Hollywood star Catherine Zeta Jones, and has for several years been a rising star of runway and fashion shoots.
Winning a big cosmetics contract is a coup for the New York-based model. Her first campaign is for Arden's new fragrance Always Red, shot in New York where the company founder first set up shop and opened the famous Red Door spa. Look out for Karlina in her many guises in the months ahead.

What is your beauty philosophy?
Less is more. I know it sounds a bit cliche, but it's how I truly feel. I like to keep my look natural so that I feel most like myself. I love a flawless complexion, filled-in eyebrows and a touch of bronzer.
When do you feel most beautiful?
I would be kidding myself if I said I didn't feel incredibly beautiful on a shoot — the clothes, the makeup, the hair — but the most beautiful? That would have to be after returning from an amazing journey. I'm a nature lover, and I get inspired and recharged from those experiences. A weekend spent hiking or on a diving trip is what makes me feel most beautiful and confident about myself.
How did you feel when you found out you were Elizabeth Arden's new brand ambassador?
I was just off a flight from Los Angeles when I learned that I would be the new brand ambassador. I am a longtime fan of Elizabeth Arden products, so to say I was thrilled is a bit of an understatement. I couldn't believe it was actually happening! I went for a run, took a long bath and only then I realised it is actually happening! I called my parents and best friends who organised a close "family" dinner to celebrate. I was so happy I felt like I was 10 feet above the ground.
What excites you most about the role?
I love that I am going to be a part of an iconic brand that supports strong, confident women, and I'm excited about the opportunities to connect with consumers around the world. Whether it's at an event or through social media, connecting with these multi-cultural and multi-dimensional women is going to be a personally invigorating experience.
What's your go to Elizabeth Arden product?
Just one?! My staple is Eight Hour Cream Skin Protectant. Once I started modelling, it seemed that every makeup artist I worked with had it in their kit. I've learned so many clever ways to use it from makeup artists over the years. I use it on my lips, hands, on my knees and elbows all the time. And when I'm on set, I've even used it on my eyebrows and on top of eye shadows. The list of ways to use this product goes on and on. It's truly amazing!
I also use Prevage Anti-aging Daily Serum every day. Because I like to spend so much time outdoors, a serum that helps with environmental protection is really important to me.
What's the best beauty advice you have ever received?
Take the time to take care of your skin. Always remember to take off your makeup before bed and spend a few extra minutes during the week to apply a face mask or treatment. Great skin makes me feel confident and means I don't always have to wear a lot of makeup. By taking care of my skin, whenever I want to have a major beauty moment I have the perfect canvas for a flawless look.
What is your first memory of/experience with the brand?
I think I was about 7 years old when my Grandma unwrapped her Christmas gift and there was a green-ish bottle. It was Elizabeth Arden Green Tea perfume. Since then, I always recall my Gran wearing it and her house always smelling like it too.
What's your favourite treatment at the Red Door Spa?
I love all of the treatments, but particularly love the facials. Taking care of my skin is really important to me, so I love to splurge on a professional treatment. I also love to go to The Red Door in Union Square for a mani/pedi. The hand and foot massage feel amazing; it's the perfect way to relax after a busy week.
What's in your makeup bag?
• Eight Hour Cream Skin Protectant: This product is such a multi-tasker that I always keep it handy.
• Flawless Future Powered by Ceramide Eye Gel: I use this whenever my eyes need a quick pick-me-up. The refreshing formula feels great and keeps me looking rested ... even when I'm not!
• Beautiful Color Moisturizing Lipstick in Sweet Pink: Sweet Pink is a slightly pinker version of my natural lip colour. I feel like it's a subtle way to wake up my face and define my lips.
• Kerastase Hair Serum: This keeps my hair under control and feeling strong, shiny, and protected.
• Blotting papers: I keep these handy to help me feel refreshed instantly when I'm on the go.
Share this:
More Beauty & Wellbeing / Features & Profiles