Beauty Routine: Performance Artist Akashi Fisi'inaua
One of the stars of this year's Pride Festival talks about the empowerment of owning her own look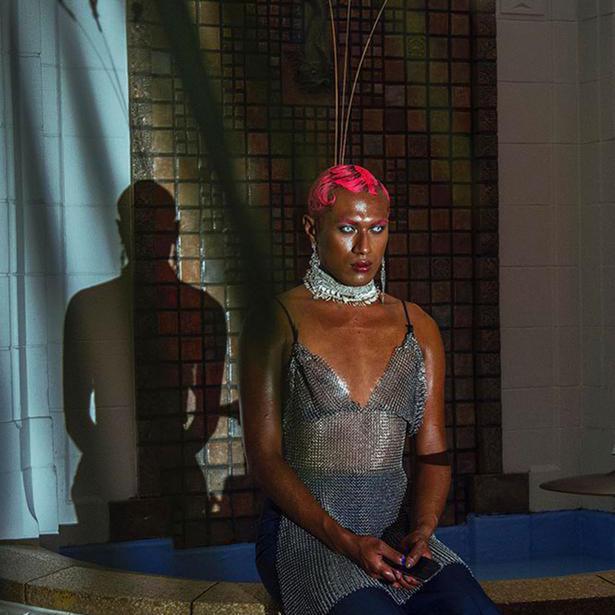 Thursday Feb. 8, 2018
From stage to film, Akashi is an arresting presence, helping broaden the conversation around gender identity and cultural influences.  
A member of the FAFSWAG – an Auckland-based collective which celebrates queer brown bodies and contemporary Pacific arts – her body is her medium. Her message is about taking control and exercising body sovereignty.
Of Tongan origin and with a background in dance and acting, Akashi is part of the voguing scene that sprang up in New York in the 1980s and has been adopted in South Auckland as an expression of identity. Within the Auckland Vogue Ballroom Scene she is known as the Chanter MC Queen Queen Kapussi fka (formerly known as) Boyinadress.  
Her show, Femslick, was a sell-out at the Pride Festival last year, and this year, she is back participating in the project Xhrome Xhrysalis, at the Basement Theatre on February 9.
This night of fashion, activations, music, DJs, performance art and digital installations is a first of its kind in New Zealand, operating within an indigenous framework to carve out space within the city for queer/trans bodies to express themselves and to network.
READ: Be One of The First to Hear Estere's Hot New Track
An Auckland Theatre Awards winner for best body of work, she has choreographed and directed performance pieces,worked with visual artists (including Pati Solomona Tyrell, Tanu Gago and Jermain Dean), and appeared in digital installations. A video series she worked on as artistic director has been shown at galleries in Christchurch and Melbourne. It was shot by Jermain Dean and featured Jahra Rager and her brother Paula Fisiinaua.
For those who can't make it to the festival, Akashi's artistry is also on display in the innovative FAFSWAG interactive digital documentary. Made by Taika Waititi's production company, this work has a festival debut but can be seen ongoing online at FAFSWAGVOGUE.COM. It follows performers in voguing "battles" and is layered so the viewer can choose to see more about each artist.  
In her own words, Akashi introduces herself and her attitude to appearance.
Beauty is …
Appreciation of individuality, confidence in individuality, the acceptance of what you were born with, acknowledging your body as a vessel of heritage and ancestry. It's influx and is intangible and ephemeral. Beauty to me is also about control, it's about precision and articulation of how you see yourself in relationship to your world. And it is about survival, rebellion, and disruption.

Makeup memories
I've always been surrounded by beautiful women in my family, and if you don't know anything about Tongan women they go in on their beauty regimen. In particular, church was this battleground for them to serve face with their threads. It would become this unspoken camaraderie of "yeah we look good," but also "sis I can do that too".
Makeup was always something that has been around me. I wanted to be like my aunts, to feel and look so empowered like they do when they had it together. I was intrigued by the whole ritual of it all. It was as though they said to themselves, I'm going to take this time to invest in myself, and this would set the tone for the rest of my day.
Performance transformation
My relationship to make-up is about survival, it's about being combat ready. When I'm putting on foundation, liner, lip gloss… it's passed down knowledge from a long line of instigators, activators, artist, working women. This is across the board the way I solely operate when I'm serving face, from the stage to the car.
Everyday appearance
I rock foundation, concealer under my eye, some mascara, a little highlighter and lipgloss.

Beauty tip
Paint for the face you have, don't paint on a new face.

Weekly routine
The night before: Shave my whole body, head to toe, with coconut oil. It also acts as an exfoliant too. Hot oil shower with Ayurvedic Root oil. Scrub my whole body with ground coffee and salt mixed in olive oil (with brown/black skin it's very susceptible to drying, therefore, becoming ashy and you don't want to look ashy ever, you wanna look moisturised and quenched!). Dry off, and you're done.
READ: Luscious Oils Your Skin Will Love
The morning after: My skin feels like a kiss by that trade that you always had a crush on, but had been afraid to approach. I start with a morning affirmation and that ranges from Janet Jackson's Velvet Rope album, Foxy Brown, Lil Kim, or Aaliyah to set the mood. I like to start with a charcoal facemask to lift and remove all that nasty build up in your face. Then I segue to a turmeric face mask to remove any redness or dark circle and even out my complexion, Then I put on a little moisturiser any will do tbh! Then I start with my makeup. Set with rose water then you're done.
Favourite products
1. Edge control: Hair is also really important and laying those edges down is too but also brings the makeup together.
2. M.A.C Lipgloss, or just any sort of gloss: It's important that your lips look poppin!
3. LA Girl Foundation: It's really inexpensive and honestly it's so lightweight and full coverage, and perfect for when you're on the go
4. LA Girl Concealer: I love this because I can put on under my eyes, then a M.A.C BB cream and I'm good for the day.
5. White Eyeliner: I have really almond-shaped eyes and I like to place this on my waterline to stop my tired ass from looking sleepy!
Owning your look
Your look coincides with your energy. If you're feeling it, it will translate into how you carry yourself within any space. No matter the bullshit, you can get a heckler screaming, but that doesn't matter because your beat is the tinted windows, your face the Bugatti, your soul is Ashanti behind that singing "rain on me" --- all the while looking like a cloud wrapped in a rose petal in ya Birkin bag, next to the feather duster and the gun.
• Xhrome Xhrysalis, is part of Auckland Pride Festival which is running region-wide until February 18. Visit Basementtheatre.co.nz
Share this:
More Beauty & Wellbeing / Features & Profiles