Beauty test drive: DIY gel lacquers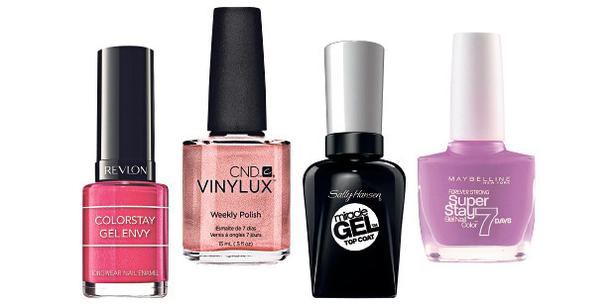 Friday Nov. 21, 2014
Salon-style high-shine gel lacquers are now becoming more readily available for at-home application. They generally do not require "curing" with an LED or UV lamp. Often base coats are not needed either, but a top coat is usually recommended.
The promise of DIY gels, which are a hybrid polish rather than a true gel, is that they will last longer than regular polish and be more chip resistant. Unlike first-generation salon gels, they normally do not require removal by soaking.
Viva editorial assistant Anna Lee put four to the test: here are her findings.

Revlon Colourstay Gel Envy
Revlon's gel enamel is proving to be one of our favourites. With the base and colour in one, it applies smoothly and is just the right thickness. One coat is all that is needed for a strong colour, then finish with the ColourStay Gel Envy Diamond Top Coat for "life-resistant wear". Sets surprisingly quickly and removes easily with no mess. Our pick for the perfect nude shade is Checkmate.
• Revlon Colourstay Gel Envy, 30 shades available, $18.50-$21 each from selected pharmacies, Farmers and variety stores.

Vinylux
The first hybrid polish to come on the market, this is from the makers of Shellac. It has the strength and flawless finish of the Shellac service without the salon visit and return for removal. Vinylux doesn't need a base coat and is finished with a clear top coat, which instead of drying under LEDs, hardens through exposure to natural light. Gives a beautiful finish and nails that endure where your regular polish usually wouldn't.
• Vinylux 'Weekly Polish', 76 shades, $19.95 each. For salon stockists seecreativenails.co.nz

Sally Hansen Miracle Gel
Sally Hansen's miracle is said to be the first salon-quality manicure that can be achieved in your own home. The part-gel, part-lacquer product claims up to 14 days of high-shine wear, from no base coat and two coats of colour finished with the same brand top coat. The promise of colour and shine didn't quite hit the 14-day mark, but we were still impressed with the longevity. This lasted far longer with strong colour, shine and without chips than a regular polish.
• Sally Hansen Miracle Gel comes in 12 shades sold as single bottles for $16.99, or boxed with the Miracle Top Coat in nine shades for $19.99. From Farmers and pharmacies.

Maybelline Super Stay 7 Days Gel Nail Polish
Maybelline delivered on its promise of a seven-day polish, leaving us with unchipped nails and a rich colour for an entire week-plus. We loved the curved brush, which made the application process easy. The shade "Eternal Lilac" was our favourite, with two coats needed of the gel-resin formula to build up the perfect punchy purple colour. The polish, said to be enriched with iron and calcium, requires a base coat before application, then should be finished with a single layer top coat of your choosing.
• Maybelline Super Stay 7 Days Gel Nail Polish costs $14.99 and is available in 12 colours.
Share this:
More Beauty & Wellbeing / The Latest