Beauty Test Drive: Manuka Doctor Gold Dust Firming Serum
We try Kourtney Kardashian's choice of NZ skin serum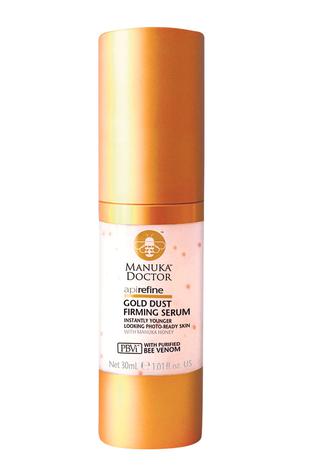 I've been using this brand new product endorsed by surprise new Manuka Doctor brand ambassador Kourtney Kardashian for just a few days. It promises "instantly younger looking photo-ready skin." It isn't alone in making such claims, so I won't hold that it against it. So far, no revealing selfies from me, but I can see why she likes it.
The serum delivers a tightening effect, making skin feel firmer, presumably due to its bee venom ingredient. Colloidial gold also illuminates on application. The texture is pleasant and the fragrance honeyed.  
As with many other serums, this one contains superficial skin smoothing ingredients and recognised hydrators for a slick finish, but it is hard to determine its lingering anti-ageing effects. There is a peptide down the ingredient list, but these vary greatly in efficacy.
That said, the serum goes on nicely and skin looks good afterwards, so speaking cosmetically, if not scientifically, I'm happy to say it does a decent job based on my limited test drive. Manuka Doctor makes a wide range of mid-priced skincare for different skin types and will surely benefit from having a high-profile promoter. Choosing the gold serum as a start to her tenure is smart, allowing for eye-catching imagery. While slightly gimmicky, gold has long been used in beauty products to gild the lily.      
The verdict: Don't expect a facelift in a bottle, but this does offer a boost, as no doubt Kourtney's bank balance received from aligning with a New Zealand company looking to expand its exports into the United States.

• Manuka Doctor ApiRefine Gold Dust Firming Serum, $49.95, from deparment stores and pharmacies now and online next month. For stockists see manukadr.co.nz or Ph (09) 300-3025.
Share this:
More Beauty & Wellbeing / Features & Profiles