Beauty Test Drive: Benefit They're Real! Blue Lash-Hugging Liner and Mascara
Blue is back - ditch the black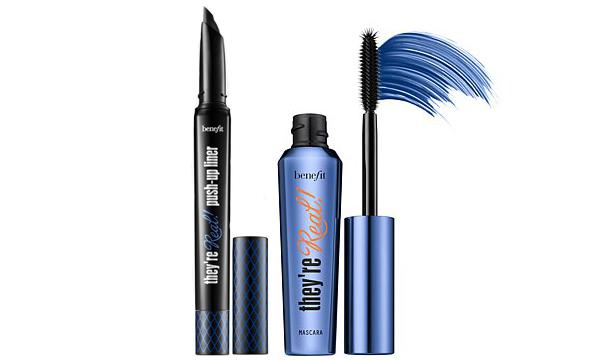 Saturday Sept. 12, 2015
For a makeup novice like myself, the big mascara move from classic black to a bright blue hue was a daunting one. Personally, I prefer the "just rolled out of bed and always naturally look this flawless" look, which I strive daily to achieve with the help of a handful of beauty products that promise me something similar and a good Instagram filter ... Not Baby Spice having a bad day after discovering Topshop just sold out of size 7 platform boots.
The magnetic blue mascara canister and liner tube sat on my bathroom counter-top for a week. But, eventually, lured in by the promise of visibly larger eyes and dramatically long lashes paired with a looming deadline, I reluctantly gave it a go before heading out on Saturday night.
The liner claims it's the first ever lash-hugging gel liner pen and promises "bigger-looking eyes in just seconds". First of all, I don't know of anyone who doesn't take at least three smudged and ultimately abortive attempts with shaky hands in an effort to get a perfectly smooth cat eye — so the "just seconds" bit must be an inside beauty joke I just don't yet know about. 
But the rest? Benefit has got it all so right. The liner, complete with a soft AccuFlex tip, makes  what's usually a formidable task that little bit easier — with the creamy royal blue hue gliding on to the lash line smoothly with the assistance of the specially designed tip. The They're Real! beyond blue mascara also impresses — swiftly lengthening my little lashes while adding volume, thickness and a sucker punch of colour.
There the pair remained, unspoiled and flake-free for a commendable 10 hours — even after tearing up a dance floor like any other Wannabe girl would.
The Verdict: An easy and reasonably inexpensive way to mix up any predictable beauty routine and try something new. You don't need to be a makeup pro to pull it off, just go easy on other beauty products, steer clear of a bright lip and leave the platform sneakers in the 90s. Let your eyes do the talking.

• Benefit They're Real! Beyond Blue Mascara and They're Real! Blue Gel Liner, $42 each, available from Smith & Caughey's stores. Also available in black, brown, green and aubergine if you'd rather not brave the blue.


Share this:
More Beauty & Wellbeing / Trends