Beauty Trends 2016: The Individual
Try the middle ground between the coming season's all or nothing makeup looks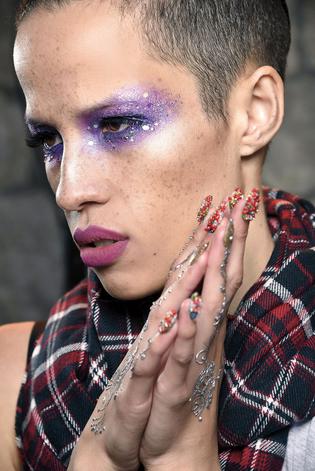 Judging by the beauty looks at international fashion weeks now underway and makeup collections coming to counters soon, we are in for more of the split personality approach to wearing makeup. "All or nothing" is how M.A.C has dubbed it in trend previews.
This isn't much help if you're looking for pointers, but handy if you like the increasingly individualised approach to application, matching what you put on your face to your mood, rather than to industry edicts. Hard to ignore though is the continued near no make-up look of skin allowed natural glow — or what top makeup artist Val Garland describes "as girls who just got out of the shower" — and the more recent emergence of fantasy-inspired colour play.
At Giambattista Valli, Garland combined the two with blended lightweight foundation and a blue glitter overline. A more showy purple glitter was seen on New Zealand's own Next Top Model winner Danielle Hayes in a turn on the runway at Manish Arora in Paris for spring-summer 2016, said to be inspired by "galactic, manga, gypsy girls at the disco." A futuristic look where freckles are allowed in keeping with the modern mantra that skin should be perfected not disguised.
Which brings us to what to wear: lightweight foundation, subtle illumination and whatever else you please, from boldly crayoned eyes to sheer lips or a classic colour kiss. The eye hue most in view is definitely blue, but we recommend playing with gentler sunset shades this autumn to graduate into colour. Pinks and lilacs are a good starting point and favoured by many brands this season. They make an easy way to transition into experimenting with stronger shades.

STROBE VS. CONTOUR
Bobbi Brown says strobing not contouring is the best bet of the two big face defining styles. She says the strobing technique, to highlight your features with illuminating products, is better than trying to make things disappear with heavy, fake-looking contouring.
Kardashians may disagree, but anyone who likes a less time-consuming approach to makeup will side with the beauty entrepreneur who has always favoured more glowy, less matte skin. This is made easier, she says, by layering care and cosmetic products.
Her future beauty predictions include even longer-wearing makeup, including false lashes that can stay on for weeks.

REHYDRATE YOURSELF
Sort out skin and hair moisture depletion with these boosters
The Treatment: Kerastase Fusio-Dose.
The Promise: Takes Kerastase's tailor-made salon service to the next level, allowing several hair concerns to be addressed in one speedy pre-blow wave treatment.
The Practice: A consultation establishes the hair issues you face, with the stylist acting as mixologist choosing a concentrate for your primary concern and a booster to add like a shot to the shake-up done beside you. This is then sprayed into hair and left on for a matter of minutes at the basin before being washed out. The prescription process can be made even easier by checklist, allowing you to choose how your hair feels (from dry, dull, damaged or lacking in body) and what benefit you would like to add (from the likes of being frizz-free or stronger) through 20 possible combinations and to arrive at a home-care recommendation.
The Place: Bettjeman's Hair Salon, ph (09) 522 8030, or for other Kerastase consultant salons throughout New Zealand, see kerastase.co.nz
The Price: $35.
The Verdict: Quicker and more concentrated than a mask.

The Treatment: Sothys Hydra 3 Hyaluronic Acid Hydrating Intensive Treatment.
The Promise: A luxury treatment for all skin types, using Sothy's exclusive digi-esthetique modelling techniques and the latest generation of hydrating active ingredients. Floods the skin with well-being and provides a sensation of absolute hydration.
The Practice: Skilled therapist Chloe relaxes me into a double cleanse, followed by an exfoliation combining enzymatic actives in a gel base and a sugar-based removal of impurities to prepare skin to better soak up what is to come. Restructuring serum is skilfully worked into my face, then a series of masks applied to intensely hydrate, remodel, nourish and soften skin. A peel-off plumping mask featuring argan and other oils rich in omega 6 and 9 transforms from a smooth mix to a white glaze as it dries. A smoothing serum is the final step and as with all the other phases, lifting massage is a key component of its application. I leave feeling rested, with my face noticeably rounded.
The Place: Jouvence Beauty Institute, ph (09) 378 6303 or see jouvence.co.nz. For other Sothys spas in New Zealand see sothys.co.nz
The Price: $160 for 75 minutes.
The Verdict: Highly recommended. I'm a devotee of a good French facial and this is most definitely that.
Share this: