Why We Love Masks
Treat your skin to an intensely indulgent and targeted application.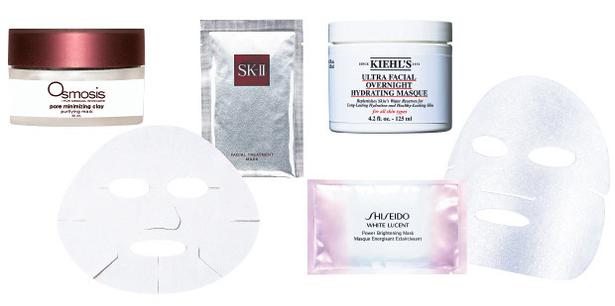 Friday Oct. 24, 2014
Masks are one of my favourite beauty top-ups. I don't use them as often as the weekly applications that are frequently advised, but when I do, I always feel like I should indulge more often.
Using a mask is enforced relaxation, they are best enjoyed lying down, especially in the bath, although if you must you can wander about at home wearing some of them. Beware doing this in the cloth kind as they are likely to flap about.
I do love those sachet-packaged masks for travel, however, because they are lightweight and ideal for a hotel hydration boost after a long flight. Tired skin enjoys the infusion a fitted mask provides and is left looking rested and plumped. (Shiseido excels at this style of infused mask, including making one for the eye area, but other companies are now making similar styles to those pioneered in the Japanese market).
Many of us first experience a mask during a salon facial, where they are used not just as souped-up moisturisers, but also to clarify and correct the complexion.
The best known examples are clay masks, which work particularly well on oilier skin, meaning they can be a good option for men and teenagers. A teenager may find trying a mask at home is more helpful at drawing out impurities than excessively exfoliating, which can irritate and over-stimulate breakout-prone skin.
The trick is matching the mask to your skin type and its needs. Some contain soothers for sensitive or reddened skin. Newer examples from serious skincare companies target pore refining and brightening concerns with concentrated ingredients. Generally, masks used in salons compared with those sold for at-home use, are more concentrated. They may contain enzymes which need careful neutralising to end their action.
At the other end of the spectrum is the aromatic mask, providing a richly sensorial experience. Whatever you choose, lie back and lap it up.
FACE TO FACE
Unless otherwise directed, dispense a liquid or gel mask into one palm, press your palms together to warm and spread, inhale, then gently cup your hands to your skin at the forehead, chin, cheeks, neck and decolletage. Massage at jaw line and work upwards and outwards in circular motions with finger tips. Follow with upward strokes on neck. Leave for recommended time, usually about 10 minutes. Recline and relax. Remove residue gently with a cotton pad, working upward and outwards from the base of the neck.
LEAVE ON
1. Kiehl's Ultra Facial Overnight Hydrating Masque $58.
Boosts skin's moisture levels and leaves it feeling more supple and refreshed. Contains extracts from the so-called fountain plant (Ophiopogon japonicus), the formula amplifies the hydration provided by a daily moisturiser by setting up skin for replenished retention. From Kiehl's Britomart and Smith & Caughey's.
BRIGHTENING
2. Shiseido White Lucent Power Brightening Mask (pack of 6) $115.
This mask is made of an elastic paper-cloth-like material, its shape refined to mould to the face, allowing good product penetration. White Lucent includes Shiseido's exclusive brightening ingredient 4MSK to produce a more refreshed, even-toned effect. From selected department stores and pharmacies.
CLARIFYING
Osmosis Pore Minimizing Clay Purifying 30ml Mask $82.35.
A non-drying clay-based mask to detoxify and balance oily, blemish-prone skin, without disrupting its oil/moisture content. Helps refine texture and the appearance of pores with key active ingredients. Salon stockists atosmosisskin.co.nz.
INSTANT EFFECT
4. SK-II Facial Treatment Mask (for 6 sachet box) $136. 
Another excellent Japanese example of a moulded mask, this is made of cotton and generously soaked with Pitera, the brightening yeast extract, which is the cornerstone of the SK-II range. After cleansing and toning, apply the mask for 5-15 minutes as an occasional boost or up to several times a week. The trick is to place these masks over the eye area first, then to unfurl them across the face, patting down into place. From DFS Galleria, Customhouse, Auckland.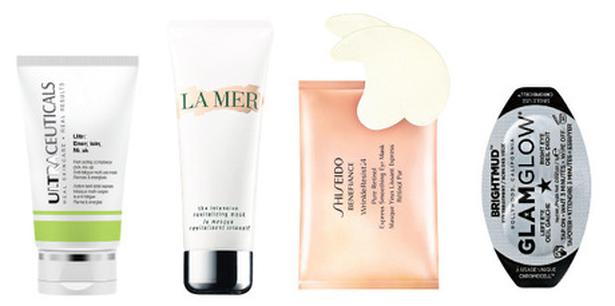 INTENSE INFUSION
5. Ultraceuticals Ultra Energising Mask $75 
This mask from an Australian cosmeceutical company is more akin to Clarins renowned Beauty Flash Balm than a traditional hydrator. It is designed as a quick complexion pick-me-up, usable up to several times a week. After 5-10 minutes, massage in any excess or wipe off. For beauty salon stockists,seeultraceuticals.com.
LUXURIOUS
6. La Mer The Lifting Firming Mask $260.
The one thing this won't lift is your bank balance. But it sure feels nice on, so think of it as a spa-style indulgence at home. A brush aids smooth application.
EYE OPENERS
7. Shiseido Benefiance Wrinkleresist24 Pure Retinol Express Smoothing Eye Mask (pack of 12) $93
These concentrated treatment sheets have an immediate brightening effect while plumping skin with hydration. The use of retinol and Shiseido's Wrinkleresist formula is aimed at boosting and smoothing skin for longer-term skin resilience. Apply for 15 minutes and use regularly for best effect.
8. Glam Glow Brightmud Eye Treatment $89
Claims to be the first tap-on and wipe-off bioactive technology to target the eye area. I found the immediate effect on tired looking eyes impressive, with one caplet containing enough for both eyes. The idea is to leave the cream on for three minute for a firming, brightening and smoothing effect on dark circles and fine lines. From Mecca Cosmetica stores, meccacosmetica.co.nz.
Share this:
More Beauty & Wellbeing / Trends