SPONSORED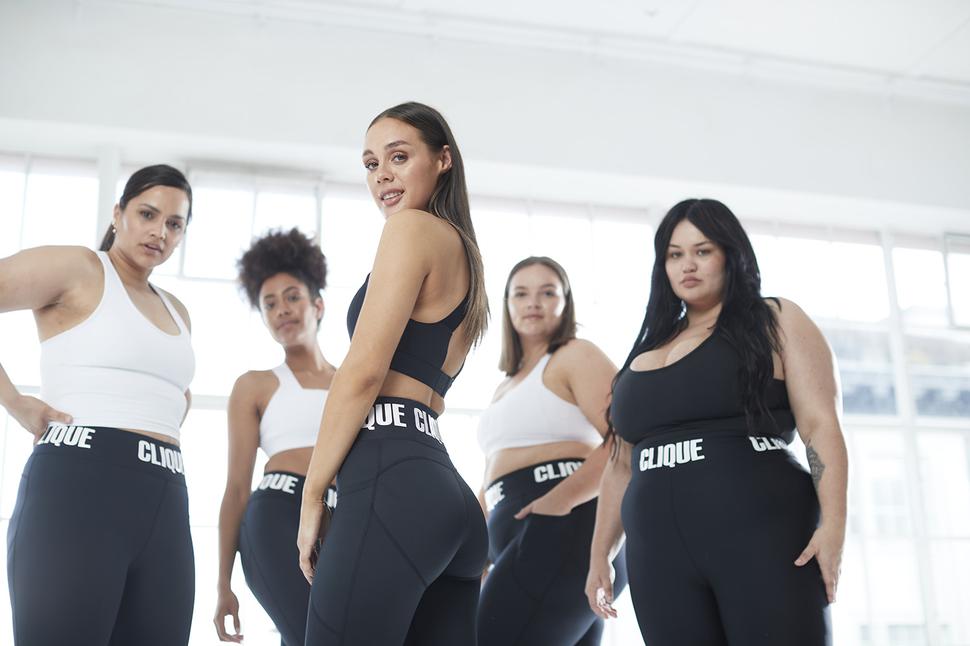 Beloved For Their "Squat Proof" Workout Tights, NZ Brand Clique Has Launched A Sustainable Update
Clique are levelling up their popular workout tights with recycled fabric and an expanded size range
Wednesday Nov. 25, 2020
It's the New Zealand fitness brand with the cult following, and now Clique has upped its sustainability game. Co-founders Bex and Carena West talk tights, recovery, and embracing change.
What's new for Clique?
Our most recently announced product is actually a revamp of our most popular product - Clique classic compression tights. These are the tights that we're known for! Not only do they provide compression benefits like preventing the onset of muscle soreness to help you get back into training faster, they're also ultra-comfortable, flattering, don't slip down and are squat proof.
The main differences with the new release being that we have changed the composition off our classic fabric to be made of 76 per cent recycled fibres, and they now encompass a highly-requested side pocket! These have been developed to sit alongside our existing Clique Gen III performance compression tights as a more comfortable and flexible, yet still functional, option.
The reason we've made this change is simple — we try to do good where we can. In this case, if we can lower our impact on the environment, we will do our best to do just that.
Can you tell us about your sustainability developments?
All Clique Fitness products are created to fulfil a need, creating a thoughtfully curated collection of pieces that are trans-seasonal and classic. All products that we design have longevity in mind, and we use the highest quality fabrications available to us.
All Clique products are designed in New Zealand, with the majority of them manufactured in China, and the factory we work with holds the GRS certification to provide a zero-harm work environment for employees and those affected by our work. We really enjoyed visiting the factories and meeting in person the people we work with and chat to on a daily basis.
As of October 2020, all of our Clique compression tights and performance tops (tanks and bras) are constructed using fabric we have developed with recycled post-consumer plastic bottles which we are super proud of. The number of bottles per pair of tights varies depending on the style, but for an example, our Gen III Performance tights recycle 12.5 bottles per pair.
And of course, we'd feel like we were half-pieing it if our product packaging didn't follow suit. Clique product packaging likes to get down and dirty, but not in a trashy way. It's all fully home compostable, with TÜV AUSTRIA OK compost-certified packaging, meaning you can compost Clique product packaging at home and save it from the landfill.
As well as this, all of our products are shipped in R3 Pack compostable shipping bags (home and commercial) which are made from plants. R3 Pack shipping bags meet ABA Australian and New Zealand Compostable Certification Standards and it's awesome to be able to support a kiwi brand while striving for our sustainability goals.
Why did you make this shift?
We're always looking for ways to make our processes more sustainable and strive to reduce unnecessary waste.
Owning a clothing business is a balancing act - some people say the most effective thing you can do for the environment is not own a business at all. However, we want to provide high-quality products to help people feel good, feel confident, so we are doing everything we can to provide this while also negating the effects of producing them.
We feel that as citizens of the world we need to do our best to ensure that our future generations get to enjoy the beauty of the earth as we have.
What have been the learnings or hurdles from shifting to more sustainable materials?
Finding suppliers and developing fabrics and packaging has been a bit of a challenge - one of our fabrics took us over 9 months to perfect! But the reward of knowing that we are doing our best towards a more sustainable future is worth it.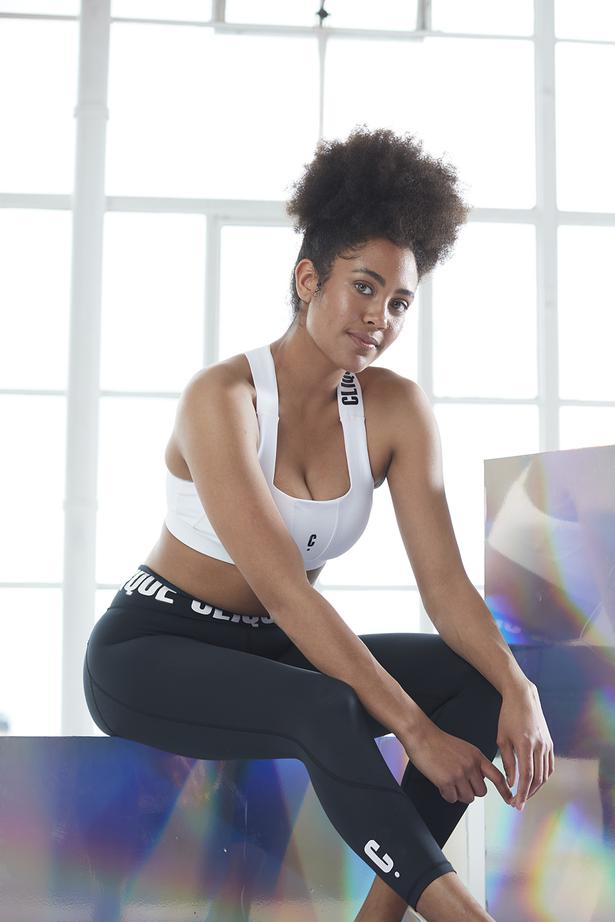 Your tights are "squat-proof" — what exactly does this mean, and how did you achieve it?
Yes! Clique Fitness tights are engineered to ensure that they are squat-proof - this means they don't go see-through when you squat or bend over. It gives you one less thing to worry about during a workout! It took us many iterations to get to where we are now.
In order to increase the opacity, you usually need to increase the thickness of the fabric, but we managed to find a different way to have our fabric knitted that meant the opacity was increased but we didn't need to make our fabric thicker. A thicker fabric can result in an uncomfortable (too tight/too hot) garment.
Why are compression tights a key product for you?
There are plenty of fitness tights on the market, but if you want to train at your peak, then compression wear is the perfect (legal) performance enhancer.
Wearing compression tights during a workout wraps the muscles to help reduce muscle shock and vibration causing damage. During and post-exercise, compression helps with faster muscle repair of damaged tissue by increasing blood flow — this removes lactic acid from the muscles and increases fresh oxygenated blood which assists with soreness and improves recovery.
In short, compression gear helps you get back into your fitness faster. Recent studies have shown that with an optimal level of compression, arteries will dilate, increasing blood flow up to 40 per cent during a workout and 30 per cent post-training.
So, any tight leggings can help me with recovery?
Not quite. Specially designed compression wear is created with muscle recovery in mind. Graduated compression from the ankles up means that the garment is tighter around the ankle and calf to assist the body in venous return (deoxygenated blood flowing back up to the heart) helping you get lots of fresh oxygenated blood to the muscles and flushing out lactic acid build-up.
How do I know which compression tights will help me with recovery?
In order for us to ensure compression tights do what we say they do, they must be independently tested. Here, compression testers will ensure the tights are firm enough around certain areas and muscle groups to provide the benefit of optimal recovery to these areas. After testing has been completed, the tights are given a compression rating.
Clique Fitness compression tights carry a compression rating of 15-20mmHg. MmHg stands for millimetres of mercury and it indicates the level of pressure or compression a garment can provide.
Compression ratings range from mild to medical:
8-15 mmHg = mild compression.
15-20 mmHg = moderate compression
20-30 mmHg = firm compression
30-40 mmHg = Extra firm compression
Extra firm compression with a rating of 30-40 mmHg is more commonly reserved for those who suffer from chronic circulatory issues and a doctor or medical professional should be consulted before use.
Compression tights with a compression rating of 15-20mmHg will:
Enhance circulation to the muscles providing faster recovery
Ensure your tights never slip or fall down
Reduce swelling and relieve tired, aching legs
Help with travel. 15-20mmHg is the ideal compression level used for those travelling long or short distances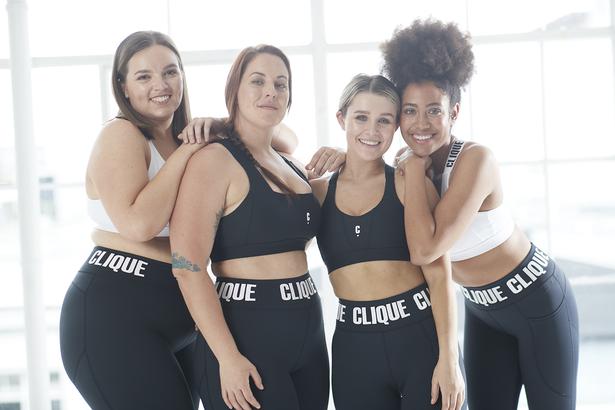 Why is comfortable and affordable activewear so important?
When you are on a fitness journey — no matter what that looks like — worrying about what you're wearing is something that you shouldn't need to be doing.
Clique compression tights have been developed to ensure that they stay up during high-intensity exercise, keep you covered, are flattering and feel like a second skin.
We developed Clique compression tights to be accessible to many and to last, so an investment of around $100 will give you a pair of tights that will stay with you during your fitness journey. We still wear our original Clique tights which are still going strong after 3 years!
You're e-comm led — is this a key part of your business model and why?
E-comm has allowed us to communicate directly with our customers and learn their needs and wants. We can get product to our customers faster, and it gives us the flexibility to introduce limited edition ranges that we would otherwise not be able to.
Who can benefit from Clique Compression tights?
Anyone can benefit from wearing a pair of clique compression tights! Clique currently offers NZ sizes 6 to18, and in December are extending our size range to include 20 and 22 in our classic tights range. Whether you're into HIIT, lifting weights, are a backyard athlete or just like being comfortable on the daily, you can benefit from Clique compression tights.
Discover the Clique range at Cliquefitness.com
Share this:
More Beauty & Wellbeing / The Latest