Best Buddies: Daniel Weetman and Ned Ngatae
Daniel Weetman and Ned Ngatae, of The Black Seeds, tell us how music brought them together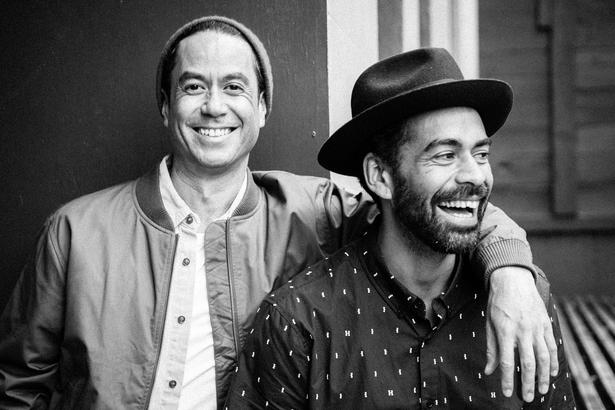 Wednesday Sept. 6, 2017
THE MUSICIANS: DANIEL WEETMAN AND NED NGATAE FROM THE BLACK SEEDS
Tell me about your friendship and what you admire about each other.
Daniel Weetman: Ned is a very considerate person, passionate about whatever he does, be it making music, DJing or cooking an amazing meal for friends. He's a thoughtful host and makes everyone feel welcome. Ned will always try his best to go out of his way to help someone out, and I really like that about him. He is a problem solver and I admire his energy in and out of the studio. I always remember Ned being this cool,styley, down-to-earth guy at parties and gigs when I didn't really know him well before he joined The Black Seeds. It has been a pleasure to get to know him better over recent years through touring, recording or just hanging out. He is a brother from another mother.
Ned Ngatae: Dan and I have become very close over the years through playing, writing and recording music and touring the world together in The Black Seeds. He's got a fantastic sense of humour and his exuberant energy is a huge driving force in our live shows. I admire his total lack of duplicity; much like me he's never afraid to voice his honest opinion on matters and tell things how he sees them. I tend to seek that "straight up to a fault" quality in all my friends and now that we're business partners it's even more vital that we can operate within that dynamic.
How long have you known each other for?
DW: I think I've know Ned for about 10 years, but in the last six while working with the band we have become closer friends.
NN: We met years ago through mutual friends in the Wellington music scene but we never really got to know each other until around 2012 when Dan sent me a message on Facebook asking me if I would be keen to come play guitar on The Black Seeds' tour of the US and Canada. That was a huge honour for me, particularly as they were all based in Wellington and I'm an Auckland boy. Still not quite sure how I got the gig but I'm glad I did!
What's your fondest memory of each other or a time that you both experienced that was funny?
DW: The funniest experience I can't mention in this Q&A, but Ned and I have had many great times together. Recently working in the studio with Ned on some late-night vocals sessions with Barney [Weir] were very special moments.
NN: In the years we've been playing music together we've shared so many amazing experiences, so it's hard to narrow it down. Besides, "What goes on tour, stays on tour" right? Haha, but seriously, I think one of my fondest memories would have to be my first time ever travelling to Berlin and playing a soldout show with the boys on Dan's birthday and celebrating afterwards until the wee hours in that magical city. That was pretty special. Also we had a lot of fun touring Canada and Brazil last year. Beleza pura!
What does music mean to you personally?
DW: Listening to or creating music helps my soul and gives me a outlet to express and release. Without it I would be lost. When music comes out of me I feel a great release from the worries in my world.
NN: Music is the universal language that has the ability to unite people across the entire planet and even across the centuries. I often say how much it blows me away when we travel to the other side of the world and people who hardly speak any English are at our shows singing along at the top of their lungs to our songs. It's the same for me, for example, when I hear a beautiful Brazilian song sung in Portuguese (which I can't understand a single word of), or a composition from Chopin or Bach which has no lyrics but the emotional connection I feel when I hear it is completely overwhelming. It's real-life magic actually!
Why is your friendship important to you?
DW: I need friends around me who have open hearts and open minds because I try to live that way and I want to be able to express whatever feelings I have to a friend. Isn't that what friends are for? I find I can talk to Ned in such a way. He appreciates my honesty.
NN: Being a musician for a living is a hugely rewarding job but it's definitely not all glitz and glamour; we spend a lot of time up close and personal, putting in long hours travelling together or in the recording studio and often operating on very little sleep. Therefore it's important to have team-mates that can not only endure those circumstances but do so while maintaining a positive disposition and putting on a great performance night after night, which Dan understands better than anyone. Also, we are very much on the same page; he's a naturally gifted conversationalist and we both have very similar yet very broad tastes in music so it's great to have someone on the road that I can talk to about anything at any given time.
What advice do you have for guys out there who find it difficult to communicate or ask for help when they need it?
DW: I'd say, don't play down what you are feeling inside because talking about feelings or problems can only help you grow and see a different perspective. I honestly struggle to express my feelings when I feel down, but once I do I feel a weight lifted off my shoulders just talking about whatever needs to be shared.
NN: I think Kiwi and Aussie guys, historically and very generally speaking, have always been a fairly stoic bunch. That whole tradition of being the "strong silent/blokey" type who can spin a rugby ball out wide, milk a paddock full of cows before breakfast and bottle up all their emotions ... until they get drunk and it manifests in all kinds of ugly ways. It's 2017 and I think we can allow ourselves to move on from that and say, 'Hey, actually we're all just humans out here trying to do the best we can in the world'. It's okay to not be perfect, to admit when we need help. It can be tough out there! So many people, including some very close to me, have suffered from depression, anxiety, addiction and/or have been caught in cycles of destructive behaviour at some stage. The best thing that you can do in those situations is to talk to someone about it, whether it's a friend, family member or maybe even a doctor/health professional/community group, etc. Don't carry the weight of the world on your shoulders, there are people out there who care and who can help you get things back on track.
Who was the male figure in your life that you looked up to growing up?
DW: I always looked up to my father. He isn't a person who is totally open to sharing his deep feelings but when he does, it comes from the heart. My father has always been a hard worker and a honest, fair, level-headed boss. I always respected him for being that way with his employees. I could see his employees respected him for the same reason and worked for him for over 20 years for those reasons alone. So I learned from him to treat everyone as equally and fairly.
NN: Well, first of all my dad who taught me how to play the "Hendrix" chord on the guitar when I was a kid, shot Pops! Then later on, my dear friend and mentor Tigilau Ness (who is Che Fu's dad) took me and several of Che's close friends under his wing and would pick us up, drive us around, play us all the good reggae tunes and let us commandeer his stereo and bump all the latest hip-hop that was coming out real loud. He'd seen first-hand, through his own experiences of growing up in Auckland, the potential for us as inner-city young Polynesian men to get caught up in the lifestyle of drugs and gangs, etc, and he really went out of his way to look after us and help keep us on the 'irie' path. He ended up giving me my first reggae gig playing guitar with his band Unity Pacific, which is where I really honed my reggae 'skank' chops. So without him I might not be touring the world playing reggae music for a living. So thank you brother Tigi, good looking out!
Why is it important for men to see a doctor and take care of their health?
DW: Men can feel like they need to be tough and man-up and not be worried about their health but this is an old way of thinking. Regular check-ups with a doctor can make a simple problem not turn into a hospital visit. Stress and depression is very common in New Zealand males, and if there is no one in their circle of friends they can talk to then maybe a doctor could be a good start. We can be brave, strong, providers but it won't make you less of a man to seek help from a doctor.
NN: The same reason it's important for women to. Your friends and family want you to stick around on this planet a lil' longer homies! Even when you don't think there's anything wrong with you, there might be an underlying condition that may only be detected by having a regular check-up and blood tests. And God forbid anything like that does turn up, early detection is usually the best way of getting effective treatment and preventing it from becoming anything more serious.
What are you working on currently and what can we look forward to for the rest of the year from you?
NN: We have recently released the first two singles off our forthcoming Black Seeds' album Fabric, and will release the album itself on September 8 with a nationwide tour to promote it from September 21. An Australian tour and more New Zealand festival dates will be announced shortly. We're really proud of how this album's turned out and can't wait to play our new songs to you all soon.
• Visit Theblackseeds.com
Share this:
More Beauty & Wellbeing / Features & Profiles