The Best Makeup Brushes To Add To Your Beauty Tool Kit
Blending your makeup like a pro is easy when you've got the tools of the trade. Take a look at our expert brush round-up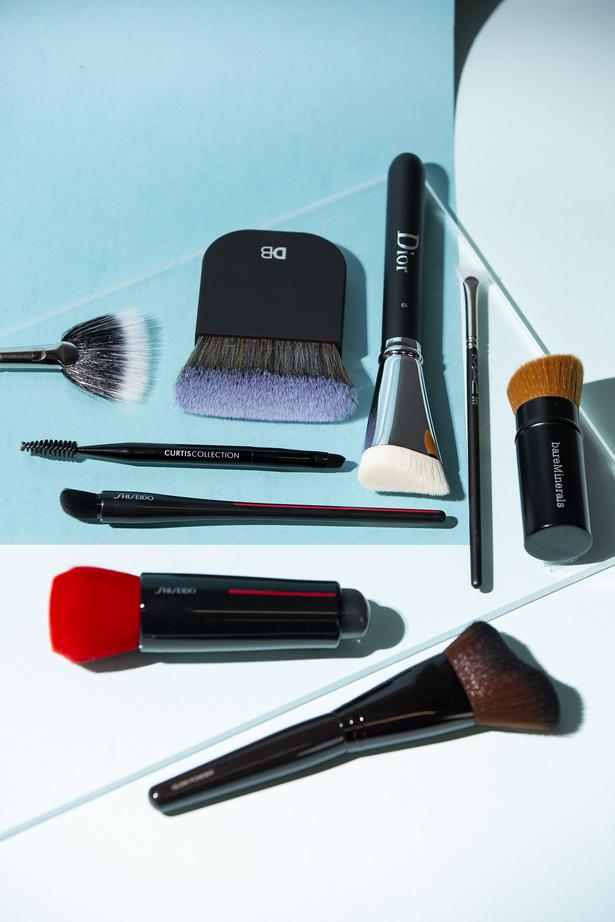 Tuesday June 11, 2019
Flawless makeup calls for the right tools for application, so a coterie of brushes that allow you to easily apply eyeshadow, bronzer, foundation and more is vital. Even if you're a novice, investing in good quality brushes will make life much easier.
According to makeup artist Louise Rae, using the wrong brush can derail your entire look. "Tools are what make or break a makeup look, so using the right brushes for different areas of the face is really important," she says.
Whether you opt for natural bristle or synthetic fibre brushes, this line-up will help blend your makeup like a professional.
1. M.A.C 184S Duo Fibre Fan $58
Made from soft synthetic fibres, this flat, fan-shaped brush serves dual purpose to dust on highlighter with featherweight application or to gently clear the skin of excess product.
2. Designer Brands Limited-Edition All-in-1 Perfecting Brush $18
This affordable multi-purpose tool is a great option for makeup newbies. Use it flat to apply liquid or powder foundations or to blend out concealer, or turn it on its edge to softly dust on contour, bronzer, highlighter or blush.
3. Dior Backstage Contour Brush No. 15 $71
Unlike its fluffier predecessors, this firm brush is crafted from extremely fine and soft synthetic fibres for controlled application. Ideal for sculpting or blending product, the bevelled shape of this dense brush was designed to hug the contours of the cheekbones. For the perfect contour, apply cream or powder in the shape of a "3" from the forehead down to the cheeks and chin, following the natural contours of the face.
4. M.A.C 205 Mascara Fan Brush $46
This serrated, fan-shaped brush makes easy work of applying mascara, eyelash primer or eyelash serum from root to tip. The synthetic fibres help pick up product and distribute them evenly across the lash. Use it to remove clumps and separate lashes into place too.
5. BareMinerals Barepro Core Coverage Brush $53
Ideal for on-the-go application, this retractable, travel-friendly brush promises full coverage and an airbrushed finish. Crafted with tightly packed synthetic fibres and surrounded by softer outer fibres, this super-soft foundation brush picks up powder with ease.
6. Laura Mercier Glow Powder Brush $65
Powder brushes need soft enough bristles to dust powder over makeup without it streaking. The custom shape of this brush is designed to fit the natural contours of the face, applying loose powder evenly to the skin for a flawless veil of coverage. Simply swirl the brush through powder and tap to remove any excess, before sweeping over your base.
7. Shiseido Daiya Fude Face Duo $90
This multi-purpose brush is handcrafted by Japanese artisans using 100 per cent synthetic fibres. The diamond-shaped brush end works to apply, buff or blend product. Designed to mimic fingertips, the gel blender end promises a natural-looking finish. Either applicator can be used with liquid, cream, powder and cushion foundation formulas.
8. Shiseido Naname Fude Multi Eye Brush $48
Featuring a rounded diagonal tip, this versatile brush is perfect for eyeshadow. Rotate the brush to fit perfectly to the contours of the eye, as you define, blend and diffuse either cream, powder or gel eye colour formulas.
9. Curtis Collection Brow and Liner Duo Brush $45
This dual-ended brush works its magic on brows and eyelids. The angled flat brush end features densely packed synthetic bristles for precise application of liquid eyeliner, eyeshadow or brow pomade. The spoolie end is ideal for grooming brows or to blend in brow product.
Share this:
More Beauty & Wellbeing / Features & Profiles