Be Informed on Better Skincare with Specialist Marianna Glucina
Janetta Mackay talks to an enterprising Aucklander who has spent 30 years promoting better skincare in New Zealand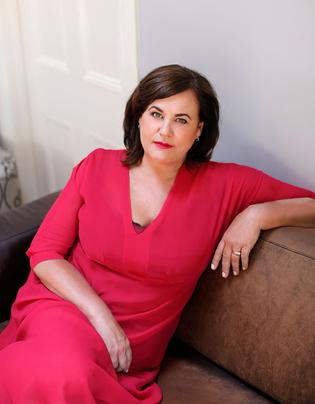 When Marianna Glucina uncovered a diary from when she first set up shop, 30 years ago, she was delighted to find the names of "at least 30 people still with us for appointments". She says the loyalty of clients is one of the "really nice" aspects of her beauty clinic business About Face. So is seeing results, especially helping women deal with the likes of acne, rosacea, unwanted facial hair and managing ageing. "I love seeing women's confidence grow."
Marianna now runs a chain of seven clinics across Auckland, and has seen many changes since opening her first beauty salon in Henderson in 1986.
She helped make beauty care more mainstream, being the first to open a clinic within a mall and later taking laser and light therapy outside the specialist domain of dermatologists' rooms.
The subsequent explosion in the availability of IPL services concerns her, but like others in the industry she says voluntary regulation is hard to attain. In some countries there is a stricter regulatory framework around who is allowed to operate lasers. Marianna believes well-trained therapists should be able to continue to do this, but as a member of the Beauty Therapy Advisory Board she is committed to encouraging industry standards and training. "Beware cheap IPL," she cautions.
The trend for perfection, driven by a celebrity-obsessed and filtered selfie culture and reality television, worries her too. "It concerns me that very young people worry about cosmetic enhancement."
With two student daughters, aged 20 and 22, who help out on reception in the family business, she has a good fix on the idealised appearance pressures Generation Next are growing up with.
Injectables are a profitable area of the beauty business she has chosen to eschew personally and professionally. "I've never had filler or Botox, it's just not something I'm into," she says.
Though customers may spend large amounts to get their shots elsewhere, she maintains: "Clients who care for their skin, just age less."
The 54-year-old's own fresh complexion is a testament to her belief that the right skincare will deliver 70 per cent of the results. Seeking good advice and a personalised plan on what improvements might be made is the starting point. Marianna despairs of self-proclaimed experts on the internet: "Young impressionable women don't understand that some of them are paid by the brands."
She is no fan of the Kardashian-style fashion for heavily applied makeup, seeing the results of overuse of face base, combined with poor cleansing, in acne breakouts and impaired acid mantles. "I'm hoping it's just a phase."
Marianna says the current machines versus natural skincare debate isn't that different from when she started in beauty. "I'm torn," she says, saying it doesn't need to be just one or the other. She takes a holistic approach to self-care and researches ingredients, but is also a fan of the resurfacing laser treatment known as Fraxel and micro-needling, both said to stimulate collagen as well as address surface issues. "The body knows how to heal itself," she says.
She remembers dual approaches from her earlier days, when electrical current therapies were popular, but she also whipped up masks made with banana.
She says a big change has been in scientific developments around skincare, including the delivery of AHAs and vitamins. She stocks a larger than usual number of product ranges to provide choice and to match client concerns.
"You only get one skin and as you age, that's where people look, she says laughing and gesturing upward. "Not at your body."
Although Marianna has not been a hands-on therapist for several years, she keeps up with training and sometimes steps in to demonstrate to staff.
She works alongside her brother Paul from a base in Mt Albert and jokes that they keep the rest of the team on their toes: "Being Croatian we are very explosive."
Marianna describes herself as the intuitive one; her scientist brother, she says, is more analytical. The combination, fiery or not, has proved a winning one since he started helping with the business about six years after she started it. Ten years later he joined full-time, leaving his government job as a senior manager at HortResearch and armed with a business degree from Auckland University's inaugural MBA programme.
The company's focus is on the Auckland market, although with the explosion of beauty businesses it is harder to follow the original strategy of opening in areas where there are few competitors. Expertise in skin is now their calling card, with combination facials a speciality. Marianna hopes being a trusted name will stand them in good stead in the face of what she expects will be more and more Australian doctor chains entering the day clinic market, as seen in dental care. She predicts good standalone boutique beauty businesses will survive, but for anyone looking to expand, the gap before economies of scale are reached can be challenging.
Having seen off the late-80s downturn virtually unscathed, Marianna is optimistic that service-led industries have a strong place in people's lives.
Her approach has been to balance three strands of business: delivering skincare with an age-management approach, relaxation or pampering treatments such as massage, and grooming essentials — the "bread and butter" brow and waxing services that ensure regular custom. "Facials are where our heart sits," she adds.
Her fascination with skin came about almost by chance. The girl from an orcharding family in Oratia had been an academic pupil but left school unsure what she wanted to do. A travel cadetship turned out not to be for her and although she toyed with studying law, she felt she was too old, because she hadn't enrolled in university at the same time as her peers. She ended up doing a beauty therapy course with Joyce Blok, an immigrant who had introduced European standards to the then infant industry.
"I found my passion," says Marianna. Her father suggested that she open her own business when the city beauty salon she was working in could only employ her part-time.
With her "one and only loan" of $10,000 from her cautious and hard-working dad, the 23-year-old was determined to succeed. Her mother helped out answering phones and washing towels.
Marianna set up a bold shopfront window display in Henderson, rather than the typical-of-the-day behind-closed-doors salon. She believed beauty care should be more accessible. The promotion worked, as did moving into the then new Westfield mall.
"It was far more successful than I expected and I found I loved growing people," she says of taking on more young therapists and investing in training them.
Malls taught her the importance of the retail side of the business and of marketing to stand out. "Beauty therapists actually know so much," she says, "but they are under-rated in knowledge, yet department stores and pharmacies have 90 per cent of sales."
About Face now has a mix of standalone clinics in character buildings in places including Mt Eden and Ponsonby and mall operations at St Lukes, Sylvia Park and more.
Marianna also travelled to Paris, to train at Clarins, and still stocks the products which she was among the first to bring into New Zealand. These sit alongside cosmeceuticals from America and South Africa and natural skincare from Fiji, a place she is particularly fond of. She visits regularly, partly because she is distributor for the Pure Fiji range in New Zealand, but also to kick back with her landscape gardener husband Stephen Baguley and daughters Sofie and Dominique.
Long weekends and annual health retreats are other ways she recharges. She does yoga a couple of times a week and meditation "not as often as I should". Tai chi and slow juicing are also built into her routines, but "I certainly have my wine and all the rest of it!"
The rounded approach to living well is typical of the gregarious Marianna. The hard-working ethic she was brought up with means going to work still gives her a buzz.
She tells staff of her genuine belief that they are all privileged to have a job where their actions have the ability to change people's day for the better and their ongoing attitude to themselves and their appearance.
But the secret to why people come back for a facial is more than just good care, says Marianna. "The element of touch is too often missing in people's lives."
Share this:
More Beauty & Wellbeing / Features & Profiles