Better Your Blonde With Moroccanoil's New Blonde Perfecting Purple Shampoo
Viva beauty editor Ashleigh Cometti test drives Moroccanoil's newest offering
SPONSORED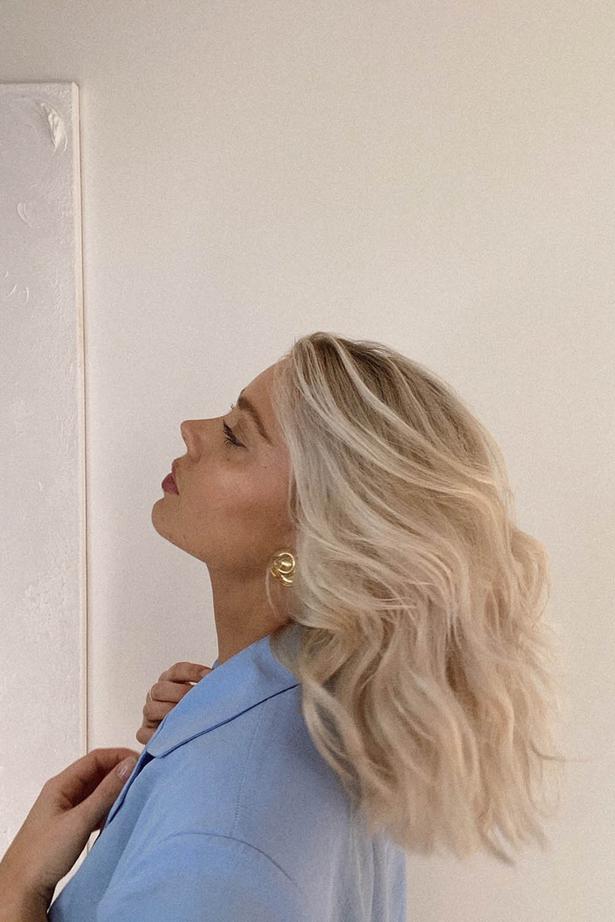 Monday Oct. 19, 2020
I've been a bottle blonde for the better part of a decade, so let me be the first to tell you I've tried plenty of purple shampoos in my time.
From lilac to violet, I've slathered on all manner of brass beaters in the name of keeping my blonde light and bright.
So, when I was presented with the opportunity to test-drive Moroccanoil's new Blonde Perfecting Purple Shampoo, I had a pretty good idea of what makes the gold standard.
WHAT IS IT?
Moroccanoil has long been known for its range of oil-infused haircare, and according to Antonio Corral Calero, Moroccanoil's Global Creative Ambassador, adding a purple shampoo to the lineup was the next natural progression for the brand.
"Many of our clients were asking for a tone-correcting shampoo, and we wanted to give them the best product that will align hair colour technology with the high performance that makes them love Moroccanoil. This is a product that stylists will feel confident recommending to clients, and every time clients use this product at home, they will feel like they just left the salon. It's a great product to use at home to maintain beautiful hair colour until your next salon visit," he says.
The formulation offers a three-fold approach to caring for blonde, lightened and grey hair – working to cleanse the hair while counteracting harsh tones and neutralising brassiness caused by pollution and environmental factors.
The secret lies in Moroccanoil's proprietary ArganID technology, which delivers antioxidant-rich argan oil deep into the hair's cortex via positively charged micro-capsules, sealing the cuticle, retaining colour and leaving hair looking healthy and shiny. Deep blue-violet pigments help tone hair and create depth and dimension on lightened hair.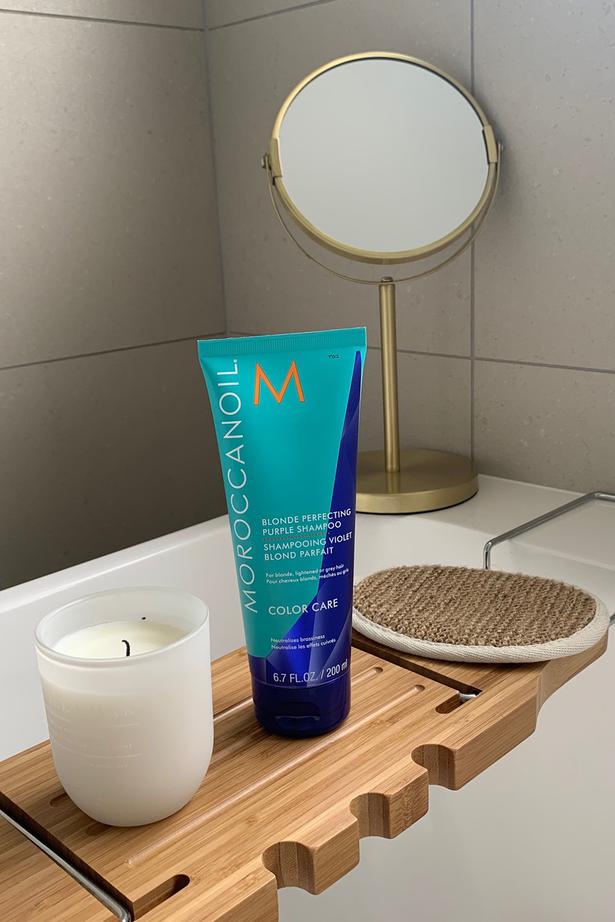 HOW DOES IT WORK?
Now for the real test.
In the shower, I massaged a two-dollar sized coin amount of product into my wet hair and scalp and followed the instructions on the bottle to leave on for three to five minutes.
The tone-correcting formula was on the darker end of the purple shampoo spectrum, and the deep violet liquid spread easily over my long blonde hair.
Unlike other purple shampoos I've tried, Moroccanoil's Blonde Perfecting Purple Shampoo doesn't smell chemical-heavy. It uses Moroccanoil's signature scent, a light, pleasing fragrance with hints of musk, citrus and vanilla.
The ingredients list offered another pleasant surprise – the shampoo is free from sulfates, phosphates and parabens, while the tube itself is crafted from 50 per cent post-consumer recycled plastic.
After rinsing thoroughly, I smoothed a dollop of conditioner over lengths and ends.
Of late, I've been more of a wash-and-wear type, so left my hair to air dry before inspecting the final result.
I prefer my blonde ashy, and after one application I found my colour looking cleaner – the same level of creamy and bright that I'd expect when leaving a colour appointment.
Turns out I'm not alone in thinking this way either. An independent consumer study conducted by Moroccanoil found that 92 per cent of women aged 18-65 found that brassiness was toned down on blonde or grey hair, while 91 per cent of participants said highlights looked fresher after using the Blonde Perfecting Purple Shampoo.
Many blondes will attest to the difficulty of achieving shine on highlighted or bleached hair, but Moroccanoil's Blonde Perfecting Purple Shampoo created a glossy sheen from root to tip, and left my hair feeling healthy and nourished.
I'll continue using this purple shampoo every second wash, alternating with my clarifying shampoo. Antonio explains you can use it for every wash, once weekly, or every three washes depending on the tonality you desire.
NOT JUST FOR BLONDES
Beyond blondes, the purple tube works wonders on brunette and grey hair too.
How you ask? Antonio says Moroccanoil's Blonde Perfecting Purple Shampoo can be used by anyone wanting to neutralise brassiness in their hair.
"Brunettes with lightened or highlighted hair and grey hair can also use Moroccanoil Blonde Perfecting Purple Shampoo, since they get brassiness just as blondes do. It will help lightened brunettes stay free of brassiness," he says.
It works by counteracting the orange tones that appear in brunette hair when it becomes dehydrated or exposed to environmental factors, along with chlorine, salt water and pollution.
"By using this shampoo, your hair will look and feel super shiny, while the purple pigments tone down those reddish hues," Antonio says.
Moroccanoil Blonde Perfecting Purple Shampoo is priced from $20 for a 70ml travel-sized product, or $48 for a 200ml tube, and is available now from professional salons and retailers nationwide including adorebeauty.co.nz
Discover Moroccanoil on Instagram @moroccanoil_au or search the hashtags #betteryourblonde #noMObrass #arganeveryday, or visit Moroccanoil.com/au for more information.
Share this: