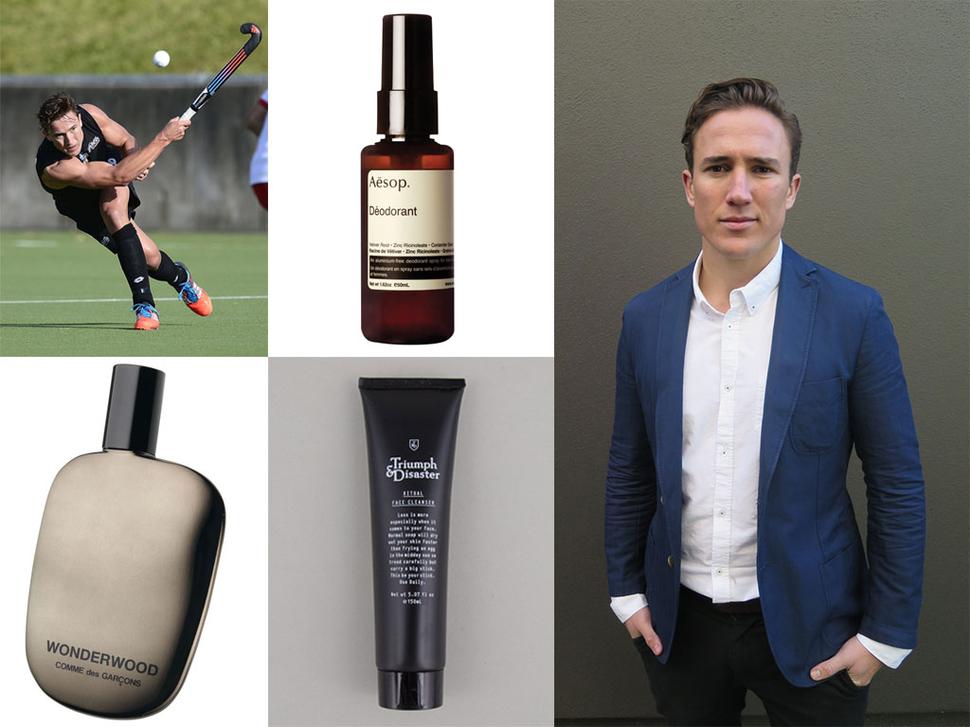 Grooming Tips with Black Stick Dwayne Rowsell
As a standout member of the Black Sticks men's squad, this player knows a thing or two about taking care of himself
Thursday July 30, 2015
What do you do to take better care of your health?
I like to eat well by cooking my meals at home. This way I know exactly what I'm putting into my body (I'd put my hand up for MKR). Other than that, I train regularly, drink long blacks, attempt yoga and Instagram daily.
What's your morning grooming routine?
Each day is a new start but my grooming routine is the same. I give myself 10 minutes locked in the bathroom with no phone. It's during this time I can mentally wake up and get ready for the day. I have a simple morning routine of cleaning my face, I exfoliate twice a week (Mondays for business, Fridays for pleasure) to remove the build-up of dead skin, and cleanse every other day.
I prefer to be clean-shaven, an easy decision to make when your facial hair is sparse, but I do enjoy an old-fashioned shave with a brush and double-edge blade. Then I will always, always moisturise. To look good I like to feel good in what I'm wearing. I recently bought the best jacket I've ever worn, from Working Style on Shortland Street. Everyone needs a staple that can be dressed up and down.
What are your favourite grooming products?
I'm a massive Triumph & Disaster fan and it's not just because I work for them. Their products are quality, all natural and you can see the results. The Ritual Face Cleanser and Gameface Moisturiser are two killer products I use daily, both morning and night. Ritual is a gentle, peppermint-fragranced cleanser, which leaves me fresh and looking bright. The cleanser is light and free of denatured alcohol, which gives me faith it will do its job without being too harsh. Gameface is my oxygen. It is light, non-greasy and absorbs really well — everything you want a moisturiser to be.
The Shampoo & Conditioner from T&D are both 100 per cent natural, packed with keratin and argan oil, and smell mint. If you have tried it, you'll know this is a pun. I style my hair with Ponsonby Pomade or Coltrane Clay, depending on my mood for the day.
Aesop Spray Deodorant is my latest and greatest discovery. What I like is that it keeps the funky smells at bay without stopping the sweating process, dries as soon as you spray, and leaves no white marks.
What was the last grooming product you purchased?
I last purchased a Goodfella safety razor from Smith & Caughey's, a blade that allows me to channel my inner Sean Connery-Bond style.
What is your favourite fragrance or cologne?
COMME DES GARCONS Wonderwood is currently holding top spot on my dresser.
How important is your personal grooming and what advice would you give to other guys out there?
Do your research, avoid products containing alcohols and synthetic chemicals. These will only strip and dry your skin. Buy quality and buy natural. Don't be fooled by the big-hitters (anti-ageing is bullshit). Always walk tall. Oh, and wear sunscreen, even in winter.
How often and who cuts your hair for you?
I've been living in Sydney the past year but I'll be straight back to Maloney's Barber Shop for my monthly cut from the man himself, Julian Maloney.
Share this:
More Beauty & Wellbeing / Features & Profiles