Lip Service: 25 Years in Business with Bobbi Brown
To celebrate 25 years in business, makeup maven Bobbi Brown looked to her archives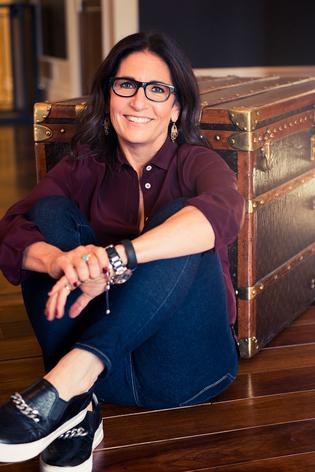 You launched your brand with 10 lipsticks (now being reissued in a limited edition boxed set), but are there any of the original colours you still wear regularly? What is your favourite?
I've always favoured natural-looking shades — like brown — because it's a neutral shade that's universally flattering and complements all skin tones. My Brown Lip Color — one of my original 10 lipsticks — is still one of my personal, all-time favourites that's wearable for any occasion. Personally, I've always focused on creating a nude look that's not about no-makeup, but about wearing the right makeup for your skin tone. For lips, this means finding a lipstick that looks like your lips.
These original shades are described as 'brown-based'. What does this mean, given to the untrained eye they seem to vary from pink through neutrals and reds? And what was it that led you to stake your future on selling brown against the bright shades so popular back in 1991?
As a freelance makeup artist in the 1980s, I was always looking for shades with a brown base — the most natural complement to a woman's skin tone. I had an idea to develop a flattering lipstick — something that was different from everything available in stores then.
I realised that not everybody loved neutrals, so I thought about 10 different women I knew and what colours would look good on them. Then I set out to create a combination of brown-based perfect nudes and flattering classic tones. With this set of 10 lipsticks, a woman could create an infinite number of wearable shades, just by mixing and blending them.
READ What to Give: Three Great Lipstick Collections
How many lipsticks do you advise women have for a good basic everyday (and night) makeup "wardrobe"?
Quality is more important than quantity. Rather than focusing on how many lipsticks you need, start by finding the most flattering everyday lip colour and expand from there. To find the best basic lip colour, first remove all makeup. The perfect neutral shade — pinky brown, nude, beige pink, rosy brown, pink — will generally be close in tone to the natural lip colour. Some women might need more colour, and the shade that works best without makeup could be bright or dark rather than neutral.
You know you've found the right shade when it enhances the skin tone, makes the eyes look brighter, and gives the face a lift. Once you have found the right everyday shade of lip colour, you have the basis for selecting more dramatic colours. Most lip colours with the same undertone as the natural shade selected will look flattering.
How have lipstick formulas changed in the last 25 years? And what should we expect next?
Lipstick is still the centrepiece of our company — the product we know better than anyone else, and that we continue to put huge time and energy into. Today's nudes are infinitely more flattering. Early on, nude lipstick was too chalky, gray-based, which gave lips a lifeless look. Nude shades today look like your lips with a bit of added polish.
Since launching Bobbi Brown Cosmetics with the original lipstick formula in 1991 we now have 10 different lip formulas — ranging in coverage, ingredients and pigments. We want to continue to develop shades and formulas that are fun and wearable. I'm always listening to our customers and makeup artists around the world to find ways to improve on what's out there, and I work closely with the labs here so that we are incorporating the best ingredients to ensure that our formulas deliver what they promise.
What's your favourite look for the party season?
Personally, I like to play up my eyes with really black eyeliner, mascara and some shimmery makeup — it's such an easy way to make your look more festive and glamorous without going over the top.
I like to make eyes pop with dramatic lines, like a sexy, black winged liner.
You can pair this versatile eye look with your favourite lip colour and complementing blush shade.

• Bobbi Brown's Original 10 Holiday gifting boxed set of mini lipsticks costs $240 and is on counter now.
Share this:
More Beauty & Wellbeing / Features & Profiles