Body + Balance: Constance Cummings of Love and Object
Constance Cummings on her likes, dislikes and how to avoid bad karma.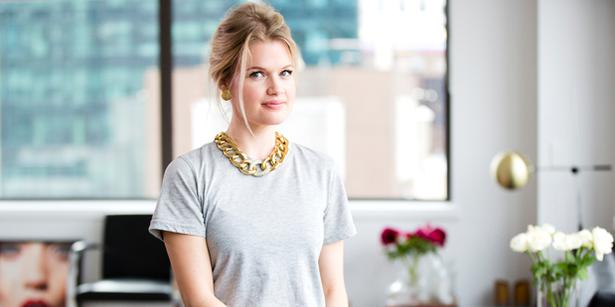 Wednesday Nov. 12, 2014
Vintage jewellery has a considerable amount of sass in the hands of Constance Cummings, founder of Love & Object, the online destination for timeless pieces. After hurtling through the first successful year of business, Cummings is a worthy ambassador for adornments by Celine, YSL and Christian Lacroix, as she runs her mini-jewel empire wearing leather pants and the highest of heels.
Self-described as honest to a fault, this is a woman who believes in karma, with the opinion that "mindless gossip, bad manners and behaving like a prick will come back to bite you in the tush".
Cummings is the antidote to junk chain-store jewellery, her appreciation for fine craftsmanship instilled from a young age, and is equally unimpressed by the thought of spending time in a gym.
She'd much rather "look like an idiot doing a Tracey Anderson workout in the privacy of my home, with the blinds closed".
It seems there are as many elements to this young businesswoman as there are to the jewels she expertly curates; she is in possession of a drive to succeed you can't help but be inspired by.

CONSTANCE'S ESSENTIALS
When I need to de-stress I make a gin and tonic. Or, as a healthier alternative (as we are usually out of tonic), I like to take our French bulldog, Serg, out for a trot.
My best friends would describe my style as "Parisian", although I think that translates to "she doesn't wear a lot of makeup and her hair never looks sleek". I like to wear sexier separates that I mix with jeans or a plain tee.
Mornings are not complete without a coffee. My attitude is pretty abysmal early in the day.
Auckland is home, but for a change of pace I'd live in Paris. That way I wouldn't have to ship so many jewels home - our courier bill can get a bit extreme.
Despite my dislike for the gym I do believe that being fit is important. It's very easy when you are naturally petite to fall into the skinny-fat category, so toning exercises, resistance training and light cardio are the things I like to do.
At the moment I'm listening to the National, Jay-Z and Kayne. I love depressing music, plus songs about fame, materialism and the burdens of excess.
The unsung heroes of my beauty regime are... sunscreen, water and Cetaphil. I had a very traumatic year when I was 22, everything I put on my face made me break out in a rash or hives. I could only use Cetaphil and that was it. I had to get used to "going nude" every day, and my morning beauty routine became lightning quick.
Share this:
More Beauty & Wellbeing / Wellbeing