Body + Balance: Margi Robertson of Nom*D
Nom*D's Margi Robertson believes moderation and the odd overseas adventure are the keys to wellbeing.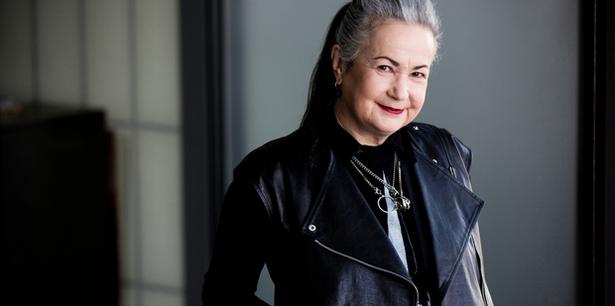 Wednesday Aug. 13, 2014
A whiff of irreverence is evident when asking Nom*D designer Margi Robertson about her approach to wellbeing and a healthy lifestyle. That's not to say she doesn't care, she does. Yet it doesn't govern her thoughts, nor her time.
Wonderfully pragmatic towards such matters, Robertson truly embodies the "moderation" mindset, even in the flurry of showtime, namely Nom*D's approaching events with The Marr Factory, New Zealand Fashion Week and Perth Fashion Festival.
Beauty regimens aside - daily krill supplement, fortnightly manicure and monthly pedicure - Robertson is unlikely to ever give up her morning coffee ritual. And rather than falling for fad diets or the dictates of frighteningly serious health authors, she prefers the humorous undertakings of Joan Rivers on Fashion Police("My only touch of Hollywood nonsense") or the suggestive imaginings on American astrologer, writer, poet, and musician Rob Brezsny's website Free Will Astrology.
And when a serious investment in wellbeing is truly in need, Margi begins planning her next overseas adventure. "I'm on a mission to include a side trip to a new destination each time I venture abroad. I love different cultures, my current desire is South America." 

MARGI'S ESSENTIALS
I need at least two coffees before heading to work, then, it's peppermint tea and water for the rest of my day's refreshment.
I de-stress by walking Elvis the dog in Dunedin's town belt.
I love the Edward Monkton poem "Beware of the deadly donkey, falling from the sky, you can choose the way you live, my friend, but not the way you die."
Everything in moderation. I've had too many close friends who were very healthy and into clean living pass away recently. I don't go without and try to be age-appropriate.
I always cleanse my skin before bed, and use Kiehl's Midnight Recovery Oil and eye cream.
My morning routine involves M.A.C Prep and Prime, followed by Chanel Lift Lumiere.
My indulgence is ice cream, especially chocolate. I have discovered Nice Cream recently, however I don't know if it's any healthier!
I'm currently reading The Beautiful Fall by Alicia Drake, and listening to Leonard Cohen's The Future. I'll never tire of his amazing voice, and the stories he's able to tell.
My clothing essential is my Nom*D stencilled T-shirts, I can't leave home without two. I always customise mine - it keeps me youthful.
If I have a day available when travelling [I book] a session at a hamam. I love that ancient culture and that it's not about beauty, it's about wellbeing.

Buy tickets to The Marr Factory shows - Karen Walker, Nom*D, Workshop & Helen Cherry, Zambesi and Kate Sylvester - here.
Share this:
More Beauty & Wellbeing / Features & Profiles