Body + Balance: Tips for de-stressing
If you're bedevilled by stress, Olivia van Lierop's blend of massage and yoga may help you untangle those jangled nerves.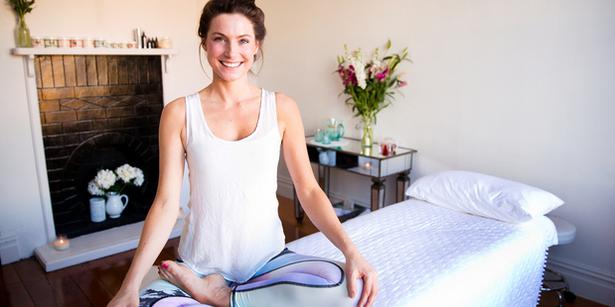 Wednesday Sept. 10, 2014
She's the epitome of a cliche, and a rather incredible one at that. Those entrusted with our health and wellbeing should most certainly be glowing and possessed of an inner calm. The fresh-faced Olivia van Lierop is all these things and more, having spent much of the past decade practising therapeutic and sports massage.
Appealing to her growing wanderlust and an eagerness to build on her skills, Olivia spent seven years based everywhere but New Zealand, stepping into the superyacht crewing world and assisting on the water-borne playgrounds of the mega-rich as a private massage therapist and, later, yoga instructor.
From Florida to the Bahamas through the Panama Canal and into Mexico and Costa Rica, boat life was never dull, especially when Van Lierop was required to set up exclusive mini-spas on board new boats. Her work even required travel across the Baltic Sea, through Sweden, Finland and Russia.
Eight years administering daily massages, running floating spas and guiding yacht guests through yoga poses on sundecks encouraged Van Lierop to set up a practice of her own in Ponsonby, a boutique massage sanctuary and yoga studio calledEnrich Therapeutic Massage. She seems not to be acquainted with stress, so drop the bourbon, cigarettes or whatever vice you harbour and take heed of her healthy life essentials.

OLIVIA'S ESSENTIALS
I like to de-stress by practising yoga and being outdoors. Nature feeds my soul, so when I take myself off to a wild New Zealand beach or into the bush, I immediately feel energised and calm.
My eating philosophy is quite simple, really. I like to eat wholefoods and stick to what's in season. I always go local when possible, so my fruits and vegetables are super-fresh.
My way of living well revolves around community. Yacht life is a very transient existence. Great friends fly in and out of your life, and new friends fly in just as fast. It made me realise the importance of a strong, tight-knit community. Taking care of the people around you, and in turn being cared for by others, creates stronger health, vitality and positivity. People should nourish people.
Before clients fill my day I settle at my local cafe for a long black with a side of hot milk and work on any admin I need to catch up on.
A beautiful, still morning is all I need to get out of bed. My favourite time of day is sunrise.
I'm currently reading a book titled Explain Pain. It considers pain in relation to the emotional state: stress, relationships and your surroundings. From a masseuse's perspective, it really solidifies the importance of the more subtle parts of massage therapy such as nurturing and relaxation.
I'm a sucker for face oils, especially rosehip-based ones, or anything soothing and calming like camomile, applied with a mini-massage to increase circulation.
During the colder months I love to indulge in regular baths with epsom salts for a boost of magnesium while I soak.
If you forced me to choose one place to escape to I'd have to say Saint-Paul-de-Vence in the South of France on a summer's day, with close friends and plenty of cold rosé.
Share this:
More Beauty & Wellbeing / Wellbeing