Boh Runga's Beauty Routine
Multi-talented performer Boh Runga knows how to rock a crowd — and her appearance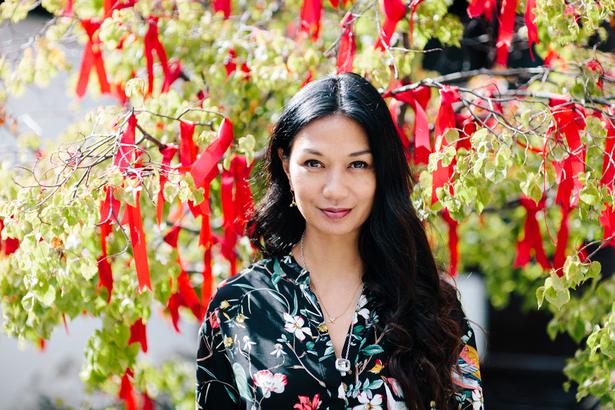 Tuesday Aug. 1, 2017
Boh Runga has long been considered one of the most talented and stylish women of the New Zealand music world. From rocking it on the red carpet to designing jewellery, this award-winning singer-songwriter, who first found fame as a teenager, isn't afraid to make a statement.
She's a key drawcard at the glamorous black-tie Clicquot Gala being held for the first time in Queenstown this weekend. It winds up the four-day Clicquot in the Snow celebration event. Limited tickets to the champagne-fuelled gala at The Winehouse on Saturday evening are still available.
Boh, of course, already has her on-stage look planned and shares her tips below on how to combine comfort in the cold with red-hot style. "Wear more jewellery," is one of them. Her planned look for the ball is rock chic "with a bit of sparkle".
"I'm playing drums as well as guitar, so a skirt or dress will probably have to make way for a fetching jumpsuit. Nothing is set in snow, though."
Come warmer weather, when Boh is a regular performer on the winery and festival circuit, her love for 1970s-influenced looks are sure to be showcased. In November she will take the stage again with the NZ All-Stars, teaming up with the likes of Tiki Taane in a repeat concert after the sell-out success of their tribute shows to reggae legend Bob Marley last summer. The All-Stars will play one show at The Trusts Arena in Henderson, before touring Australia.
Expectations as an entertainer
Yes, I think there are expectations. Fair enough, I think you should make an effort to look like someone who belongs there. People have come to see you perform and how you look is part of it. Your audience wants to be entertained, so give them something they want to look at.
On-stage versus everyday
I don't wear a lot of makeup during the day. I am not a fan of mask makeup. Its's usually just a BB cream or a tinted moisturiser with my brows done if I have time, and mascara and lipstick if I'm going out to lunch or a meeting or something, or just a tinted moisturiser and some concealer and a lip balm if I'm just running around. I do curl my eyelashes though, even if I don't mascara up, as it makes me look more alert.
Parties are all on — is it a dress up? I love a themed makeup look. On-stage performances are different again ... If it's a daytime show I wear less makeup than if it is a gig under full-on lights. Also, if I'm playing with other women, as in the Marley NZ All-Stars shows, then we all talk about what we are wearing, even down to lippy colour. It's nice to complement each other on-stage and it's a nice way to have fun with our performance.
Best beauty trick
When I do my own makeup for shows (which I love to do), I like a highlight shade on my eye shadow in a subtle strip in the middle of my eyelid as it opens my eye right up. Sometimes, I put white pencil in my waterline. I always use a good powder on the T-zone. A tiny bit of highlighting on your top lip line to accentuate your bow can be good too. And waterproof mascara is a must.
On camera is very different from ''live'' makeup. So much can be done with lighting or in post, especially with a skilled makeup artist. Amber Dreadon once did my makeup for a shoot and she exaggerated my top lip line with red lip liner. It was very full. I said, "Are you sure? My lips are already so big!" She said: "Trust me, it will look great in the shot." And it looked beautiful. She's amazing.
Favourite professional look
This kind of covers both. I both loved and hated the red hair I had in the late 90s when Stellar* were around. It was very striking and we got a lot of attention, but it was also high maintenance and you just can't hide under hats every day. I had honey blonde hair and eyebrows for a while, in a similar tone as my skin. Lucy Vincent [of Stephen Marr] worked hard on getting it just right. I loved it, so different from being a brunette. Very fun!
Style and beauty evolution
I have worn some horrific stuff in the past because I didn't care or know anything about fashion. I now semi-care and semi-know. I think becoming more aware of your body shape and also being comfortable with yourself is valuable, and that comes with age.
I know how to put together an outfit now, or at least I think I do. It's still eclectic and border-line questionable at times but you know what? Too bad. I know I'm never boring with it. I have fun with my clothing, and have a lifestyle where I can wear a chic gown to an event one day then the next I'll pair one of my metal band tees with overalls to meetings and no one bats an eyelid. Result.
Beauty ethos
Lazy. So things have to either do what they claim to do, work fast, be luxurious, be healthy, be affordable and, or all, of the above. As a performer, you're usually pressed for time if there are interviews or soundchecks or delays with travel.
Everyday routine
I like Neutrogena Hydro Boost Cream, Dermalogica Daily Microfoliant, Za Perfect Solution Toner, Palmer's Cocoa Butter Formula CC Cream in Medium with SPF 15, Kiehl's Lip Balm SPF15 Hue No 30G, MOR Rosehip Lip Tint, Smashbox LA Lights Blendable Lip and Cheek Colour in Venice Beach Bronze, YSL Volume Effet Faux Cil Mascara in High Density Black.
First makeup memories
An iridescent blue eyeshadow that I must've bought from the chemist when I was about 14 or 15, and the smell of Schwarzkopf Silhouette Black Lacquer hairspray. The 80s. Good times!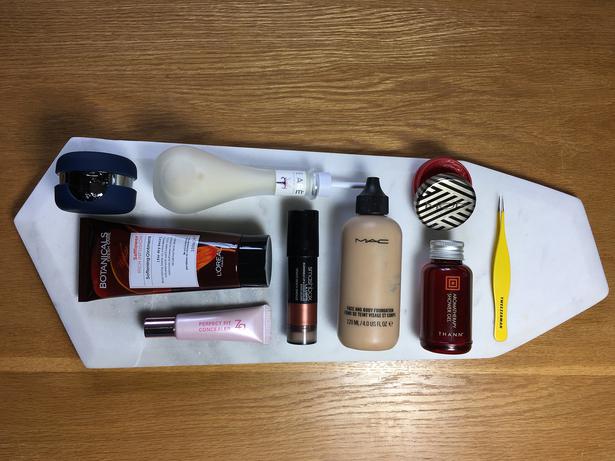 Top five beauty products
1. My bright yellow Tweezerman needle point tweezers. Because I can see them easily anywhere and because they are the best tweezers for everything thing you need to tweeze, I swear.
2. My M.A.C 50th Anniversary StarTrek Set to Stun Lipglass. Because I went to ComicCon and saw the M.A.C pop-up Enterprise bridge store being built and stood in the 40C heat to check it all out and bought some fun things, including this.
3. My various makeup brushes from Smashbox and M.A.C. Because they make the application of makeup to your face far easier.
4. Balmain Amber Gris eau de parfum. Because I love perfumes and this is a beautiful scent that I have run out of and I've been meaning to get again.
5. Le Mini Macaron Gel Nail Kit — I just got this and I love it. It was crowd-funded and it is a cute-as-a-button macaron-shaped little LED lamp that also transforms with a quick flick to do your toes as well. Wish I'd thought of it.
Day-to-night beauty look
As above [for day], but with the addition of Smashbox Photo Finish Luminizing and various lipsticks like M.A.C Blankety, and Smashbox Be Legendary Lipstick Creme in Famous.
Hair routine
I'm transitioning at the moment with the help of my hairdresser Talei Lepper who has taken my hair from black to a very dark brown and she's gradually ombre-ing out the ends. I recommend keratin-smoothing treatments as it is a drying process. I like using L'Oreal Botanicals Safflower Softening Ointment, it smells divine and really helps condition your hair. Eithne Curran shampoo and conditioner is a wonderful, natural New Zealand brand too. Recommended.
Beauty is . . .
Happiness shows in your eyes, so make your life one that makes you and others smile.
Share this:
More Beauty & Wellbeing / Features & Profiles