14 Ways to Wear Bold and Bright Makeup
Go bold and bright selectively — paring back on other features — for a daringly deliberate look that arrests rather than alarms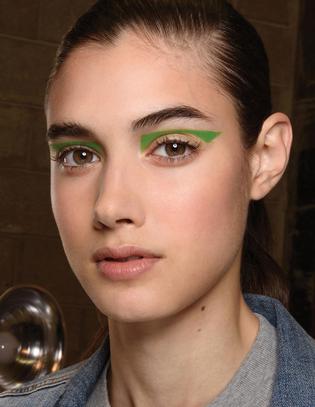 Models at Prabal Gurung's Fall 2017 show at New York Fashion Week last month sported floating liner in shades of green, blue, red and orange (pictured). Makeup director Diane Kendall described the look as an ultra-modern cat-eye.
We say, take this as inspiration to try banishing basic black liner for a bit. Other ways to experiment with colour application include in a thinner floating arched overline, or as a bold underline beneath the lower lashes.
Simpler yet is to apply liner conventionally, in a subtle shade that contrasts or complements your eyes. Try greys, burgundy, deep green, navy, purple, or bronze.
READ: How to Be Bold With Makeup
1. YSL Mascara The Shock No. 2 $66
This bold deep-blue version of YSL's latest high-impact volume mascara, ups the ante in lash intensity. With coloured mascaras, those with naturally darker lashes can use a white lash primer underneath to make the chosen top colour pop. For a more subtle look, seen when your lashes catch the light, apply over a base of black mascara.
2. Nars Chiang Mai eye shadow duo $57
Francois Nars is a big fan of navy and nudes as a sophisticated colour combination, but this duo packs even more punch in brighter and deeper shades of crease-resistant glide-on powder shadow.
3. Dior Show Proliner in Pro Teal $52
This sloped fine and firm crayon makes for easier precision lining than unforgiving liquid or gels requiring brushes. The deep teal twins well with neutrals or contrasts with berry lips.
4. YSL Eye Gloss Smudger $58
Applying wet-look eye formulas straight to lids can be tricky but this little tube is a clever way of controlling the worn-in look. Simply smudge the clear formula over your neat handiwork, so you get the gloss with better longevity than on a greasy base. Part of The Shock eye collection which also includes smoker pencils in shades including dark green and burgundy.
5. M.A.C x Diane Kendall Kajal crayon in Flourish Me Beautiful $40
This deep purple-plum liner glides on easily and the tapered tip is big enough that you can see where you are going without getting too chunky. Go heavy with black, or brighter in teal and indigo options.
6. Nars Velvet Shadow Stick in Usbek $46
Crayons like this are super easy to draw on and blend with fingers. A number of brands make similar sticks, but we like that these limited edition ones are in 10 unusual colours. The wind-up mechanism is another plus as it saves sharpening.
7. Maybelline Colour Jolt Intense Lip Paint in Stripped Down $14.99
Paints hold pigment in thick concentrations. This one provides a full coverage pinkish nude lip that off-sets well with colour elsewhere, be it a bright or a matching flattering flush on lids and cheeks.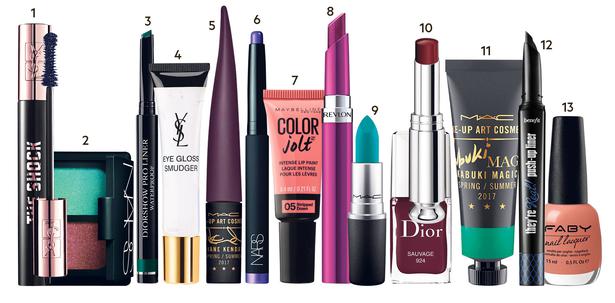 8. M.A.C Colour Rocker Lipstick in Show & Teal $40
The Colour Rocker collection features 28 audacious matte lip shades. Although you may find its fuchsias, oranges and chocolates elsewhere, you'll struggle to easily match this limited line's blues, greens and greys.
9. Revlon Ultra HD Gel Lipcolor in Twilight $26.50
Balmy textures that still pack a punch are a new category in colour, with a lighter, less drying feel and shinier look than matte finish lipsticks. Like tint-in-oil formulas, gel allows colour to be suspended silkily, staying put with more certainty than gloss. Ultra HD comes in 15 shades and wears well.
10. Dior Addict Lacquer Stick in Sauvage $62 and nail polish $48
An impactful deep aubergine, with a matching nail polish, Wild is a seasonal shade. The hydra gel formula is like a lipstick and mirror-finish top coat in one and comes in brights and softer shining shades.
READ: What Star Makeup Artists Want in Their Kit
11. M.A.C Kabuki Magic Paint $48
Tubes of colour in green, blue and purple can go on bright or be blended back to pastels with a white paint. Wear alone or as an intense primer for shadow, glitter or crystal gloss, of which Kabuki's makeup development collaboration has yielded striking user-friendly examples.
12. Benefit They're Real Push Up Gel Liner in Blue $44
Long-lasting gel in a vivid blue makes a strong statement that won't smudge. Benefit's flexi-tip guides precision application and you can colour match with its mascara. Gel pencils are also a good option for those who prefer not to dip into a pottle with a brush. (Try Bobbi Brown for examples of both).
13. Faby nail lacquer in Jackie@Capri $20
Ground fashion and beauty's colour craze with some earthy autumnal nails. Choose neutral nudes, browns and greys, reddish shades and those with metallic finishes.
STOCKISTS: Dior and YSL from selected department stores and pharmacies. Revlon and Maybelline from variety stores also. M.A.C selected department stores and malls, plus standalone stores in Britomart and Ponsonby. Nars at Mecca stores, see meccabeauty.co.nz. Benefit from Smith & Caughey's and Ponsonby standalone store. Faby from selected salons, or faby.co.nz
Share this:
More Beauty & Wellbeing / Trends