SPONSORED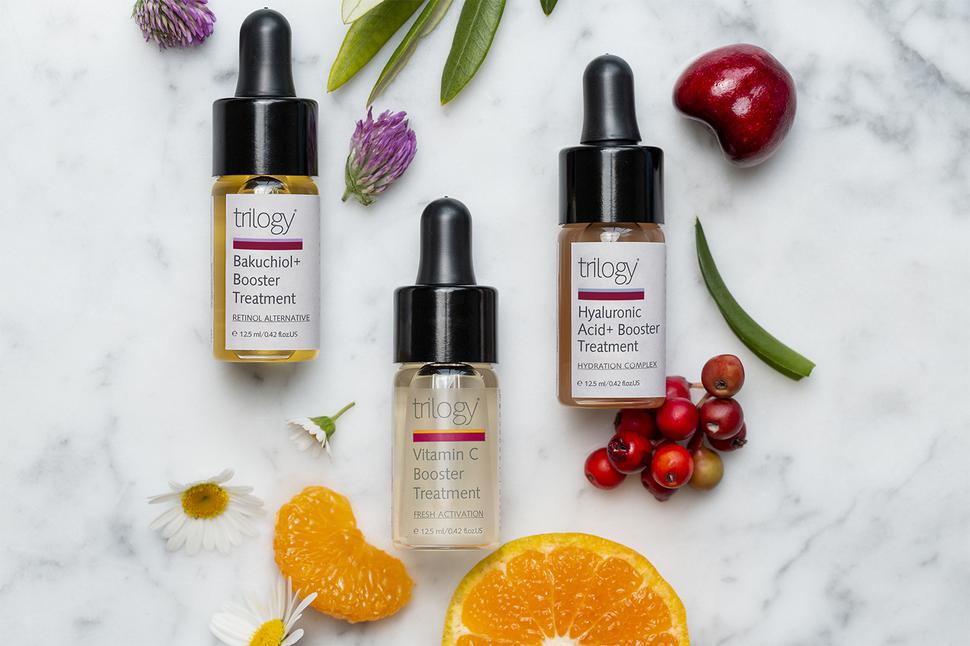 Boost Your Way To Your Healthiest Skin Yet
Is your daily skincare regimen missing this skin–boosting step?
Friday May 7, 2021
We're well-accustomed to the importance of twice-daily cleansing, never skip out on serum, and we wouldn't dare go a day without moisturising.
But there's a new kid on the block that deserves your attention — skin booster treatments. With their super– potent and fast-acting ingredients, a booster should be added to your daily skincare regimen, stat.
Boosters are targeted skin treatments, which work in a similar vein as serums — but with a little more punch. These potent pocket rockets are packed with supercharged ingredients and crafted to address a multitude of skin concerns, while improving the appearance of skin over a two–week period.
And one such brand that's helping beauty junkies across the globe level up their skincare is Trilogy, with their range of clean beauty booster treatments.
Whether you're in need of a vitamin C brightening boost, a hyaluronic acid hydration hit or want to address ageing skin with powerful retinol alternative, bakuchiol, Trilogy has a booster treatment to suit you.
It's no secret that clean beauty is one of the fastest-growing categories in the industry, and clean beauty has been Trilogy's philosophy since its inception in 2002.
Each Trilogy booster treatment (like the rest of their range) is certified natural by NATRUE, a natural cosmetics certifying body that ensures products adhere to clean and sustainable standards, and are made only using authentically natural ingredients with no animal testing or GMOs added.
And with so much dialogue circulating about the importance of being environmentally conscious, reducing our toxic burden by opting for natural skincare that's just as effective, can only be a good thing — right?
The science of beauty already exists in nature, so no performance is sacrificed. It's a win, win. Read on to discover which clean natural Trilogy booster treatment is right for you.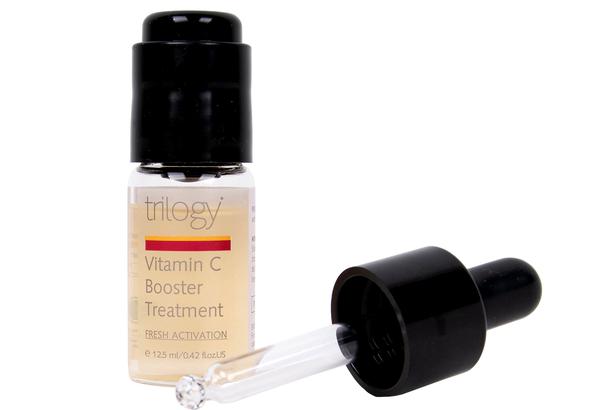 YOU WANT TO: Restore brightness
YOU NEED: Trilogy Vitamin C Booster Treatment
If it's radiance and brightening you're after, look no further than this hardworking little vial that's packed with six per cent fresh vitamin C powder. The ampoule–inspired delivery system ensures the fresh vitamin C remains stable until use — this ingredient is known for oxidising quickly, impacting its efficacy.
Simply press the cap and the vitamin C powder is released into a plant-derived hyaluronic acid concentrate, which has been enriched with daisy extract and Trilogy's signature ingredient — rosehip oil.
The result is an antioxidant-rich booster that boosts brightening and reduces the appearance of pigmentation. It's particularly effective in the lead up to a big event for that extra glow, and works well on all skin types.
YOU WANT TO: Address the visible signs of ageing
YOU NEED: Trilogy Bakuchiol+ Booster Treatment
It's likely you're familiar with the anti-aging benefits of retinol, but have you met its natural, yet just–as–effective cousin? Bakuchiol is a natural retinol alternative that combats the visible sign of ageing by smoothing the look of fine lines and wrinkles, while boosting the skin's suppleness.
Trilogy's Bakuchiol+ Booster Treatment sees this hero ingredient combine with hydrating squalene, omega-rich hemp and rosehip oils, and skin-softening meadowfoam oil to promote a more youthful-looking visage. Unlike retinol, bakuchiol is safe to use during the day, and during pregnancy or breastfeeding.
YOU WANT TO: Hydrate and plump your complexion
YOU NEED: Trilogy Hyaluronic Acid+ Booster Treatment
A cornerstone ingredient in any skincare regime is hyaluronic acid, famed for its intensely hydrating and restorative properties.
Dry and dehydrated skin has met its match with Trilogy's Hyaluronic Acid+ Booster Treatment, which sees plumping hyaluronic acid combined with antioxidants acerola cherry and Schisandra to fend off free radicals, while aloe vera, rosehip oil and ginseng promote healthy-looking skin.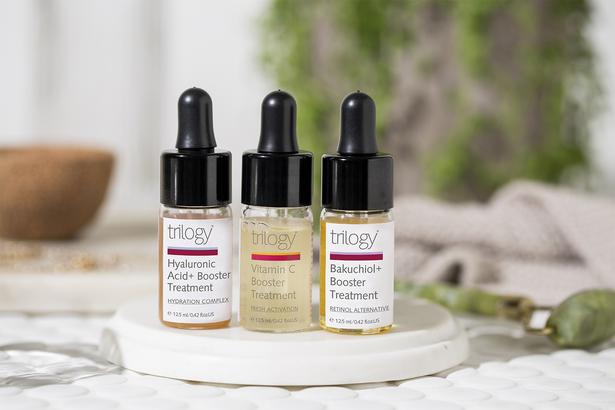 It's especially effective for those who live in inner-city locations, as antioxidants help to defend against environmental stressors like pollution, which are known to age the skin.
You can add more than one Trilogy booster to your skincare regime to get multi skin benefits at the same time. After cleansing morning and night, remember the golden rule of thumb — always start with water-based products first.
Layer water-based Vitamin C and Hyaluronic Acid+ to start, then apply oil–blend Bakuchiol+ after. Wait a minute or so between applications and hang tight for the magic to happen.
Trilogy Booster Treatments are available from Chemist Warehouse, Farmers, Life Pharmacy and other selected pharmacies. For more information or to shop online, visit Trilogyproducts.co.nz.
Share this:
More Beauty & Wellbeing / The Latest