Bridal Beauty Boot Camp
Indulgent treatments and a handy planner in the countdown to looking your best for your wedding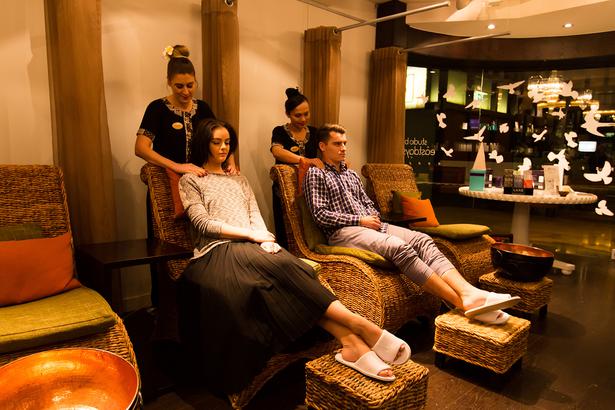 Friday Sept. 22, 2017
As every bride-to-be soon realises, organising a wedding requires campaign-like strategy. It's no wonder then that the expert appearance helpers we quizzed repeatedly used words like planning, timing and goals.
'Bridal Boot Camp' is the name Forme Spas give to the personalised regimes they recommend. East Day Spa says: "Our philosophy is to see a therapist for consultation, as you would a personal trainer at the gym for a programme."
If that sounds like hard work, think of the results.
It pays to get skin-fit early, building health, hydration and glow, so that in the final hectic weeks you can indulge in some fun stuff. Like bonding with the bridesmaids in a last-minute beauty blitz or booking some de-stressing couple time with your main man.
Start early
Ideally at least six to 12 months out from the ceremony, work out what you want to achieve. This is especially important if you are looking at laser and IPL courses for pigmentation, which are best done in the winter months, or are considering injectables, fillers or body sculpting of resistant fat pockets.
If you're pretty happy as you are, a few facials in the last three months may be all you want, with a final super hydrating fix a day or two beforehand. Not only will this optimise your skin's appearance and allow time for any prescribed at-home skincare to work, but the facials will provide some much needed timeout.
Why not just one? "It is not recommended," advises East Day Spa's Suyin Ginn, "the skin may react in different ways if you haven't had a facial previously".
READ: How to Look Good in Wedding Photos
Set a budget
Discuss a personalised treatment plan based on your goals and budget with a reputable skin clinic or day spa. Prepay deals for a course of treatments will often include bonus treatments or reduced prices. (At Forme Spas, for instance a three-month choice of microdermabrasion, lactic peel or a facial, starts at $75 a month, significantly less than booking single treatments. Luxury Babor facials are pricier, but deliver relaxation as well as results).
The Face Place has a guide called the 'Best Bridal Beauty Treatments', complete with a six-month timeline, that covers pretty much anything a bride (and mothers of the bride too) might consider. This includes Botox, fillers, IPL, Latisse, DermaFrac, Omnilux, microdermaplaning and peels, including to the decolletage, chest, back and hands. Other clinics offer a similar range of services.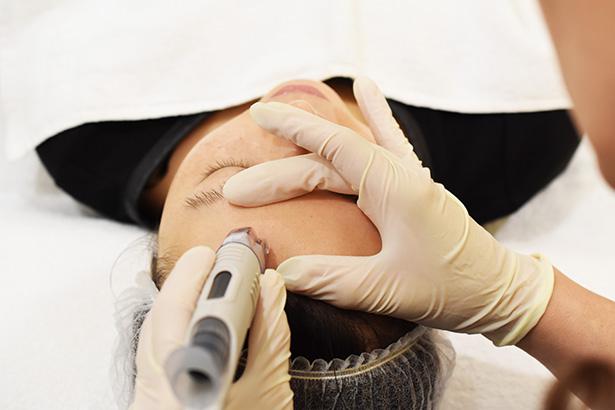 Prescription Skincare says even younger brides and grooms can benefit from 'soft-touch' Botox to counter the effects of squinting over devices. Negative expressions such as frown lines can be reduced, while soft smile lines are left untreated. That way you don't need to worry that the sun in your eyes during photos will bring on an angry look.
For a Botox first timer, the clinic advises a treatment four to five months before the wedding so you can see the results in the lead-up and then have a top-up with confidence one month out. Expect costs from $200 upwards.
Beware last-minute injectables, warns The Face Place. "Most good clinics would be unlikely to treat you due to the risks of bruising or reactions." At least a month in advance is optimal, while also providing time for any 'tweaks' if necessary.
A week of it
How about swapping out the hen's night for a spot of spa-ing? Get the girls together for some bubbles and pampering, with most spas catering for small groups and some even offering spa cuisine. Go all out with massage and facials at one of the big hotels or day spas, or keep it casual by turning the chores of tanning, waxing, lash and brow tints and nails into an excuse for a mini celebration with your attendants.
Save on stress by booking mobile services well in advance to come to your place. Choosing your wedding day look from a hair and makeup menu can make it easier to envisage the desired result and help contain costs.
READ: Wedding Ideas for Planning Your Big Day
TREATMENTS TO TRY
Votary Super Seed Facial
Get your own royal glow with this new-to-New Zealand facial. It uses a bespoke blend of 21 oils from Briton Arabella Preston, the go-to makeup artist of the Duchess of Cambridge. The antioxidant-rich Votary mix of super seed oils includes chia, broccoli, pumpkin, strawberry and raspberry. $115 for 60 minutes from Spring Spas. Visit Springspa.com 
Margaret Dabbs Supreme Manicure or Pedicure
These luxury treatments, developed by a celebrated British manicurist, include massage and are exclusive to East Day Spa. For weddings, add Shellac or gel polish to provide good nail resilience. The Margaret Dabbs' product range signature is its addition of organic emu oil for superior skin softening. Manicure or pedicure, $95 for 60 minutes. Visit Eastdayspa.com 
Microdermaplaning
Ideal a week out from a wedding, this fine-planing technique improves skin smoothness by removing top layers of dead skin cells. The process is a painless way of exfoliating for silkier texture. It also removes the fine 'peach-fuzz' hair we have on our faces, so enabling makeup to sit flawlessly. Visit Thefaceplace.co.nz
Girls' Night In
Benefit's package deal for small groups can be hosted with nibbles at its Ponsonby Rd store after hours, or book the Benebabes to come to your house. Prices depend on services arranged, with makeup lessons an option. For bridal parties, spray tan, lash tint and waxing combinations are particularly popular in store, along with the signature brow grooming services. Benefit, 100 Ponsonby Rd, ph (09) 360 0020. Visit Benefitcosmetics.com
Two-timer
When you're running around like crazy, a chance to reconnect and remind yourself that coupledom is what it's all about is a good idea. Forme's larger spas provide a sanctuary where you can adjourn to enjoy its Romance Package (a Soak Me in Aqua and a Bliss Me body massage) for $290 for two. They also host hen's events. Visit Formespa.co.nz 
Menus & Mobility
For five or more in a bridal party, Dry & Tea will move with you to do hair and makeup in the greater Auckland region, including on Waiheke Island. (Ask nicely and you may coax them further, they've stretched to Raglan before). Speed up the process with a look from its hairstyle selection and new makeup menu, or discuss an individual option. Services are also available at their three Auckland salons. Mobile bridal hair and makeup (including false lashes) costs $200 for a two-hour service, or $110 for hair only. The cost is less for bridesmaids and the mother-of-the-bride or additional guests. On top of service costs, expect to add around $100 per hour for staff travel time. Visit Dryandtea.com

Share this: