Claire Chitham's Beauty Routine
One of New Zealand's most familiar stars of screen and stage, Claire Chitham, shares her makeup secrets
Monday Aug. 7, 2017
Claire Chitham has grown up on television, transitioning from Shortland Street's Waverley to Outrageous Fortune's Aurora.
Now an accomplished film and theatre actor, she will be seen next in the lead role of Auckland Theatre Company's production of Nell Gywnn, from August 15-30 at the ASB Waterfront Theatre. Claire thinks that if the saucy orange-seller turned actress who captured the heart of King Charles II were alive today she would definitely have a bold, bright makeup look down pat. 
"I think rockabilly/Betty Boop style. She'd always be wearing a perfectly painted red lip and probably play around with those electric, metallic colours on her eyes when she wanted to be fancy. Anything to enhance her features for flirting! I'm too lazy with my face to make that much effort, but she would be meticulous."
What of Claire herself? Her focus is often on health, with her own website Good For You featuring new treatments and "products that help make me feel beautiful".
Best beauty trick
Heaps! Nothing is as 'natural' as it seems in the pictures ladies! We have very clever artists who do a lot to make us look amazing, or like we're wearing very little. I've been picking up lots recently about contouring and shaping the face in subtle ways, using highlighters and bronzers in careful detail. I'm never patient enough to do it on myself every day, but I do for special occasions. I found what works on me a long time ago and I tend to just vary the colours I play with, but I stick to two basic recipes: one is for when I want to pop my eyes, and one is when I want to wear a strong lip.
Best — and worst — professional appearance transformation
My most fun was probably getting into character for Aurora on Outrageous Fortune. We took my hair to almost black, choppy and edgy with a fringe and went super dark and grungy with my makeup. We would have to touch up my under-eye black liner all the time because I would smudge it off. It takes a village!
The worst was when they turned Waverley into a blonde for a storyline back in 1994. Because my hair's so dark and there's heaps of it, it took five hours to do old-school style, pulling strands of hair through a cap piece by piece and then bleaching it. And then it hadn't worked very well so I had to sit in the chair for another three hours the next day toning it so it actually looked blonde. Painful and slow. This blonde did not have more fun — my hair went all dry and wiry. I couldn't wait to go back to brunette.
Beauty ethos
My focus tends to be on the health of my skin. I guess because my face is such an important aspect of my career, I've always considered it to be a priority. I started getting regular facials and using active products with vitamin A and C in them when I was about 24.
I love the new research and technology that's always coming out regarding skin treatments and health and I believe in giving it all a go, one step at a time, and finding what feels good and right for me. Even in my poorest days I've always put high quality products into my skin. And I think it has been worth it.
I've tried the luxury, fancy brands and I've tried natural products that did nothing for me. Right now there are some amazingly potent, clever, more natural brands out there, using science on their side to get their ingredients doing what the luxury brands have been trying to mimic with chemicals for years. So I'm using those as much as I can.
I don't wear makeup unless I feel like I have to for the day or if I am going out at night. I'm pretty basic most days. I prefer the fresh, clean skin and sheer lip gloss look most of the time, but I love to dress up and play with colour when I feel like being fancy.
Everyday routine
I wipe my face with a warm cloth. I don't hold my face under the shower anymore as my beauty guru Romy, from The Beauty Elixir, warned me off it since it can sometimes be too harsh and damaging to my skin cells. I then use a customised serum, that's targeting my current skin issues and a daily moisturiser by the German brand Dermaviduals (also from Romy) that is highly active, but naturally based.
If I'm going out, I use a tinted moisturiser that has SPF20 in it by Juice Beauty. It's organic, and has a great luminosity to it, great for the 'dewy' effect. Then I use small amounts of concealer where I need it, throw on mascara and bronzer and run out the door, knowing I usually have about four lip gloss options in my bag.
I only cleanse at night and am currently using an oil-based cleanser. I use a vitamin A serum by Cosmedix and eye gel by Environ. Then I alternate between a couple of different night serums depending on what I need — maybe an amazing hydrating, calming one by Bare or a pure rose oil-based one by World Organics.
I'm not a fan of heavy night creams anymore. I've noticed my skin is way more hydrated with the oils and serums I've been using of late.
Stage makeup
It's not like it used to be when we worked under harsh, bright lights and had to wear a lot of makeup in order to give your face any shape. Lighting is more naturalistic now and products are better. The problem tends to be when I'm working and taking makeup on and off multiple times a day, either on stage or screen, which gets irritating for my skin. I usually use gentle wipes whenever I'm working and then wait until I'm home and use a proper cleanser before bed.
First makeup memories
The smell and taste of thick Revlon lipsticks belonging to my mum, mostly in Fuchsia and Brown. I was wearing stage makeup at the age of 8, and it was all so thick — you'd have to paint every part of your face on. And then we'd cover everything in heaps of powder so you didn't get shiny on stage. It took forever to get off and we used a super thick cream. But I loved it. That's part of the smell of theatre to me. Makeup and musty costumes.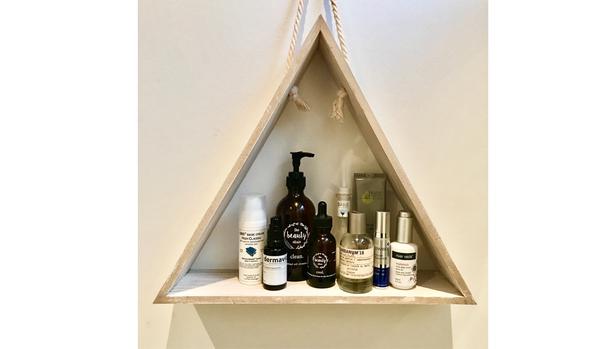 Top five beauty products
1. The Beauty Elixir 'cool' face oil — it has naturally occurring vitamin C in the raspberry seed and smells divine. It nourishes and hydrates my skin the second I put it on and I use it anytime I feel dry or need some skin love. My skin drinks it up.
2. Beenigma face cream — nature's Botox in a jar. I use it as a mask before events or going on screen. It genuinely plumps and tightens for the night. It's made of manuka honey and bee venom, but the process the venom is is extracted is bee-friendly — trust me, I've checked. 
3. I've used Elizabeth Arden Brow shaper in Sable for over 20 years to fill and shape my brows – it's awesome and doubles as a great liquid eyeliner when wet. But I just had my brows micro-bladed by the clever Helena at Dottir Skin and Beauty and it's a revelation.I love not having to do them anymore.
4. Miracle Hair by Eleven. It's light, provides moisture and shine, disappears quickly and does what it says it will.
5. Coconut oil. It's an amazing eye makeup remover and all-over body oil. I haven't tried it as a hair mask yet, but hear it's brilliant. And I cook with it! Multi-purpose and cheap.
Day-to-night beauty look
My easiest quick change is adding a bright lip. I throw a black liquid eyeliner on (I love the Dr Hauschka one, its brush is super tiny) and then usually bright orange or red lipstick. My faves are the MakeUp Forever brand for staying power and the Nars lip pencils because they're so easy to apply.
Style and beauty evolution
My evolution hasn't been as brave as I would have liked. It's always been dictated by my career, I guess, since my image has often been in someone else's hands. At age 8 I played Pinocchio and they asked me to chop my hair off for the role. I had a horrible pageboy cut for the next three years while it slowly grew back.
So when I started as Waverley at age 16, it had grown to bob length and that's where it stayed for the next 5 years. So boring! I eventually got to have a proper 'modern' haircut on Shorty as we evolved the show out of the 90s. I would try to shake the 'Waverley' look when I was out at that age by rocking Bjork-style knots, or dark, matte lipsticks.
I've taken more ownership of my look as I've aged. I've had different coloured highlights in my hair to soften my look at times, or gone darker for winter, but these days I just try and stay healthy and happy. It's a cliche because it's true. I always think I look better when I'm making good choices for my health.
Hair routine
My hair is the best thing about me (beauty-wise that is). It's honestly the envy of my girlfriends, because I literally just towel dry it and don't do anything else. It has a natural curl to it, it's thick, healthy, shiny and there's heaps of it. I only wash it every 3-4 days. As long as I've had a good cut that keeps some of the weight out of it, it does its own thing. I usually only get a trim twice a year (from Danny at d&m) and I keep the ends from going dry with Miracle Hair or Argan Oil. Sometimes I'll tong a couple of the top layers when it needs to look nice, and I throw it in a pony or bun when it needs a wash. DIY hair and a lazy girl's dream.

Beauty tips
I'm lucky because I get a lot of great advice from makeup artists and the skin experts in my life. I'm constantly spewing new info to my girlfriends. I love the team at The Face Place in Auckland who are on the cutting edge of treatments available to enhance and maintain the best-looking skin. I've been getting their Omnilux light facials recently.
Romy Burgess from The Beauty Elixir does the most amazing organic facials with natural oils and is prescribing me my current skincare regime. I find your skin gets bored just like we do, so it's good to keep experimenting with colour and new products that are out there. Don't be afraid to try the new stuff no matter how old you are. And water, water, water. Hydration is key. So is good sunscreen.
But ultimately it's true what they say about beauty coming from within... no matter what I slap on top, it's when I'm happy and know that I'm taking good care of myself that I get all the best kinds of compliments about how I look. So I try to focus on doing that more than if I have my eyeliner on right.
Share this:
More Beauty & Wellbeing / Features & Profiles