Embracing Coconut Beauty Products
We've gone a bit nutty for coconut beauty products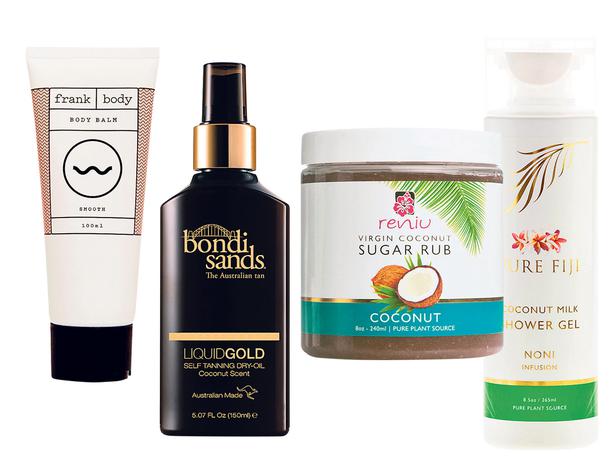 Friday Dec. 18, 2015
From cafes to beauty counters, you just can't get away from coconut these days. Round about now, with the pre-Christmas rush kicking in, I'd rather be sitting under a coconut palm drinking a pina colada than writing about the bounteous nut, but they're everywhere these days so there's no escaping the topic for the tropics.
Coconut is promoted as producing some sort of dietary wonder oil, but as with all heavily hyped trends, the truth is a little exaggerated. It is certainly versatile, however, but when it comes to skincare, the oil is heavier than some, making it best suited to the body or blended.
That said, pure oil has been used to cleanse and nourish faces and bodies and tame hair for millennia so it is undoubtedly a serviceable natural product. Its harvesting also provides valuable community incomes across the Pacific, with the Philippines and Samoa particularly notable in having sizeable harvesting ventures, and the latter nation supplying to The Body Shop via fair trade co-operatives.
You can buy coconut oil from health food stores, or explore the growing range of beauty products that use it. You will find it as cocos nucifera on ingredient lists.
We like how the coconutty aromas found in sunscreens and increasingly in body products and even fragrances immediately make you feel summery, so let's embrace the moment.

1. Frank Body Balm $24.95
This little tube of botanical goodness adds grape seed and almond oils to the coconut base. There's also a dash of the coffee extract common to all Frank Body items and found in greater quantity in its scrubs, which are well worth seeking out for a rub down. frankbody.com
2. Bondi Sands Liquid Gold Self-Tanning Dry Oil $24.95
The speed-dry oil smoothes skin and the coconut scent disguises the smell of developing tanner, making this new generation product a winner in giving you a golden headstart on summer. Selected pharmacies or bondisands.com.au
3. Renui Coconut Sugar Rub $29.95
Glow baby glow with this sugar cane crystal rubdown, softened by the added coconut oil to leave skin super smooth. The Renui range from Fiji includes oils, body butters and lotions all based on coconut oil and includes travel sized minis. See purefiji.co.nz
4. Pure Fiji Noni Coconut Milk Shower Gel $31
Fans of coconut everything couldn't do much better than Pure Fiji's extensive body range, including this new Noni fruit one. I love the fragranced oils, but there are gels, soaks, lotions and butters to cater for all tastes, in a selection of tropical aromas, including, of course, coconut. Or try the Pina Colada lip balm, $15.50, and fragrant oil rollerballs, $22. From the pop-up store at 133 Ponsonby Rd and selected spas. See purefiji.co.nz
5. RMS Beauty Raw Coconut Cream $29
This cleanser nourishes while it gently removes makeup and impurities. Suitable for sensitive skins, it is a companion to the natural make-up range developed by celebrity artist Rose-Marie Swift, who has found favour with the likes of Gisele Bundchen. Swift says the white waxy cream helps soften lashes and skin. She uses organic food-grade ingredients. From Mecca Cosmetica, see meccacosmetica.co.nz
6. Savar Spa Ultra Nourishing Pacific Coconut Body Butter $45
Gives a double dose of coconut, from both the smell and the oil. Avocado, olive and blackcurrant seed oils add to the richness of this non-greasy moisture boost. Use it all over, or target dry knees, elbows and heels. For selected retailers and online store, see savaronline.com
7. CocoOil After Sun Lime Coconut Oil $34.99
This skin soother comes from a range starring Pacific organic cold-pressed coconut oil. The top-seller is an all-purpose Face & Body Oil and the Sun Oil with SPF15 is also enticing. New to this part of the world, although New Zealanders are involved and the owners are Australian, the brand already sells in Sephora internationally. Find it here at Bed, Bath & Beyond stores, selected pharmacies and cocooil.com.au
8. Lakoko Botanical Wisdom Coconut and Kukui Nut Balm $50
This all-purpose balm is hand-made in Auckland by a beauty therapist and a massage therapist to ensure product purity. They recommend it be used to rejuvenate and lock-in moisture, deal to dry and split hair and stretch marks, massage away aches and soothe inflamed skin. Oil from kukui (candle nut) is added because it has long been used to nourish in Hawaii, including on delicate baby skin. See lakokobalm.com
9. Verite Spa Organics Wild Pomegranate Candle $50
This indulgent candle unusually uses coconut wax as its foundation, a clean-burning and sustainable choice. It has a cotton wick and is fragranced with essential and certified organic oils, for a rich warm scent. See veritespa.co.nz
Share this:
More Beauty & Wellbeing / Trends