Coconut Milk, Vanilla and Pink Salt Bath Soak Recipe
Eleanor Ozich shares a recipe for a relaxing pink salt bath soak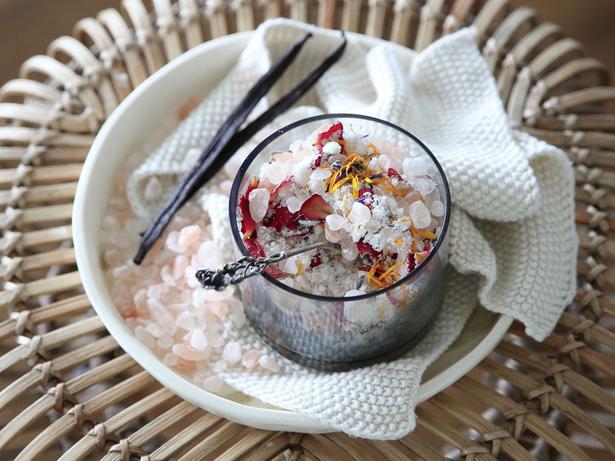 Thursday Feb. 9, 2017
COCONUT MILK, VANILLA AND PINK SALT BATH SOAK RECIPE
Perfect for hydrating and softening the skin, this coconut milk, vanilla and rose bath soak is indulgently luxurious, and will leave you smelling lovely.  Rocks of pink Himalayan salt infuse your bathing water with minerals, and help with relaxation.
Ingredients
1 cup pink rock salts
1 cup coconut milk powder*
10 drops vanilla essential oil
5 drops rose essential oil
½ cup dried flower petals, optional.

*You could also use cow's milk or almond milk powder.

1. Combine all ingredients in a bowl, and toss gently. Transfer to a glass jar to store.
2. To use, add a large handful to your bath, and allow it to dissolve in the hot water. It's best to do this right before you hop in, as this is when the essential oils are most fragrant. Inhale deeply and enjoy. Keep the jar in a cool, dark place and use within two months.
Share this: