Comedian Laura Daniel's Beauty Routine
From stand-up to Jono and Ben sidekick and now karaoke at the Fringe Festival, it all looks better worn with make-up, says this self-deprecating good sport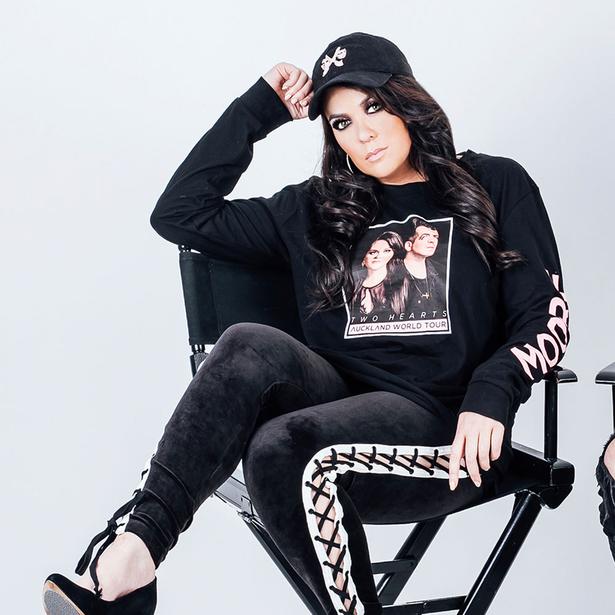 Friday Feb. 22, 2019
Laura Daniels says "of course" makeup is a performance tool and one that she uses to differentiate between her on-screen or on-stage persona and her real life one. "That being said, all of them are, frankly, caked in make-up."
The comedian whose television skits have made her a familiar face is showing a new side of her stage craft, appearing in pop band Two Hearts with Joseph Moore, to instigate an evening of karaoke — audience participation optional but encouraged — at the Auckland Fringe Festival. Their final evening of musical comedy entitled Two Hearts: HEARTcore Karaoke is on March 2. 
READ: Scottish Comedian Fern Brady's Beauty Routine 
Go on give us a laugh, what's your funniest makeup moment?
I did a recurring bit on Jono and Ben last year where I played Jacinda Arden, which involved a good chunk of make-up. Everyone told me the resemblance was uncanny, and it must have got to my head because I started to agree. At the end of the year we ended up filming a sketch with her, she had just come from a glam-photoshoot and looked incredible. And I had a red jacket, a bit of contouring, and fake teeth. The resemblance was not uncanny.
Describe your beauty ethos and how this has evolved
More is more. With the shows I've been on/are doing I learned to love LOTS of makeup and doing full glam looks, trying bold things and often being close to doing full drag makeup. But I've also loved to learn to just use a little bit to make my natural features pop — it's far less confronting when you go to social situations and there's a time and place for heavy makeup (performing for people or for yourself in the mirror).
Earliest memory of makeup
I used to give my nana makeovers because she was kind enough to let me. I had no idea what I was doing, I would scribble all her face with blue eyeliner pen, and use bright pink lippy on her mouth and cheeks. Because she was the nicest woman in the world, she'd keep it on in public to not hurt my feelings. In saying that, when I was done with her she would have easily been one of the top three hottest babes in Palmerston North.
READ: Pop Artist Princess Chelsea's Beauty Routine
What appearance tricks of the trade have you carried over into real life?
All of it, I spend a lot of my time in a professional make-up chair asking the make-up artist what they are doing and stealing their ideas. Have I stolen their actual make-up? Who's to say.
Daily beauty routine
Morning: put on the make-up. Night: take off the make-up (if you remember).
I also use sheet masks: Korean ones or the Garnier hydra blast. I put one on for 20 minutes after I take my make-up off or if I've been really stressed I'll put in on before getting my make-up done. It's hydrating and you look like a ghost so you can scare your BF or flatties.
Hair and its care
As a proud (half) Polynesian woman, I have far too much hair. I like to keep about 80 per cent of it on my head, and 20 per cent clogged in the shower drain due to stress. Also, I only wash it every third day and always use a mask after conditioning.
Day to night transformation tip
Glitter.
Five favourite products
1. Huda Beauty Rose Gold Palette: One of my make-up artists used this on me in a Jono and Ben sketch last year and when I went overseas I went on a mission to Sephora to find it. No regrets, it has the best colours I've ever seen in a palette. You can also just use a tiny bit on your brush and it goes everywhere!
2. Tarte Pro Glow Palette: Love everything Tarte, It's vegan and it's pretty. This is a contour and a highlighter and you can get small versions that fit in your hand bag.
3. Revlon Colorstay Foundation: I have a bunch of different foundations. But no jokes I've used Revlon Colorstay since I was 16 and I always go back to it. Some long-wear foundations can cause me to get a spot or two or it wears off in weird places, however, this stuff stays on feels fine on your skin, I've legit never had a problem with it.
4. Velour Lashes: These ones I tend to only find in American Sephoras, they are faux mink lashes and they're big and beautiful and you can re-wear them again and again. I'd probably only wear them onstage though. For more "every day" wear I'd go with something like Ardell demi wispies or a naturals set from shaaanxo
5. Tarte Sea Setting spray: I get sweaty af. But this sets your makeup in place and gives it a nice lil glow.
Treatment to try
I would love to try one of those fake butts like Cardi B has.
Beauty to you is…
Whatever makes you feel good. Be that wearing make-up or not wearing make-up. Whatever gives you confidence and makes you feel good about yourself. Also Beyonce.
Share this:
More Beauty & Wellbeing / Features & Profiles