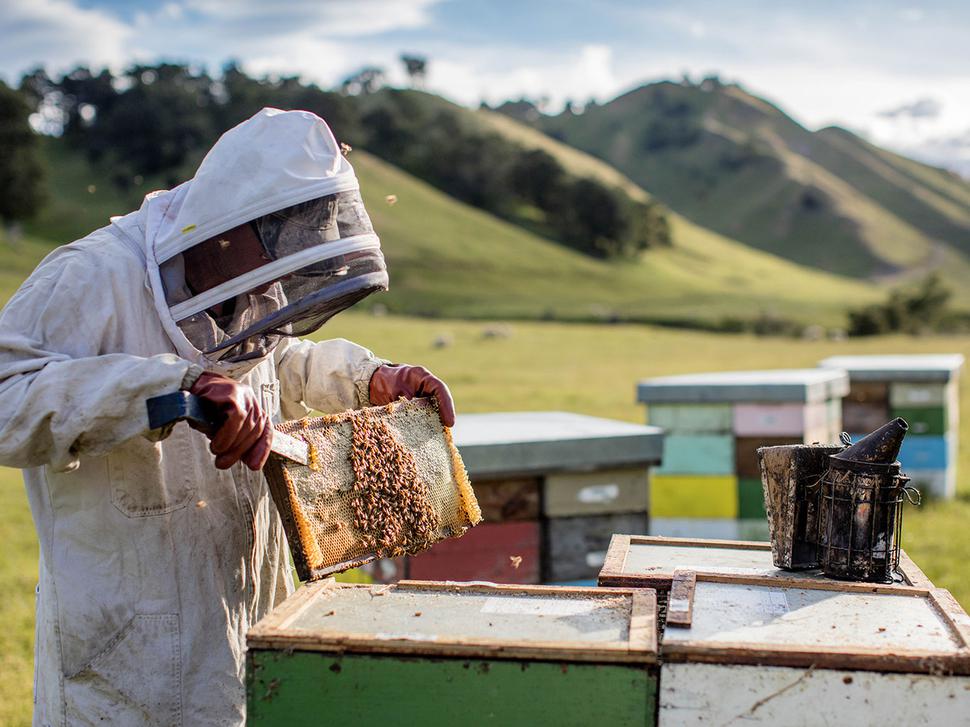 Comvita and the Business of Making Honey
Wellbeing editor Rebecca Wadey visits the headquarters of Comvita
Wednesday June 22, 2016
When Gwyneth Paltrow started singing the praises of NZ manuka honey in her bestselling cookbooks and lifestyle site Goop she confirmed two things we all know about this liquid gold: it has amazing health benefits and it's outrageously expensive. I recently spent the day with Comvita co-founder Alan Bougen to find out what's fuelled this gold rush, and the responsible practices the company have put into place to ensure they meet demand.
"Claude and I never wore gloves," Alan explains, as he pulls apart one of his hives, tray by tray, hunting the elusive queen bee and pointing out the propolis and pollen process along the way. "We just felt you missed something important about the connection, if you're not able to feel things properly."
The solitary hive at Comvita's Paengaroa headquarters is there mainly for show. Well, that and as a companion for the community garden they installed recently for the local school. Comvita currently has 33,000 hives in NZ but they haven't held any in the heavily sprayed Bay of Plenty since the mid eighties, when they'd use them to pollinate the local kiwifruit orchards. "That's how we cashflowed some of our manufacturing," recalls Alan. "I'd put a hive in an orchard in December, get a cheque in January and go and buy some packaging."
Alan's beginnings with Comvita were serendipitous. After returning to New Zealand following a stint living in San Diego (where he'd become interested in yoga, surfing, beekeeping and other aspects of health and wellbeing that are now common place but were once considered fringe) he settled on Great Barrier with his soon-to-be wife and "a couple of hives".
Soon after, he came across a pot of honey and a skin cream from a brand with a fascinating back story embedded on its label. It told the story of the maker and his belief in honey as medicine. This story resonated so strongly with Alan he took note of the address in Tauranga, near where his family lived. The next time he visited home he called upon the address, met Comvita founder Claude Stratford, and the rest, as they say, is history.
That was 1976. Claude had been making honey and formulating honey products out of a bath tub in his basement. He was 65 and had been in business for two years, driven by ongoing ill-health and a desire to educate himself in a bid to overcome it. Claude, who was a finalist in the Ernst & Young Entrepreneur of the Year Award when he was 95, worked for Comvita — even selling products to the nurses and residences at his Te Puke retirement home — until he passed away at the age of 102.
"Within half an hour of meeting he'd offered me 50 per cent of the company," recalls Alan over lunch in the Comvita on-site cafe. "It was the core idea I really responded to, it was so similar to what had inspired me in the US, and here was this old man doing it in NZ."
The more the two talked they more they realised their philosophy was one and the same: to help people, and make a difference with their business and their products.
"Claude wasn't motivated by money, and I loved the ethics and idea behind it," explains Alan. "We attracted a core group of people who identified with what we wanted to do, we weren't able to pay them much but they wanted to be around. We created this community of interest that kept growing."
Alan and Claude knew that education was key to their success. They took advertising in magazines, wrote articles in newspapers and employed naturopaths to work with them on their natural health care products. "That time, that core group of people," reminisces Alan, "they were really pivotal in setting Comvita on this philosophical journey.
The values and ethos were established way back then, in the late 70s and early 80s and they haven't changed. Even though the company has transitioned through a whole bunch of iterations to now being a publicly listed company on the NZ stock exchange."
That Comvita is in the enviable position it is now (the company is forecasting sales in excess of $180 million over the next year) is all down something else that happened in the 80s. Researcher Dr Peter Molan started publishing findings on the medicinal benefits of manuka honey out of Waikato University. Alan and Claude, who had always believed in the medicinal qualities of honey now had physical evidence to back them up.
"We linked into the university's work in about 1988. We knew about the therapeutic values of honey, and we knew that using honey topically on infected wounds was one of the best things you could do."
Yet, as Alan explains, "it wasn't until the researchers linked that the activity was different to other honeys, it became then quite a unique product". Following the findings Comvita became one of the first companies to put a UMF (Unique Manuka Factor) mark on their product and actively worked to formalise a structure around what UMF means.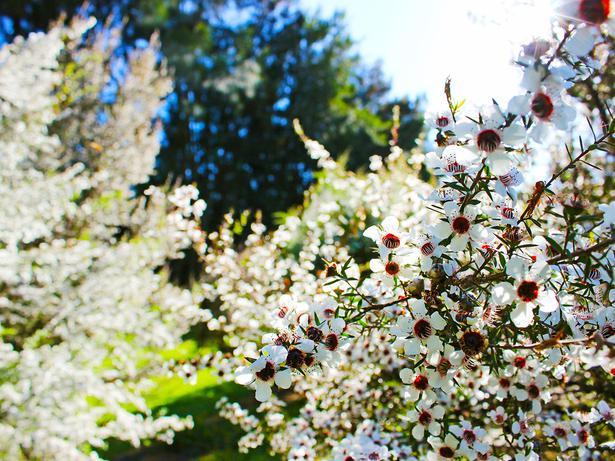 And herein lies the crux of one of the major problems in the manuka industry. Everyone is after those wellbeing dollars, especially those golden coloured, Goop approved ones. Comvita have, since those very early days, fought for a universally recognised UMF mandatory labelling body, to ensure all honey on the market is subject to the same rigorous testing to prove it's what it says it is. Alan is clearly frustrated that not all companies are following their lead and says many are misrepresenting their product, putting out inferior honeys that threaten the industry as a whole.
"As recently as last week I was in Whole Foods in LA and half the products there were absolute rubbish," explains Alan. "They shouldn't be there and they won't be there in future, I'm going to make sure they get pulled off the shelves," he fumes. "You could test a dozen of the [manuka honey] products and 10 of them would be nothing like they say they are. They won't work." Alan is frustrated the industry hasn't been able to pull together, "but there's so many players and nationalities now".
After lunch we are taken by helicopter to a clearing in the Kaimanawa Ranges where several hives are housed during the oh-so-short honey season. Alan is a fascinating tour guide. He and the pilot point out various cattle stations, gossip about the owners, despair over forestry and excitedly revere patches of native bush. He's in his element flying high over the country he loves so passionately, and is at pains to point out several times that this is all made possible by the current high prices paid for manuka.
Something, he says, could change at any given time if inferior products continue to flood the market. He has a great rapport with the pilot, who has the job of dropping 4,000 hives in each December before removing them some six weeks later when the flowers are no longer in bloom and the bees' food source dries up (the remote location of these hives means there is not enough food to sustain the bees during winter).
The land is owned by the East Taupo Lands Trust in a deal that Alan sees as win win. "Iwi provide the land access while Comvita provides full management of the jointly owned hives," he explains. "The manuka honey is supplied to Comvita as part of its growing medical honey dressings business."
Comvita believe this initiative creates real long-term value for both parties. They also aim to implement a beekeepers training initiative with iwi youth, thereby creating further employment operations with them.
Out in the Kaimanawas the vegetation is dense, the air pristine and the only noise is a gurgling stream or the odd swooshing of a kereru. The best honey is 'made' in remote areas, free from pesticides and environmental toxins. The Kaimanawas are about as remote as it gets, although Comvita also keep hives in the Far North, Central Plateau and Hawke's Bay.
This isolation results in the purest of products although, interestingly, they can't claim to be organic as NZ beekeepers need to treat for the honey bee parasite varroa mite. "There are no beekeepers in NZ who can say they produce organic honey," explains Alan. Comvita hope that through selective breeding a varroa resistant bee will be produced thereby speeding up evolution. They are watching, and contributing to, research in this field with interest.
Bee welfare is something that Alan is extremely passionate about. The current trend towards backyard beekeeping is something that both excites and terrifies him. "There's the complexities of managing varroa, and abandoned hives can be an infectious situation for American brood disease.
He encourages renting hives from a professional as a responsible way to manage domestic hives. Alan consults to the Australian crowdsourcing sensation Flow Hives and while he sees it as an incredible system ("I have one in the boot of my car right now!") he has concerns that it could trivialise the art of beekeeping to the point where lay people will go in guns blazing, at the risk of disaster for the industry.
Comvita have 33,000 hives from which they produce 1,000 tonnes of manuka a year. In order to make up the 2,500 tonnes they need to package each year they contract other beekeepers from around the country who meet their strict standards. The international demand for manuka has naturally created huge interest in the industry and with that, as Alan sees it, comes great responsibility. "We're the envy of the beekeeping world! Everyone's trying to work out how they can create a manuka honey in their country."
In NZ, "beekeepers are driving around in new trucks and BMWs. I keep saying to the beekeepers, don't get used to the prices. They won't keep going up every year forever. Unfortunately it's turned into a bit of a gold rush in NZ, people coming into the industry with little experience thinking it's a great way to make money". As Alan sees it, "if you want to play in this high-end product space you've got to be really good at what you do."
Education continues to be key for Comvita. Both about the unique origin of these products (they've recently utilised Occulus Rift technology that allows visitors to their Paengaroa HQ to virtually experience the Kaimanawa site. Simply by donning glasses they can travel in by helicopters, like I did, past the gurgling brook, and land in the clearing amongst the hives and keepers).
They've also tapped into their friends in their local kiwifruit industry to instill an impressive 'hive to pot' scanning system that allows them to track exactly which NZ hive your honey came from. (This of course also ensures beekeepers, both their own and contracted, are accountable for the quality of their product which is tested as soon as it arrives on site).
They spend around $2.8 million a year on research and development, they still hire naturopaths and have a clinical nurse who runs their medical honey programme. (Comvita have FDA approved wound dressings and have experienced huge growth in this industry through the US).
As Alan sees it, companies like Comvita have been crucial to the industry for their commitment to "doing the science, telling the stories, interfacing with global consumers and increasing the value of the product". It now appears to be time to tell the story about themselves. It's certainly a fascinating tale.
Share this:
More Beauty & Wellbeing / Wellbeing