Best Buddies: Connor Nestor and Charles Williams
Young entrepreneurs Connor Nestor and Charles Williams tell us how creativity and passion has cemented their friendship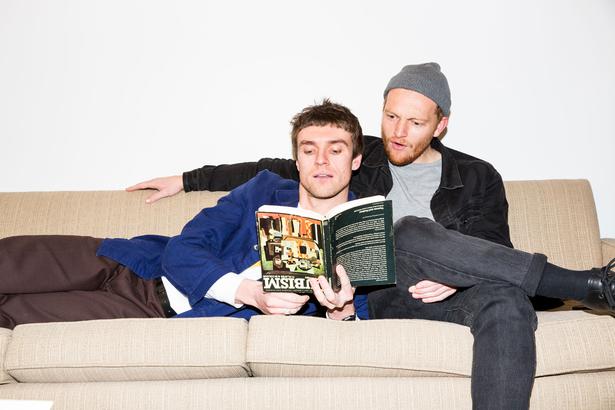 Wednesday Sept. 6, 2017
THE YOUNG ENTREPRENEURS: CONNOR NESTOR AND CHARLES WILLIAMS
How did you meet?
Almost 15 years ago in third form at Avondale College.

What are some of the things you admire about each other?
Charles Williams: One of the best things about Connor is his passion for local culture. Whether it's with food, music or art, he looks to support and help out wherever he can. He loves helping young creative Kiwis with their projects. The amount of collaborations he has already worked on in New Zealand alone is incredible.
Connor Nestor: I just straight up dig the dude. He's my rock solid-sounding board for all life decisions, a keen hustler, and he loves what he does which is truly motivating.
What's your favourite memory of each other from over the years?
CW: School camp in 2004. Connor did a dance performance for everyone on the final night, it was a contemporary masterpiece. I think he gained a lot of confidence after that and I don't think he has ever looked back.
CN: We were staying down in Gisborne one summer in a house on the estuary. I was snoozing under a tree and was pleasantly woken by one shirtless Wale Chilliams singing freely on a paddle board with the sun shining brightly down on him. It was a magical serenade that will never leave my mind.
As creative young men, how important is being creative to you as a person?
CW: Creativity for me means to move forward and grow. I think as long as you are always creating, or helping others create you are contributing to an environment for the better. When I create environments I like to think I am building a space for people to find comfort and enjoyment. It brings people together and that's something I really care about.
CN: It's kind of the whole thing. Making [something] with others and adding your perspective to a project means that the output will be fresh and unique because no one can approach something the way you can. I'm at a point now where if it feels like it's a good idea, there's no point in not exploring it fully, even if it never eventuates.
Mental health amongst young men is a serious issue, particularly in New Zealand. What are your words of encouragement or advice to young men who are experiencing issues with speaking about their issues?
CW: You are not alone. Having mental health issues is a lot more common than people think, especially for men. The stresses of daily life can become overwhelming very easily and lead to the likes of anxiety and depression. It is completely normal to experience these issues. I believe the best thing to do is to talk to someone you feel comfortable with. It doesn't have to be about everything you are going through all at once, just start with something small and let others be there for you.
CN: Being able to talk openly about thoughts and problems you have with friends or humans around you is a good place to begin. You think, 'Oh, no one wants to hear my problems' but people really do want to listen and even better help where they can. Humans are pretty supportive and I think in 2017 open conversation about mental health is a very healthy thing.
How can New Zealand's male culture improve, particularly when it comes to talking about health and wellbeing issues?
CW: I would like to see our media and leaders show males that [the definition of] being strong is actually when you talk about issues and help others with theirs. There has been some really great exposures on the epidemic of late by the likes of the Herald, but we need to see more of it and across all platforms. Schools need to be regularly talking about mental health and make sure they're being approachable for students. I do however believe that New Zealand male culture is slowly moving in the right direction when it comes to being open about mental health and wellbeing issues. Advocates such as Richie Hardcore and John Kirwan are really showing their fellow Kiwi males that talking and being open about these common problems is the strongest way forward.
CN: In my experience guys are very caged up about speaking about it in general, so reading things like this in the press helps to remove the stigma that guys shouldn't talk about their mental wellbeing because it's not cool or tough. Communication is so direct and information widely accessible now, so being welcoming of the open conversation can only make it more of a social norm. Just checking in with your friends on a deeper or 'real' level to see how they're doing on the reg can make all the difference in the long-term.
Who were your male role models growing up and what were some of the lessons you learned from them that has helped shaped the man you are today?
CW: My father. He taught me to always put others first and be as open and as available as possible. He is an unwavering support for my family through thick and thin. Showing others that you will have their backs no matter what, is an incredibly positive attribute. Without a doubt you will come across someone who needs help in life. If they know you will always be there for them, in turn they'll be more open with you.
CN: You do learn some great things from your dad. My number one lesson was that everything in the universe comes down to timing and balance. I try to apply that in my approach to life, try not to force things, try to be patient, and try to spend time with those you love.
What are you both working on at the moment?
CW: My younger brother Patrick and I are building an all-day eatery down at Wynyard Central, which will be open mid-January. It's really exciting as we will be diving into dinner service for the first time. We have been lucky enough to meet some incredibly talented chefs, baristas and waiters and can't wait to put a team together to bring something a little bit special to the area.
CN: I've just opened a visual studio with my wonderful friend and director Jordan Arts. Half our time is spent on ideas and visual direction for artists and brands, with the other half running our record label and management company. It all sits under the name A Label Called Success.
Share this:
More Beauty & Wellbeing / Features & Profiles