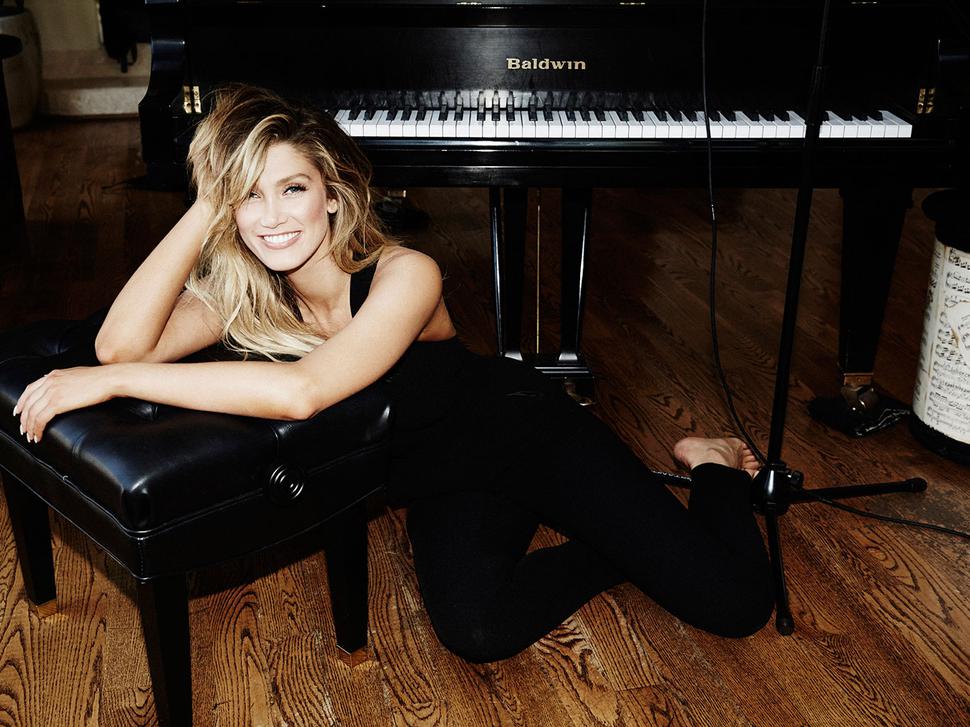 Delta Goodrem's Beauty Routine
Singer and television star Delta Goodrem shares her beauty routine and the products she can't live without
Monday Sept. 14, 2015
Delta Goodrem has been in the spotlight since her early teens, starring in Neighbours as the bubbly Nina Tucker and signing to Sony Music at the age of 15. Her breakthrough single Born to Try topped the Australian music charts in 2002, and she's since had eight other number one singles, including the newly-released Wings. During a quick visit to New Zealand, we caught up with the singer to talk beauty routines, The Voice Australia and her new role as Grizabella in Cats. 
Earliest makeup memory
Growing up, I really didn't wear much makeup, and my mum was really big on routine when it came to beauty products and always making sure you've washed off your makeup and looking after yourself.
I was always obviously doing performances and different shows from when I was young, so I had makeup put on me from the time I was a kid, but I think for some reason my school formal kind of sticks out with me. I wore bright orange with bright flowers around my head, and then I had flowers draped all around my hips and down my dress, which my mum helped me get made. And then my other was a bright pink dress.
Signature style
I think, over time, I've definitely learned what suits me and what doesn't, like any woman does. And I definitely think I've got a particular style with makeup and hair that I like. I'd say I'm boho glam. I like glamorous things, but I'm still a hippie at heart. So I kind of have a mix in all areas of hair and makeup and clothes, that I would say is bohemian gypsy meets 90s glam meets 70s flair. I like big hair.
READ: Rachel Hunter's beauty routine
Makeup philosophy
With music and doing so many shows, we're on stage and on camera and you want to feel your absolute best. You want to feel confident to walk out the door and feel 100 per cent. I love the forms of expression of what you're feeling that day, through artistic things — and that includes makeup. It's a real art, and I find when you have someone who is as amazing as Noni [Smith] my makeup artist, when you have people who really can do a real art to it, it's fascinating. And I've learned a lot off makeup artists over the years, too — just little tips like contouring, like taking an extra 10 minutes to do your makeup in the morning.
Day makeup
I normally just do something minimal. I still always do my eyebrows. Light foundation, a tiny bit of blush, a bit of mascara and some gloss. YSL Touche Eclat under the eyes at all times. YSL mascara. Amy Jean Eyebrows or Anastasia Beverly Hills brow pencils. I change foundation quite a bit, depending on what the skin is going through. But I use a lot of M.A.C makeup.
On-stage
There are a lot of lights on stage, so it's just a little bit more emphasised. Stage makeup just has to glisten in the light. You need a bit of sparkle. 
Performing in the Sydney production of Cats the Musical
Grizabella is such an iconic role, and I relate to her on different levels, and that's what we talk about, and what I love about the team on this production, is they are so much more open and interpretative of what is your version of this, than I could have ever expected.
The transformation with the long black hair, and the scar on her head and the makeup is so much fun, my heart is completely smiling when I think of her.
Hair
I am very relaxed when it comes to my hair when I'm not working. I put treatments in it and look after it. I've got a mane, which runs in my family. My mum has a lot of blonde/brown hair, my brother does too. My dad still has a big thick head of dark hair.
[Being diagnosed with cancer] definitely had an effect on elements I hadn't gone through before. I'm very much a soul person, I don't see people on their exteriors, I see people as energies and colours, I think everybody is beautiful if they have a beautiful heart. But for the first time in my life I was conscious of something I'd never been conscious of.
I'd always felt comfortable in any room, and for the first time, I looked like a whole other person. And hair is one side of it, but it's more about how you felt about the world and what had gone on and the reality of it all and the heaviness of it.
I guess the first time you see yourself with no hair or bald, it's more the reaction of the realness of what's going on rather than the physical layer of what you look like.
The first time I ever saw it was the red carpet of the Arias, and I was about to walk out and it was a big night, and my nurse was backstage and I still had a few little tufts of hair, because I let it fall out naturally. I just slowly cut it and let it fall out.
But at the Arias, I had my little pixie blonde wig made, and everybody left and it was just me and my wig lady, who is also doing my Cats wig, and she said, 'The wig will sit better if you just get rid of these tiny bits of grey, black hair', and so I got rid of the final things and I just thought, ''Oh my god! It's all gone!'' And I just bawled my eyes out and I was just about to walk the red carpet.'
But the beauty side of it is, the identity of what you express on your exterior of what makes you feel like you, it was a big shock not feeling comfortable in your own skin, and I hadn't experienced that before. And I had a great understanding that you want to feel good and confident when you walk out the door.
READ: 7 Lessons to Learn from French Women
End of the night
Eye and Lip Cleanser by Ella Bache is one of the world's greatest discoveries of my life. My mum introduced it to me as a kid, and I've never looked back. It takes off your makeup in one second. It's the best thing since sliced bread. I don't want to think about a life without Ella Bache.
Scent
I change scents with changing chapters, but I'm a Chanel girl at heart. I like feminine, woody smells. I love sweet food and sweet things, but my essence and perfume has to be strong and woody. I have this Atkinsons Oud Save the Queen, and I can get it from Barney's in the US, and that's my fragrance.
Share this:
More Beauty & Wellbeing / Features & Profiles