SPONSORED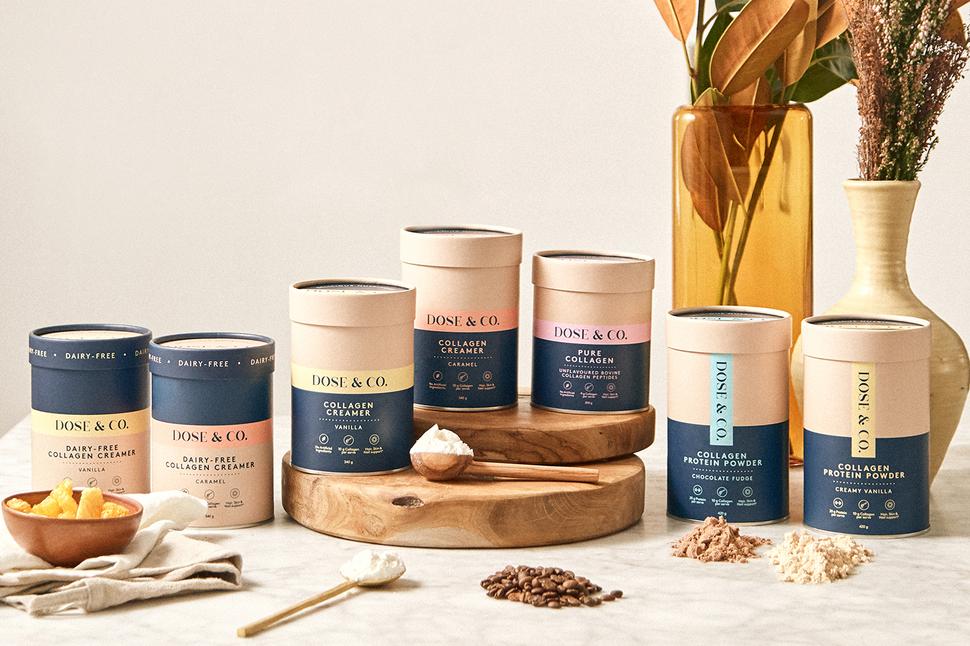 Kiwi Collagen Brand Dials Up The Dose With Nationwide Retail Launch
After only a year in the game, wellness brand Dose & Co is already adding new variations to its range of collagen and protein powders, continuing to support health and beauty from the inside out
Monday June 22, 2020
It's been a whirlwind year for wellness brand Dose & Co. Siblings Libby Boxall (Matthews) and Ryan Matthews founded Dose & Co in May 2019 to offer a premium range of clean, New Zealandmade collagen creamers and protein powder blends and the response, they say, has been overwhelming. What began as an e-commerce brand with two staff members and two products, is now poised to expand into retail in New Zealand and Australia this month, with new additions to its popular range. America is next, with a retail launch planned for September.
"Our expectations have been completely blown away with how fast it's grown," says Libby, who lives in Minnesota with her husband Michael Boxall, a New Zealand pro-footballer and Minnesota United player. "The growth has been phenomenal and the response from customers has been absolutely incredible." Libby, a nutritionist and certified naturopath, was inspired to create her own range of 100 percent natural collagen blends after trying the supplement shortly after the birth of her three-year-old daughter Maxwell.
"I experienced really bad postpartum hair loss," says Libby. "My hair was falling out around my hairline and was really thin. Clumps of hair were coming out in the shower." After "trying everything" to combat the problem, she discovered collagen powder, which is recognised for improving skin, nail and hair health, joint mobility and aiding muscle recovery and gut health. "My hair stopped falling out," she says. While the results were welcome, the added ingredients in thecollagen powders available on the market were not. "They were full of fillers, artificial colours and flavours, and weren't very high dose." She decided to make her own.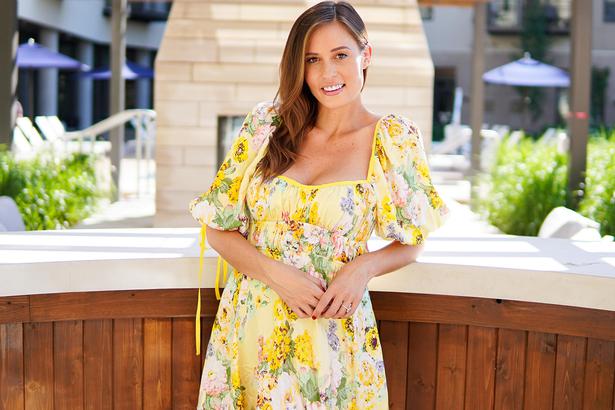 With support from Auckland-based Ryan, who manages commercial partnerships, product distribution and manufacturing for the brand on the ground in New Zealand, Dose & Co was created to provide a great tasting, affordable high-dose alternative to other collagen supplements on the market, without the additives. "Our intent with the brand is to help people look and feel better, pure and simple," says Ryan. "We attribute our success with Dose & Co to date largely on those principles." They've also kept sustainability top of mind, with plastic-free cardboard packaging and box tape made from paper. "It didn't't feel right to put these premium formulations in a plastic tub," says Libby. "Eliminating plastics was paramount."
Libby's health and wellness journey began as a teenager in Auckland when she learned the importance of diet in managing some of her health ailments such as eczema, acne, poor gut health and anxiety. "I was eating a lot of junk food, drinking alcohol, not getting enough sleep and just pushing my health to the limits," she says. "I was always going to the doctor thinking there was something wrong with me because I was so tired, but my blood tests would come back normal. That's when I started looking into it myself and changing my diet."
Progress with her own health inspired her to study nutrition, later becoming a registered naturopath. "After studying I completely changed my life and health through diet and supplements." Fortuitously, it was her relocation to America that sparked the idea for the most popular product in the Dose & Co range - the Collagen Creamer - the first of its kind in New Zealand.
"Americans add creamer to everything, to their tea and coffee. If you go to a whole-foods store or a gas station there are fridges dedicated to creamers," she says. Most of them are loaded with added sugars, additives or palm oil though. Libby set herself the task of creating a collagen creamer that not only tasted great, "but that's also good for you." Sweetened with monkfruit extract, Dose & Co's Collagen Creamer has a 10 gram dose of collagen mixed with either dairy or dairy-free milk powders. Libby puts its popularity down to how quickly it becomes an everyday ritual.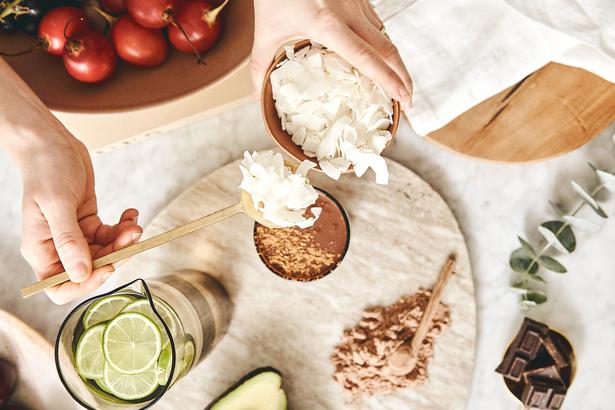 "People just love the creamers and I think it's because taking collagen is so easy when it's added to your coffee, tea or smoothie. You don't have to implement an extra step, just add it to your drink and it's done. Plus it tastes great." A range of protein powders also proved a hit among New Zealand customers, both male and female. "Ive taken protein powders for years and my husband takes them as well but so many of them either don't taste great or they have 50 ingredients in them. We wanted to keep them super clean."
Dose & Co uses both marine and bovine collagen, "which both help with skin, hair, nails joints and ligaments but we find bovine is more popular. It comes down to personal preference," says Libby, who notes the bovine collagen is a byproduct of the cattle industry. "All collagen comes from an animal, there isn't a vegan alternative to date."
This month sees the launch of new additions to the Dose & Co range, including a whey protein with added collagen; a collagen creamer made with New Zealand milk powder; and pure bovine collagen powder to complement the marine collagen powder already on offer. The new range will be available in selected supermarkets nationwide this month. These additions have been developed with customer feedback in mind, says Libby, who says she receives reviews and messages on a daily basis.
"We have been blown away by the results that people are getting, some of whom would see results within 5-7 days, so the products definitely live up to what they say they'll do." It's an exciting time, says Libby. "We've been working on these [new] products for so long now and I can't wait for them to come out, especially in America. It will be so surreal to go to a retail store and see it on a shelf."

Dose & Co is available at New World, PAK'nSAVE and select Four Squares nationwide.
Visit Doseandco.com
Share this: