Donielle Brooke Shares Her Beauty Routine
The style-savvy founder of Designer Wardrobe knows how to mix up her look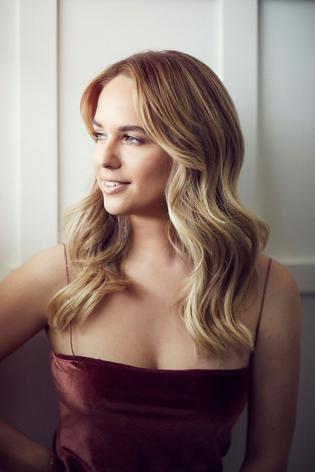 Donielle Brooke's determination has stood her in good stead – building a booming fashion business, battling cancer and putting in the extra effort to look enviably put together. Overcoming the odds and understanding how to make the most of opportunities have seen this Aucklander develop a devoted following.
She began Designer Wardrobe as a Facebook page as a way to a make a bit of money by selling some of her own clothes when illness curtailed her work in the hairdressing industry. The enthusiastic response to this early example of e-commerce encouraged her to then sell other people's clothes and vintage pieces.
Now a flash new website and phone app are set to take Designer Wardrobe to a new scale. The site is adding menswear and entering the online rental market, with its offering including a selection of Ruby + DW dresses from the label – plus has recently opened its first bricks and mortar store in Eden Terrace.
READ: Powerful People: Donielle Brooke
Renting is such a fun way to wear your favourite brands and experiment with new styles!
Moving on unwanted items is another tip. The business has made her a better shopper and sorter. "I don't need to hold on to every item and I can sell items to buy new ones."
Donielle especially loves that recycled clothing helps cut down on waste, but she is also drawn to older pieces because of their individuality. She's no retro fanatic, however, liking to mix the old and new in a mindful modern way that doesn't skimp on fashion consciousness.
"Usually people tend to be drawn to current brands/pieces that would be in stores when they go shopping. However, I love incorporating pieces that I love no matter what season they are from to help make my style personal, " she says. Vintage and contemporary combine in the same unexpected but appealing way in which she likes to juxtapose her beauty look.
As to other looks she admires, Donielle says she is obsessed with Australian influencer Brooke Testoni's fashion. "If I could pick someone's wardrobe to own it would be hers. Her casual cool look with a twist of 70s is divine!"
READ: Brooke Testoni on Work, Beauty and NZFW
Fashion-beauty crossover
Your personal style and the way you look after yourself helps to show others a lot about you. I have always made sure I feel great by doing my hair, daily beauty routine (doesn't always have to be a full face of makeup) and planning out cute outfits that are playful with a twist of chic. That way I can always be prepared if I have a last minute meeting.

Hair head start
It all starts with my hair! I have curly hair and always wake up half an hour earlier so I can wash it and blow dry it. I am slowly starting to embrace my naturals locks, however, I just can't help but feel more polished with having sleek shiny smooth hair!
Once I have done my hair I can then choose an outfit for the day depending on whether I have done my hair in a low messy ponytail or have it out with some nice soft curls. I feel like certain hair styles influence what tops/ jackets I'm wearing etc because the way your hair is styled complements outfits to make an overall great look.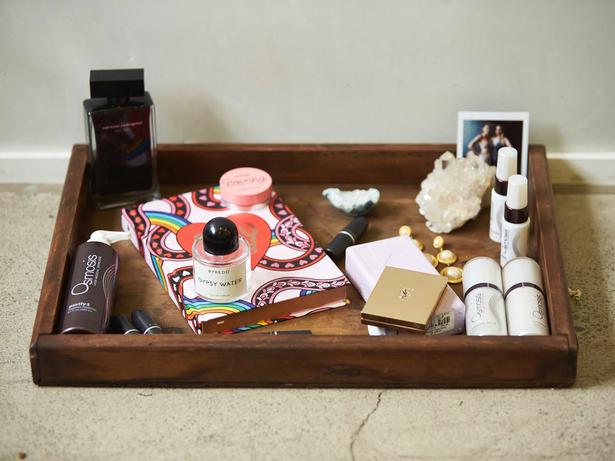 Health challenges
I have never been a drinker, smoker or party gal and have been raised on organic food, so finding out I had cancer was such a shock because I have always tried to look after my body and treat it right! Due to my thyroid being removed I was left not having the same energy.
So I had to learn a new care routine for my appearance and wellbeing. I got into natural medicine to support how much energy I have. I always tried to make sure I made an effort in my skin/hair routine as well as plan out an outfit for the day so I looked great even if I wasn't physically feeling great at the time.
Early learning
I remember I had an interview 12 years ago at Stephen Marr hair salon. They are a well-known hair salon in the fashion industry in New Zealand and I really wanted to make an impression and look my best!
So I decided to go shopping at Karen Walker for my interview. I got a new dress and felt so great in it -- the job was mine and from then it was an instant addiction to love designer fashion. Thank you, Karen Walker.
Look to love
I absolutely love when opposites are put together. For example, wearing a super messy bun with a bright lip and winged eyeliner -- this isn't something I would wear, but I do love it. Or when you are wearing a beautiful blazer paired with a casual pair of sneakers.
I think the contrast helps to create a point of difference and make a striking look. It is so important to do that because then it means you are different and adding your own personal touch.
Daily beauty routine
Every morning I double cleanse my face and then I apply a nourishing moisturiser. I usually go for a more natural daytime look, so I then apply my Osmosis CC cream foundation and apply some Benefit BB cream if I have any spots or dark circles.
I like to add a touch of blush to add some colour to my face and then I will use some brow gel and mascara to add definition to my eyes. I will always carry a lip gloss in my bag in case I need to get more dressed up for a last minute meeting/event.
At the end of the day, I will double cleanse my face again and then a couple times a week apply my firming gel mask and then make sure to have a super hydrating oil on my face for while I am sleeping.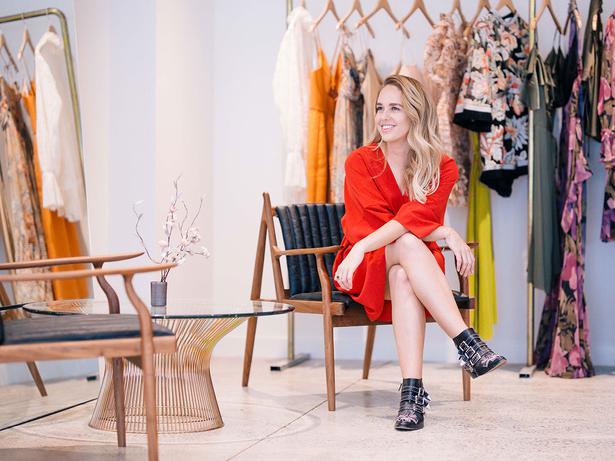 Designer Wardrobe's first bricks and mortar store in Eden Terrace. Picture / Supplied

Five fave products
1. Osmosis Hydralift Firming Gel Mask: This is my springtime fave product to help keep my skin super hydrated.
2. Osmosis CC Cream Foundation: The best, because if I am wearing no makeup this is my go to. I can also layer it up if I need to get a heavier look. It is also so good for you, you could even sleep with it on (but I don't, haha)
3. Pure Fiji Body Moisturiser: I apply this every morning after my shower all over my body. It smells SO GOOD and helps to keep my skin hydrated all day.
4. Benefit Gimme Brow: Because I am loving the natural bushy brow look at the moment and this is perfect for it
5. Benefit Boi-ing Concealer: Under eyes because it helps to cover any circles or blemishes, but is not too thick.

It's in the (hand)bag
Sooo many M.A.C lippys! Some of my faves are Velvet Teddy, Lady Danger, Ruby Woo and Honey love. Also, I carry my Dior Waterproof eye pencil (it sticks on all day with no smudge and a softer look then liquid eyeliner).

I also have my Glossier Wowder which is AMAZINGGGGG!! It helps to take away the shine and not make me look too dull! The Glossier lip gloss is a must have too. I either apply it over my lipstick for shine or either just put in on by itself to help brighten my face. It is not sticky which is what I love!

READ: How to Achieve the Perfect Party Lip

Hair and its care
The most important thing is making sure you see the right stylists. Becca Brown at Dakota salon in Ponsonby or Trish Mathews at M11 in Newmarket are such incredible stylists who have helped me with a year-long hair mare!

To help get my hair back on track I use all of the best products. Kevin Murphy has been my go to. I use a mask, silver shampoo and hair oil. During the week I will put Olaplex treatment into my hair overnight. It's the most incredible hair treatment I have ever used.


Beauty ethos
The most beautiful thing is who you are on the inside and how you treat others. Beauty starts from within for me. I make sure my inner beauty is in check and from there the outside should shine! It is also all about how you care and look after yourself.

Nourishing your skin, hair and body is important for me. Having a healthy body helps you to have a healthy mind and it's not about the physical appearance, but more so how you are looking after and caring for yourself. It really does show!
Share this:
More Beauty & Wellbeing / Features & Profiles