Drink Your Way To Better Skin With These Six Skin-Loving Elixirs
Radiant looking skin may only be a sip away. We'll drink to that.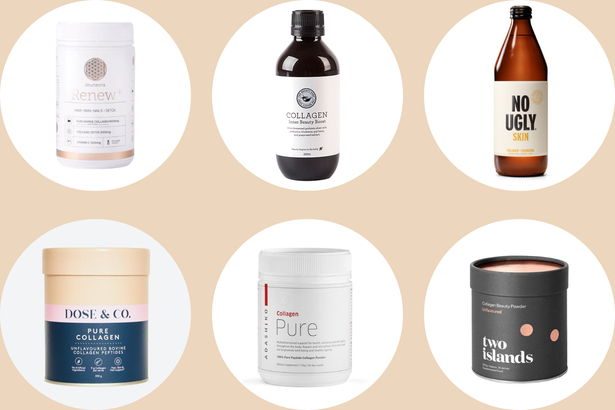 Friday Aug. 7, 2020
We're born with an abundance of collagen naturally occurring within the body, but as we age our collagen stores begin to deplete, resulting in the skin becoming thinner and more fragile.
Thankfully, a number of wellness tonics, powders and supplements containing collagen help support not only the health of your hair, skin and nails, but also promote a healthy gut and overall wellbeing.
So, what is collagen? In its natural state, collagen is the main structural protein in the various connective tissues of the body (including our skin). As we age, our production of collagen begins to decrease (by around 1 per cent per year), with a total loss of up to 50 per cent in post-menopausal women. This can result in fine lines and wrinkles, a loss of elasticity, thinning hair, brittle or breaking nails, and joint issues.
Digestible collagen comes in animal- derived forms including bovine (beef), porcine (pork) and marine collagen, as well plant or herbal extracts such as asiatica and ginseng.
These different forms of collagen are organised into types 1-4, with type 1 (found in marine collagen) being the most common. Type 1 collagen makes up 90 per cent of our hair, skin, nails, bones and ligaments. Type 2 is most commonly found in poultry, type 3 from bovine sources and type 4 from multi-collagen protein supplements (the least common of all types).
In consumables, collagen is often paired with vitamin C to aid its absorption into the body.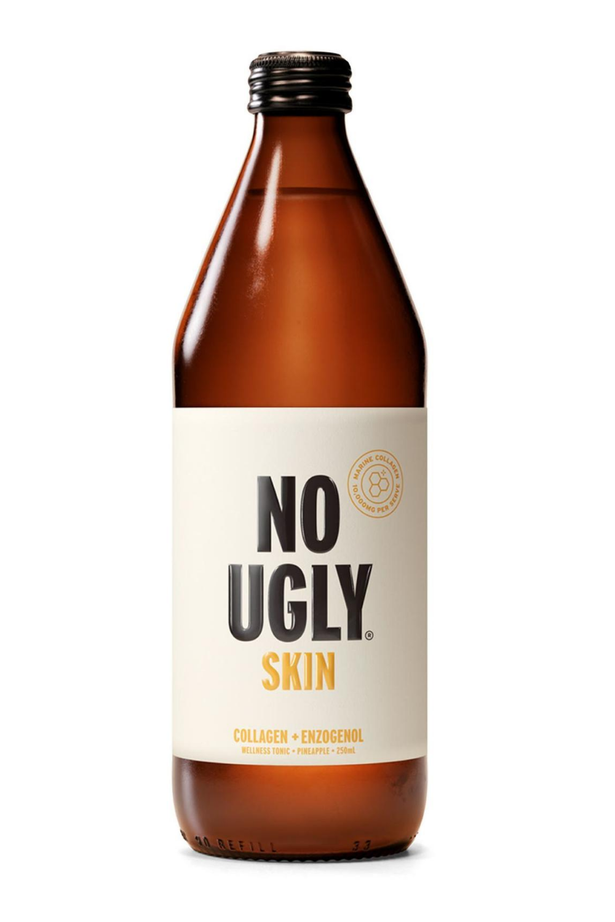 No Ugly Skin 4pk, $22. Photo / Supplied

DOSE & CO. UNFLAVOURED PURE COLLAGEN POWDER, $50


What is it? An unflavoured collagen powder that supports, hair, skin, and nails, as well as joint, bone and gut health. Unique to the Dose & Co. range is its selection of collagen creamers, which are available in two original flavours — vanilla and caramel, as well as four dairy-free flavours — vanilla, caramel, coconut and chocolate.

What's in it? A combination of type 1 (marine) and type 3 (bovine) collagen, the formulation is also free from dairy, soy, gluten, artificial sweeteners and GMO.

How to take it: Enjoy it with hot or cold liquids including coffee, tea, hot chocolate and smoothies. It can also be added to breakfast oats or baking.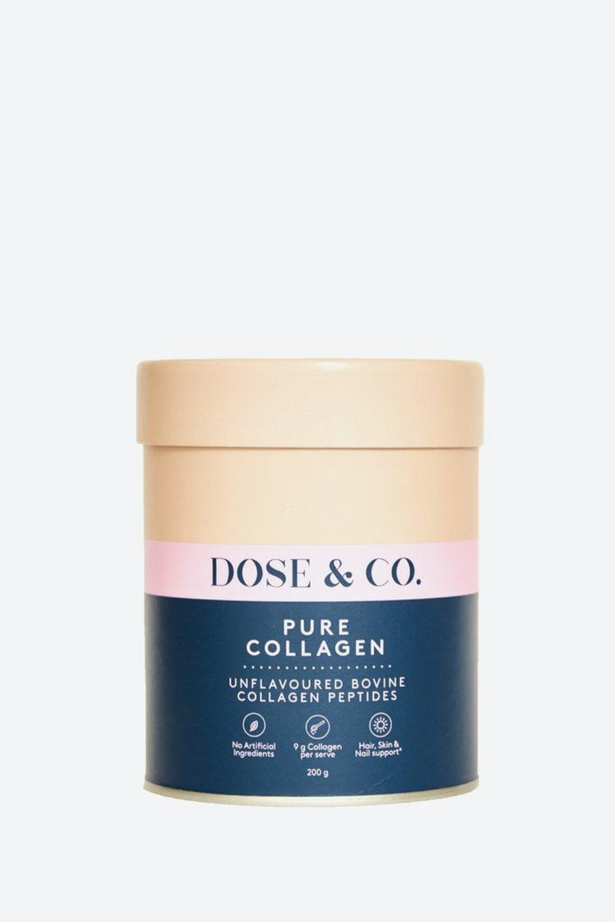 Dose & Co. Unflavoured Pure Collagen Powder, $50. Photo / Supplied

What is it? An odourless, tasteless pure collagen powder that works to replenish and boost collagen levels in the body for firmer, younger-looking skin and strengthened hair and nails. Additional benefits include ligament, joint and cartilage support, allowing for better mobility and flexibility.

What's in it? This 100 per cent peptide porcine collagen has a lowered molecular weight of 3000 daltons, making it one of the finest and most readily absorbable collagens available.

How to take it: Dissolve two scoops into hot or cold drinks, or sprinkle it onto food.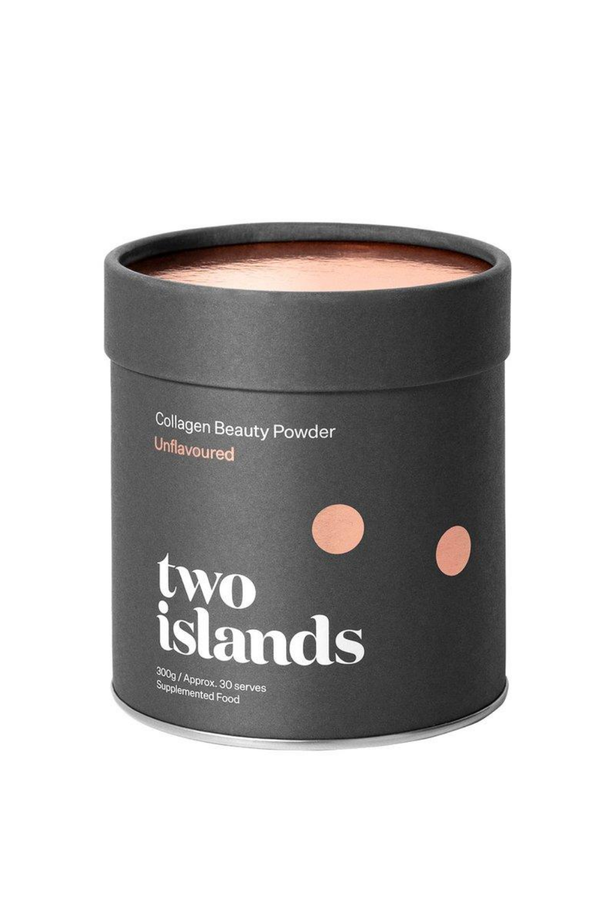 TWO ISLANDS UNFLAVOURED COLLAGEN BEAUTY POWDER, $99
What is it? A daily scoop of this unflavoured, odourless collagen powder is a sure-fire way of providing your body with the collagen peptides it needs. The Two Islands' range also includes vanilla, berry and pineapple and coconut flavoured collagen beauty powders.
What's in it? Every 10g scoop of Two Islands Collagen Beauty Powder contains 9.95g of hydrolysed marine collagen, meaning it has the highest collagen content of its range. This sustainably sourced marine collagen is a by-product of the fishing industry, taking the brand's recycling efforts full circle.
How to take it: Mix 10g with water, coffee or tea, mix into smoothies or add to your baking.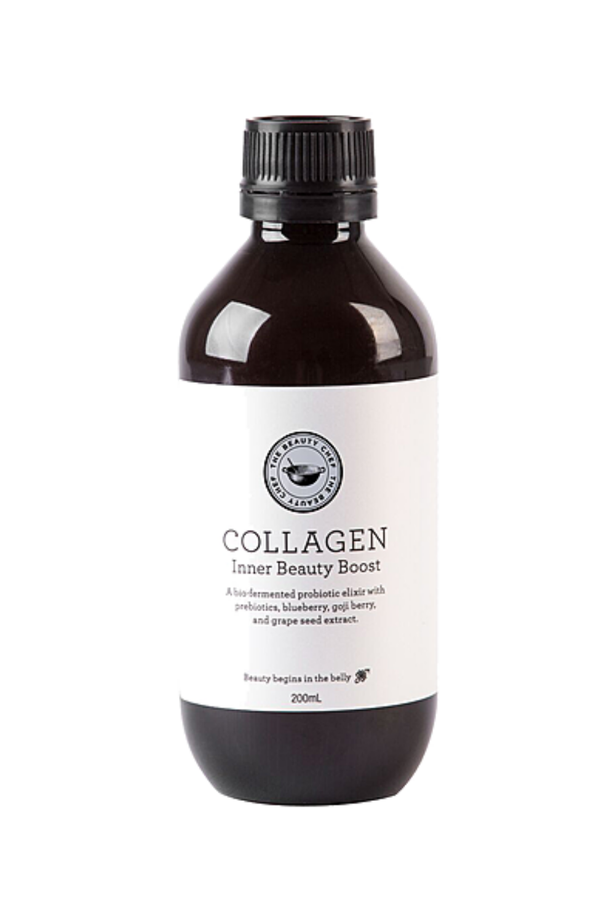 The Beauty Chef Collagen Inner Beauty Boost, $29. Photo / Supplied

THE BEAUTY CHEF COLLAGEN INNER BEAUTY BOOST, $29


What is it? A berry-flavoured probiotic concentrate rich in both vitamins and minerals to assist with collagen production, protect the skin's structural proteins and promote a radiant complexion. Designed to be taken daily, this skin-loving blend also helps support gut health and fight free radicals.

What's in it? The brand's patented Flora Culture Plus Blend, which includes bio- fermented maqui berries, blueberry and acai powder, papaya fruit and pomegranate fruit peel extract, as well as vitamin C.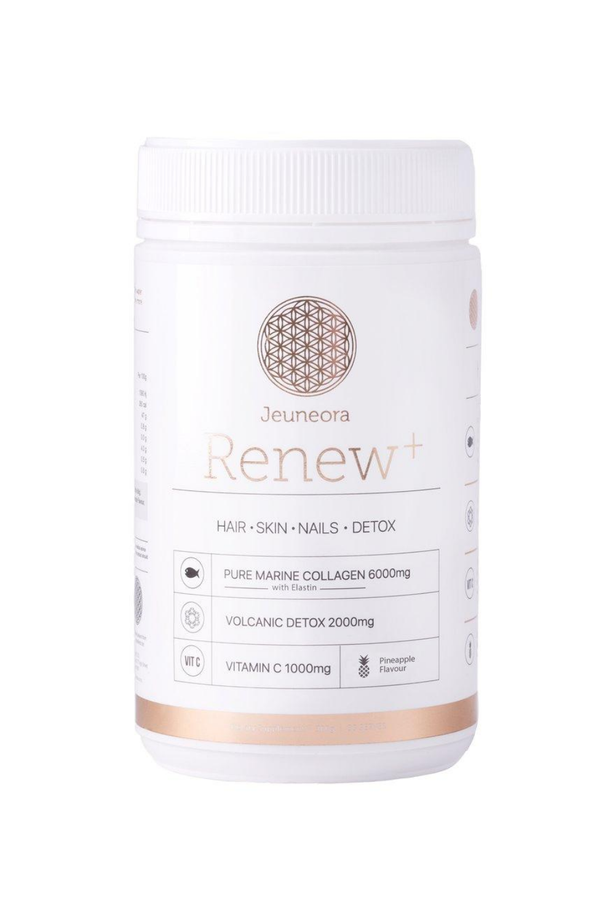 Jeuneora Renew+ Marine Collagen With Detox, $130. Photo / Supplied

What is it? A ready-to-drink, collagen- based wellness tonic by locally owned beverage company, No Ugly. The pineapple-flavoured tonic is said to aid collagen formation and synthesis within the body, and firmness of the skin.

What's in it? It contains 10,000mg of ethically sourced marine collagen, as well as No Ugly's hero ingredient, a powerful antioxidant known as Enzogenol. Vitamin C also joins the party to aid absorption.

How to take it: Consume one 250ml bottle of No Ugly Skin daily. Keep refrigerated.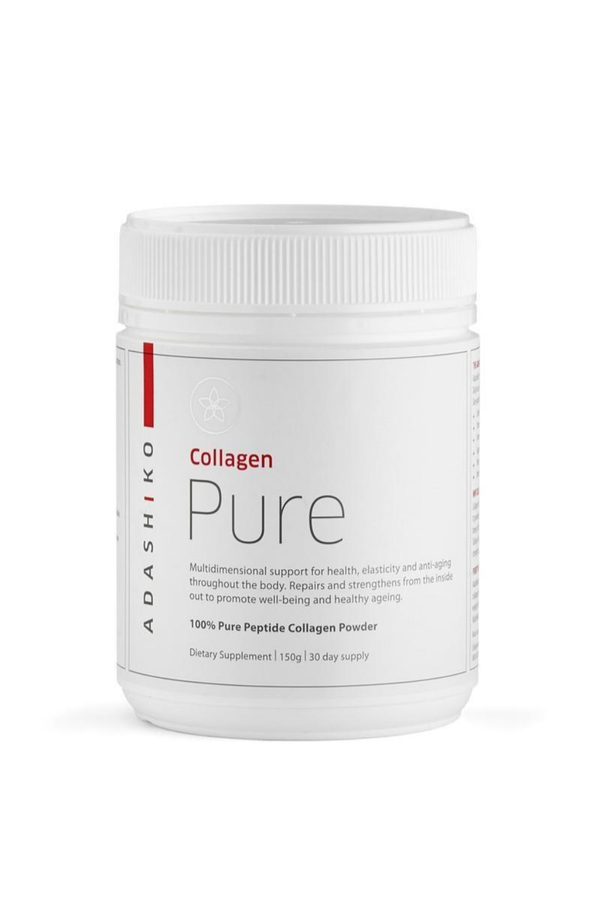 Adashiko Collagen Pure, $85. Photo / Supplied

JEUNEORA RENEW+ MARINE COLLAGEN WITH DETOX, $130

What is it? A highly concentrated collagen powder formulated to support hair, skin and nails, and the body's own detoxification process. Available in either mixed berry or pineapple flavour, Jeuneora's Renew+ helps combat skin ageing, offers hydration and boosts skin elasticity.

What's in it? The key ingredient in Renew+ is hydrolysed marine collagen with elastin, which is sustainably sourced from France. Marine collagen is known for its exceptional bioavailability (or how easily it is absorbed into the body). Negatively charged zeolite helps rid toxins from the body, while vitamin C aids with collagen synthesis and protection from free radicals.

How to take it: Mix 1 level scoop with water. For best results use a shaker.
Share this: