Test Drive: Elizabeth Arden Custom Color Foundation
Trialling the latest foundation innovation from Elizabeth Arden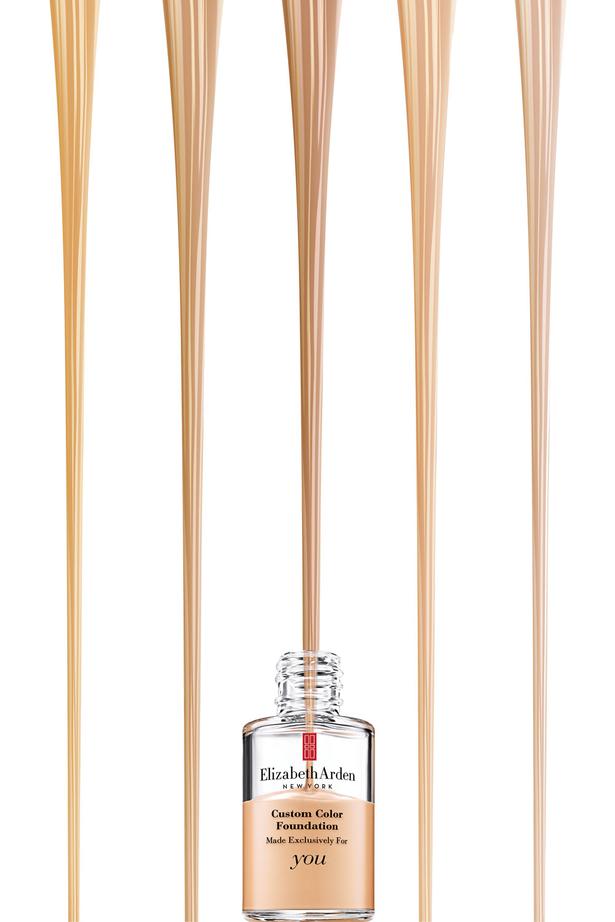 Thursday Nov. 26, 2015
The promise: Elizabeth Arden's Custom Color Foundation service at its new Auckland boutique promises Your Match, Custom Made. Arden says the brand's patented technology takes the guesswork out of skin matching and eliminates inaccuracies due to store lighting and human error. Custom Color Foundation is 100 per cent foolproof, it claims, providing a perfect match every time for anybody, for a finish that looks and feels like second skin.
The process: I get to trial the service only a few hours after the machine is unpacked from a freight crate at Arden's head office. New Zealand is just the third country in the world to have one. I'm excited to see it in action and be the first guinea pig here, five days before the boutique's opening. An expert technician from the United States is still making final calibrations of what is essentially a big white box containing bags of a variety of foundation ingredients fed by tubes into a dispenser. The machine is hooked up to a computer tablet which in turn connects to a spectrophotometer, or optical skin diagnostic device.
Senior Arden staffer Sheryll Thompson explains that the spectrophotometer will read my skin's depth of colour and underlying tones. She is recently back from Spain, where she trained on the second machine, with the first being in the company's hometown of New York City. 
The spectrophotometer is placed on my jawline across and down from the side of my mouth. Foundation swipes are often tested from the lower cheek down to this area because there is less facial redness than higher on the cheeks, so the location makes sense to me. Thompson says for those with high colour or a lot of pigmentation across their face, getting a correct reading of the true tone can be tricky. In rare cases, where both face and decolletage are discoloured, usually by sun damage, it might even be taken from the back of the neck. My reading is straight-forward and I am soon looking at the results on the tablet which, not surprisingly with my Scottish ancestry, showed I had a lot more light than dark in my skin (shown as white and black percentile bars). Golden (or yellow) undertones predominated, with a smaller bar of pink (or redness) showing as well. Again this makes sense. I find getting the right balance in foundations tricky, some are much too warm for my fair skin and I look like I've put on fake tan, but if they are too pink the overall effect is equally unnatural.
Next I'm asked about my foundation coverage preference from sheer, medium or full. This is input on the tablet along with details of my skin type, allowing computations to be made of whether the foundation should contain primers, mattifiers or moisturisers and in what amounts. The correct ingredients are fed by tube through a dispenser along with the four pigments of white, black, yellow and red into a bottle placed into a holder at the front of the machine. Whirring begins. It's like watching a paint mixer in action. Colours combine and a foundation emerges. A label with a unique code and my name is printed out and put on the bottle.
The record of the reading is kept in store in case reorders are wanted.
Thompson explains that the beauty adviser can make adjustments to the initial reading to correct the likes of ashy undertones and to allow for women who might want to vary coverage levels or adjust their shade lighter or darker. It is common, she says, for women to wear a darker shade than ideal, so some may be surprised by the match they get.
The place: Exclusive to the Elizabeth Arden boutique, 62 Queen St, Auckland, Ph (09) 379 4869, where a range of other beauty services are available. 
The price: $88 for the analysis and your very own 30ml foundation.
The verdict: This is fun. I can think of a few people I'd love to drag along to get their foundation mismatch sorted. And for women with very dark or very fair skin who can struggle to find a match at all in ranges, the customised colour service will be a particular boon. It is also a great way to test if your usual selection is as on track as you would like to think. My custom foundation looked pretty pale when I first put it on, but I realised it did indeed match my face flawlessly. Often I only apply foundation to the centre panel of my face and blend it out, but with this I could take it seamlessly right to the jawline. Overall, I felt a little fairer than my normal look, however, which reminded me that a bit of bronzer and blush is better than blanket cover for facial definition. Texture wise, the foundation wasn't as creamy as some, so while I met my match visually, some may not feel they've surpassed the feel of an old favourite. Custom Color Foundation lasted well throughout the day, so I'll be keeping mine.
Share this:
More Beauty & Wellbeing / Features & Profiles