SPONSORED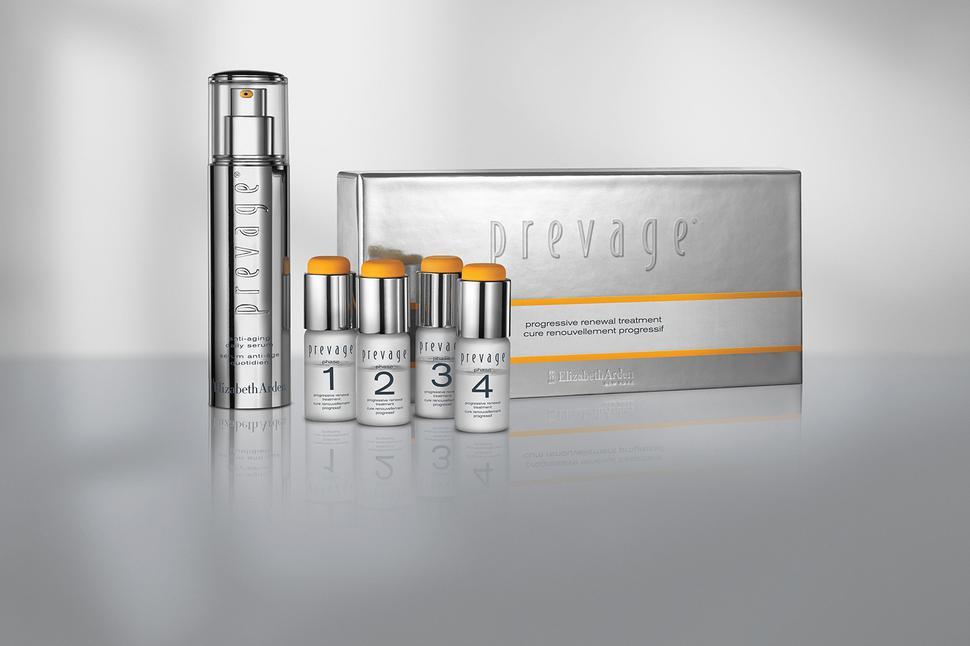 Discover Elizabeth Arden's Transformative Skin Treatment
Harness the power of this transformative skin treatment
Tuesday June 23, 2020
Four ampoules, one month, new you.
If it sounds simple, that's because it is. One month of consistent use is all Elizabeth Arden's Prevage Progressive Renewal Treatment needs to yield dramatic, visible results.
Following its launch in 2019, Elizabeth Arden's newest resurfacing skincare treatment quickly became a firm favourite for Prevage loyalists and skincare aficionados alike, thanks to its proven efficacy and trusted ingredients.
Rooted in its 110-year history, Elizabeth Arden is known for its range of high-performing, spa-grade skincare. Acting as the brand's most luxurious offering yet, the Prevage range reinforces Elizabeth Arden's premium feel with beautifully presented products that aim to cleanse, treat, correct and protect.
Bedecked in silver and gold foil, the Prevage Progressive Renewal Treatment makes the ritual of applying skincare a truly indulgent experience. And who wouldn't want to add a little luxury to the fleeting moments of alone time at the end of each day?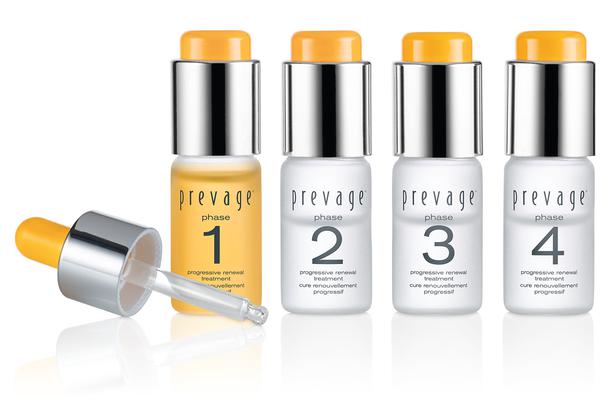 POWER TO THE PEEL
Winter proves an ideal time to undergo more invasive skin treatments or give your skincare regimen a much-needed shake up. More time spent indoors means high-performing skincare ingredients are able to perform at their best without the risk of UV exposure. Plus with social distancing still in full swing, the general trend towards at-home treatments continues to rise.
In-clinic peels are known for two things: firstly, the ability to transform skin, and secondly, the need for downtime post-treatment. Despite a peel's efficacy, many treatments are not without consequence – think flaking, redness and irritation.
Unlike its predecessors, Elizabeth Arden redefines skin peels with this four-week treatment that gently exfoliates the skin and promotes natural cell turnover, minus any uncomfortable side effects.
Over the course of four weeks, the Prevage Progressive Renewal Treatment will walk the user through a system of four progressively stronger formulas, supercharged with efficacious ingredients to combat the visible signs of ageing. Each ampoule contains a seven-day supply, and week to week the formula becomes stronger, reducing the risk of irritation by building the skin's tolerance for the active ingredients contained within.
HOW IT WORKS
The secret to younger looking skin lies in the combination of four complementary ingredients – polyhydroxy acid (PHA), idebenone, alpha hydroxy acid (AHA) and a pH buffer.
The lesser known acid of the hydroxy acid family, polyhydroxy acid (PHA) is a breakthrough in peel technology as it is better suited to those with sensitive skin due to its larger molecule size which is less irritating and offers more hydration. Couple PHA with AHA, and the result is a powerful hydroxy acid mix that gently sloughs away dead skin cells and promotes natural cell turnover.
Phosphate salts is a pH buffer that stabilises the pH balance of the skin during use so that the low pH of the formula can work its magic at exfoliating skin.
The unique design of each ampoule of Prevage Progressive Renewal Treatment keeps antioxidant idebenone and the combination of acids separate until right before use, allowing it to be freshly mixed. This helps to boost skin renewal and protect new skin cells from environmental aggressors that may prematurely age skin.
As the user progresses through the four ampoules, the concentration of hydroxy acids increases allowing for maximum benefit minus irritation.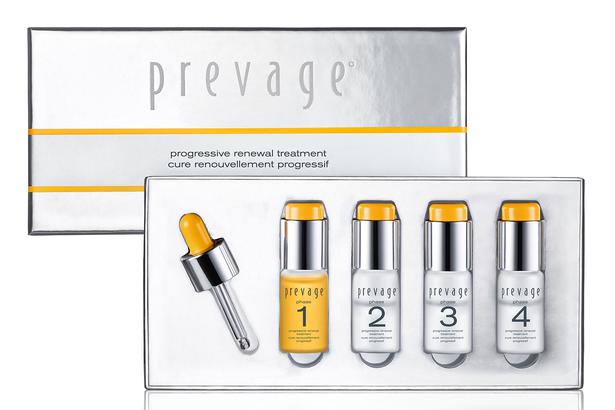 SMALL AMPOULE, BIG RESULTS
With a new month fast approaching, what better time than now to dedicate to overhauling your skin? After the first week, expect to see radiance and clarity restored. By week two, the appearance of fine lines and pores are diminished. Week three targets deeper lines and by week four skin tone appears more even, radiant and youthful.
Incorporate the Phase 1 ampoule into your nightly skincare regimen after cleansing. Depress the button at the top of the ampoule to release the idebenone from the cap, then shake until the formula is evenly mixed. Replace the cap with the dropper, and drop a pea-sized amount of the treatment into your hand before smoothing over your entire face and décolletage.
Apply nightly for one week then move on to the next ampoule, making sure to shake the ampoule before each use. In subsequent weeks, repeat the entire process using the ampoules for Phases 2-4.
Elizabeth Arden Prevage Progressive Renewal Treatment is priced at $299. For more information, visit Elizabetharden.co.nz, follow Elizabeth Arden on Facebook, or shop the full Prevage range online at Farmers.co.nz.
HALF PRICE OFFER: Purchase a product from Elizabeth Arden's Prevage skincare range before July 5, 2020, and receive a Prevage Anti-Aging Overnight Cream at half price.
Terms and conditions apply.
Share this:
More Beauty & Wellbeing / The Latest