Elizabeth Arden's New Queen St Store
Elizabeth Arden's new Auckland beauty boutique offers ground-breaking customised service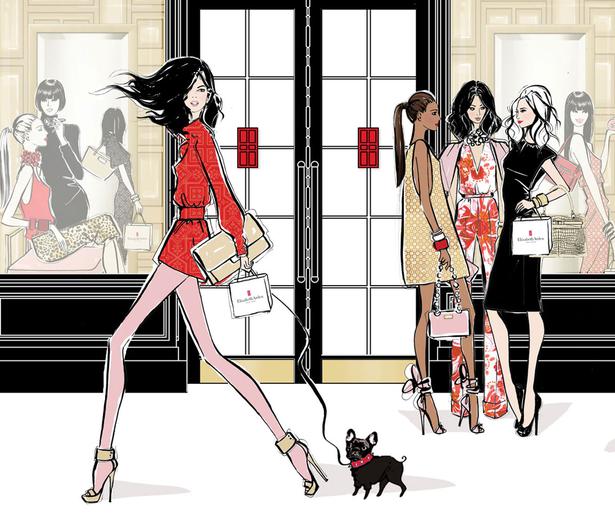 Wednesday Nov. 25, 2015
The search for the perfect foundation is ongoing for many women, but life is set to become a lot simpler for shoppers in Auckland. Thanks to the arrival of just the third retail custom colour foundation matching machine in the world, all skin tones can be catered for with scientific precision.
The machine takes pride of place in the slick new Elizabeth Arden beauty boutique which opens today on lower Queen St. Following a quick consultation and skin reading your unique foundation is mixed on the spot. The Custom Color Foundation machine arrived here last Friday, with an expert calibrator on hand from the US to ensure its readiness to deliver a new level of personalised technology.
"It's a big coup for us to get it here," says Arden's general manager Valerie Riley. "Our goal is to roll a few out around the country."
The boutique itself is also something of a coup, with New Zealand being singled out as an ideal test market internationally. As well as stocking the brand's full range of skincare, cosmetics and fragrances, it will offer makeovers, brow services and oxygen blast face refreshers. Nail artist Erin Larsen will be on hand. Extended opening hours will cater for city workers and visitors heading to evening events. Early next year the treatment menu will expand to facials, lashes and hairstyling.
Arden has a long and strong history here, with its foundations top-sellers in the prestige beauty category. Its vice-president for Asia-Pacific & Oceania, Marco Ficarelli, explained to Viva that this was why he had looked here to trial the boutique concept, and because ours was also an advanced market, but still developing in beauty terms.
Arden has undertaken a global repositioning exercise that focuses on its heritage and also its innovations, particularly in skincare. A skincare council of independent advisers has been set up to guide product development and a new face for the brand in model Karlina Caune debuted this year. A series of big launches is in the pipeline, following the arrival recently of Super Start, a booster serum designed to fortify the skin's barrier layer for a healthier complexion rather than to promise anti-ageing miracles.
Viva had a sneak preview during the boutique's set-up. The process starts with a spectrophotometer scan of your exact skin tone. The results of this diagnostic tool's reading show your skin's level of darkness and its golden or pink undertones. Then your skin type is input along with your coverage preference (sheer, medium or full), to ensure a comfortable, long-wearing formula.
The machine dispenses the correct amounts of white, black, yellow and red pigment along with a selection of priming, mattifying and moisturising ingredients. The bottled foundation is presented to you with a label with your name and a unique code attached, and a record is kept in-store for any future purchases.
For those who prefer darker or lighter shades, the reading can be adjusted, but Arden staff recommend an exact match as most flattering, with bronzers and blush used to colour balance the face. For those with heavily pigmented or red skin, readings are taken away from the discoloured area.
The service, including boxed foundation, costs $88, not much more than buying off the shelf. Customers have a further option of selecting from minimalist, polished or daring makeup looks and receiving a readout suggesting best eye, cheek and lip products.
The company has other beauty analysis tools in development with New Zealand again looking likely to be an early test market.

• The Elizabeth Arden boutique is at 62 Queen St, open 7 days a week including evening hours. Ph (09) 379 4869
Share this:
More Beauty & Wellbeing / Trends