Elizabeth Hurley is Global Ambassador For Estee Lauder's Breast Cancer Campaign
Model and businesswoman Elizabeth Hurley marks 25 years since the pink ribbon campaign was founded by the late Evelyn Lauder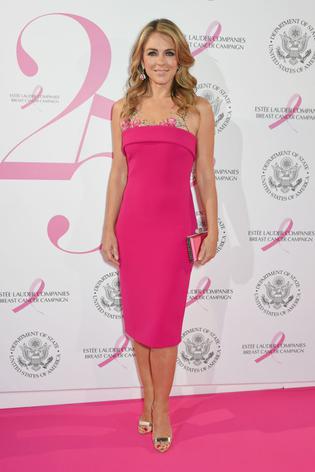 "I hardly have time to look in the mirror,' Elizabeth Hurley tells Rosa Silverman how her priorities have changed now she's a businesswoman and mother of a teenager.
"You're on guard all the time," Elizabeth Hurley once remarked when asked whether she enjoyed the jet-setting her celebrity facilitated. This pithy appraisal of life in the limelight might well apply to her public persona in general. She appears on guard today, as she perches on a sofa in an upstairs room at Estée Lauder's gleaming UK headquarters in central London. She cordially invites me to join her on it, signalling an informality she won't quite follow through on.
Hurley entered the mass consciousness by way of her relationship with Hugh Grant and a black Versace dress held together by safety pins and good faith, which she wore to the premiere of Four Weddings and a Funeral in 1994. The girl from Basingstoke, daughter of a retired Army officer and a schoolteacher, became an international sensation.
An aspiring actress herself (she and Grant met on the set of a Spanish production in 1987), she has acknowledged that the dress might well have scuppered her chances of forging a career as a more serious performer. Suffice it to say, the word "serious" is seldom used to describe The Royals, the American channel E! drama in which the 52-year-old currently stars as Queen Helena.
Hurley, who has a 15-year-old son called Damian - the product of a brief relationship with businessman Steve Bing - describes herself as a "single mother" after a series of failed high-profile romances. (After Grant there was a four-year marriage to Indian textile heir Arun Nayar, then an engagement to Australian cricketer Shane Warne.)
I wonder how she tackles connecting emotionally with a teenage boy?
"On the whole, by keeping lines of communication open," she says. "It would appear to me that, generation by generation, it is opening up across the board with most subjects; that we don't feel there's such a generation gap. That it's grown-ups versus kids."
SEE: Lonely's Focus On Breast Cancer
Her son's Instagram feed would appear to back this up. Unlike most boys his age, he is happy to post pictures of himself with his mother. Is he ever embarrassed by her?
"On the whole not," she smiles. "Most people are embarrassed when their parents sing, or dance, or wear dresses. He loves all that, but he doesn't like me being too jokey with his teachers. Maybe it's because we're meant to be serious when we're talking to teachers, but it always makes me laugh because there's so little one can do as a controlling parent wanting to help your children. You can't make them sit and learn their biology drawings. You can encourage them, you can sharpen their pencils, you can put the paper there, but you actually can't make them. We try but, in the end, we're all just like, 'whatever the child will do'.
"Perhaps his teachers are star-struck? "No, I don't think so... Maybe for one second but, no, I know I'm just the mother of another little toad they're trying to coerce into learning.
"That "little toad," in her affectionate parlance, is also entering the fame game. Last year, he made his acting debut with a part in The Royals. His performance was assured, although his mother has said he's more likely to pursue a career behind the camera. "I certainly don't want a child of mine to be famous," she once said. "It's the worst thing to be trapped in your house and not be able to leave.
"Yet Hurley grew up before the added pressure to promote every aspect of your life on social media (although with almost 720,000 Instagram followers, she's certainly making up for lost time). Damian's Insta-feed, meanwhile, coupled with his celebrity parentage, is already enough to make him tabloid fodder.
READ: Victoria Beckham's Collaboration with Estee Lauder
Is his mother wary of social media? "I think it's just a teenage thing," she says. "They don't have to look in the mirror for hours now and hog the bathroom, because they can just take selfies. It's kind of the same thing. They have a retouching app - I think they grow out of it.
"The actress says that she "wasn't a teenager who was obsessed at that time with hair and make-up and looking in the mirror". She didn't have her first modelling job until the relatively advanced age of 29."When I was younger, I was much more self-conscious than I am now, which doesn't make sense because, in retrospect, I had a better body 30 years ago," she muses. "But there are different stages in your life. For me, a big change was when my father died [in 1996], when suddenly so much fell into perspective and I started worrying a lot less about trivial things. And once I had my son, again I just let go of so many things.
"When it's just you, there is a lot more time to worry about yourself. Once there's something else it just dissipates. You don't really have much time to look in the mirror and 'ooh' and 'ahh' and pinch bits, because you're busy.
"Sitting inches from one of the most immaculate women I've ever seen - in the flesh, she has a strangely unreal quality - I struggle to believe this. But she is undeniably busy.
Since the Grant years, she has launched a swimwear range; pursued an acting career, with varying degrees of success; become a farmer in the Cotswolds; and involved herself in charity campaigns.
READ: Jane Fonda's New Honest Approach to Beauty
October is Breast Cancer Awareness Month. A spokeswoman for Estée Lauder since 1995, Hurley is an ambassador for the company's Breast Cancer Awareness Campaign and a fundraiser for the Breast Cancer Research Foundation. She is keen to reflect on the "remarkable change that's occurred" since the late Evelyn Lauder (daughter-in-law of Estée) founded the pink ribbon campaign in 1992."[Back then] no one was really talking about breast cancer and, in Evelyn Lauder's opinion, no one was really doing enough for all the women that were dying," says Hurley, whose grandmother died of the disease in 1992.
It was three years later, in 1995, that Grant, her partner of eight years, was arrested in Los Angeles with a sex worker. Hurley stuck by him and, the following year, gave what was surely her most honest interview to American television host Barbara Walters. Channelling Princess Diana, she offered herself up as a woman betrayed and confused, visibly trying, as the cameras rolled, to make sense of her situation. It was awkward, painful to watch - and brilliant.
Since then, her appearances have become more guarded, the mark, perhaps, of a woman scarred by her decades dealing with the global media. Back then, Hurley lost control of her story; now, an independent businesswoman in resplendent midlife, she has wrested it back.
— The Telegraph
Share this: