Emirates Cabin Crew Tips to Maintain Beauty on Long-Haul Flights
Janetta Mackay finds out how cabin crew are trained to look immaculate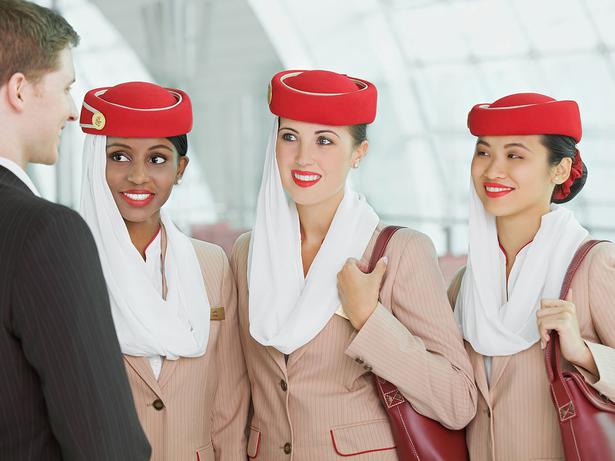 Friday March 17, 2017
Whereas most of us drag ourselves off long-haul flights looking tired and feeling grimy, cabin crew step forth looking immaculate. They help maintain the mystique and glamour of air travel. Never mind the long hours and cramped conditions, these staff are in the front line of convincing travellers that a ticket to ride is a ticket to jet-set style.
Who hasn't turned to watch as a groomed group of cabin crew click-clack past? Few are more eye-catching than the female staff of Emirates Airline, with their red lipstick and white head scarves.
During a stop-off in Dubai, a visit to Emirates Cabin Crew Training College gave a glimpse into how that professional image is shaped. With staff drawn from more than 160 countries, entering the vast high-tech building feels a bit like stepping into an episode of Star Trek.
Myriad uniformed people purposefully criss-cross the complex, many speaking unfamiliar languages. I'm signed in and whizzed up several levels, past flight simulators and an enormous staff cafeteria, and into a makeup studio to meet image and uniform training specialist trainer Pamela.
This former flight attendant and purser from Malta has not a hair out of place. She sets about telling me how staff become and are kept air-ready.
English is the mother tongue of about 15 per cent of them, with New Zealanders, Australians and those from the UK notable in being among the few recruits who typically don't speak at least one other language. Luckily, for Anglophones, English is also the language of instruction at Emirates.
For Pamela, dealing with diversity is very much part of a job aimed at delivering a consistent result.
For women staff, wearing a strong red lipstick is key to the Emirates look.
Turns out the colour, like other aspects of the uniform, has been chosen for specific cultural and brand reasons. The uniform's beige base tone references the desert sand; the colour red on uniform trim, hat and gloves is meant to convey power; and the seven pleats in the fold of the headscarves that drape, just-so, symbolise the seven members of the United Arab Emirates, of which the UAE's largest centre, Dubai, is the global airline's hub.
All Emirates cabin crew train in Dubai for eight weeks. Uniform fittings, lessons on nutrition, diet and exercise are given to all, along with grooming, skin and nail care sessions. "Men really appreciate the skincare session, because sometimes they are not as aware," Pamela says.
Women are taught about company-approved makeup and hair styles.
She tells them — and would advise passengers — to maintain moisture levels inside and out, care for skin and look for products with sunscreen included. "If you take care of the skin, flying doesn't need to be ageing," she maintains.
Choose appropriate long-wearing but hydrating products, she advises, and don't neglect to moisturise the body. If facial skin is oily use a primer and a finishing powder to help control this. Using brushes to apply foundation and lipstick will ensure it lasts longer and covers more thoroughly. Rosewater makes a good finishing mist.
One handy tip is to avoid wearing waterproof mascara in the air, because it dries out the lashes in the dry cabin environment. She recommends removing and reapplying makeup on long-haul flights, which she says staff normally have time to do. Eye masks are an extra she rates.
When it comes to hair, Pamela shows me a simple "approved" updo for mid-length styles. This involves pulling hair into a pony tail, pushing a hole into the hair above the tie and inserting the tail neatly into this, before spraying and smoothing down any flyaways.
A bun lasts better, she notes. French rolls, plaits and pony tails secured with red scrunchies are also permitted. Hair for men and women, must be off the collar. Staff are advised to carry spray or gel to keep hair neat.
READ Hair How To: Braided Updo
During flight school makeup and skincare lessons, Clarins products are used. Women are expected to wear some form of face base when on duty, be it foundation or BB cream. (Men in the crew may use only concealer.) Shiny highlighting and obvious bronzing is frowned upon.
"We want a matte day makeup, something that is comfortable for the passenger, that they don't go 'woah', look at that ... "
Eye shadow is optional and should be in the beige and brown range and blush is to be pink or peach toned, to best complement the look of the beige uniform. Nails need a minimum of clear polish, or nude, red or French finishes.
The piece de resistance lipstick is a Clarins shade called Passion, applied over fully lined lips, although graduate staff may use makeup from other brands.
"I remember the first time I tried red lipstick on, it was kind of a shock," Katie, another training specialist, tells me. "It's so powerful, but when you try it on with the uniform, it really brings the look together."
Rather than telling staff to wear a "deep red", she advises they colour match an application to their lips with their Emirates hat or uniform piping, to get the correct shade and intensity.
Once in the air, the cabin crew face regular briefings and their appearance standards are monitored by senior crew. With promotion from economy to business class, come refresher courses, with Pamela reminding staff again that image is all part of the package deal.
On my visit, I don't have time to apply the approved face, but I persuade Pamela to let me try a swipe of "Emirates red" lipstick and the hat and scarf. As she says: "It's a powerful statement."
• Janetta Mackay travelled with Emirates to Europe on a Viva assignment and stopped off at Dubai.
Be inspired by the good things in life. Sign up now to receive emails from Viva, and twice a week you will be sent the latest news, profiles, videos, fashion shoots, competitions and more.
Share this:
More Beauty & Wellbeing / Features & Profiles