Entertainer Tina Cross Shares Her Beauty Routine
Colourful looks and self-care are how this evergreen trouper stays in tune and admirably up to date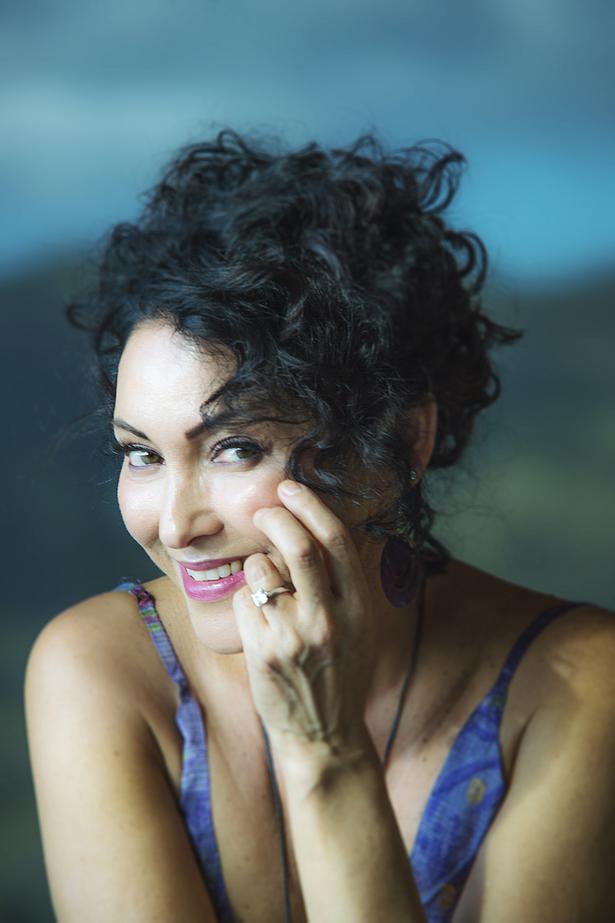 Wednesday Oct. 23, 2019
"I've always been a makeup girl. I don't go further than the letter box without a face on," jokes singer Tina Cross, who has been an effervescent stage presence on the New Zealand entertainment scene for more than four decades. She knows how to step out in style and also to do the work to maintain it. This seasoned professional who has been performing in public since her teenage years also shares her singing skills with women prisoners and works with Women's Refuge and Shine charities to raise awareness around domestic violence.
READ: Singer & Presenter Anika Moa's Beauty Routine
Now 60, Tina has gone from performing in telly song quests to pop bands and musicals. Forty years on from her breakthrough hit Nothing But Dreams winning the 1979 Pacific Song Contest concert, her contribution to Kiwi culture was recognised as part of an exhibition opened this October at the National Library in Wellington, called Pukana: Moments in Maori performance. That led to her taking part in a recent concert in the capital.
This Friday evening, October 25, Tina teams up with Carl Doy, her long-time collaborator and the writer of Nothing But Dreams, for a night of song with guests at the Pumphouse Theatre in Takapuna. Visit Pumphouse.co.nz
Here she shares her self-affirming approach to looking good.
READ: Rachel Hunter's Travel & Wellness Inspired Beauty Routine
Beauty ethos
I've become more particular with age. As my skin has changed, noticeably with sun damage, I've changed up the products to suit my skin type. During the day I would describe myself as someone who wears natural makeup with good definition around the eyes and brows. I'm a fan of the dewy skin look. I don't do heavy makeup unless I'm on stage. I don't like the feel of false eyelashes, but they are a given on a big stage where lighting can often drain your features.
Makeup memories
I started singing on telly at 16 and at that time I had no clue about makeup. Neither my Mum or my big sisters were into makeup other than some lippy, so when the makeup artists at TVNZ started doing my makeup I took note of every little detail. I used my first couple of paycheques to buy myself a basic makeup kit.
If you knew then…
I would tell my younger self to be less conscious of clothing and makeup fashion trends and pay more attention to what actually suits my colouring, face shape and my body. I'd also put more time and effort into my hair — some of my early publicity shots are cringy and mostly because of my hair. My perms during my late teens were atrocious because I already had curly hair. I wish I had the sense to invest in a hair and makeup artist for some of those early shoots. I wouldn't dare do a photoshoot without these professionals now.
Best and worst looks
Best looks: I loved my Koo De Tah techno-pop band era during the mid-80s. I had a kind of a mohawk haircut, all purple through the front. It was quite an avant-garde look at that time and I really embraced my wild side because I'd always been such a goody two-shoes. I also loved my Roxie look during the 2001 NZ production of Chicago where I got to wear lingerie on stage. I was 42-years-old with 2 young children and this role forced me to get my body back into tip-top condition. Nothing like a teeny weeny costume to make you do the mahi!
My worst looks: Definitely the perm years and maybe my pregnancies where I put on 20 plus kilos with both my children. I loved being pregnant, but it was a huge effort, particularly after my 2nd child, to get all that weight off.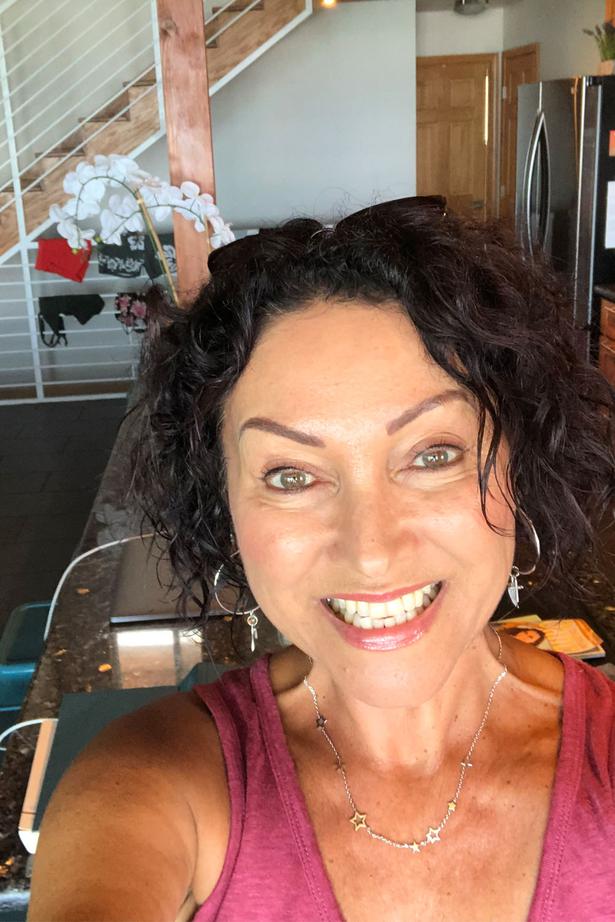 Beauty evolution
I've always preferred a liquid foundation — a lighter one when I was in my 20s and 30s. For nightwear and stage I've always used a heavier foundation and in my 40s, a concealer was needed to even out my skin tone. I started using a light eyeliner, either liquid or pencil in my late 40s even during the day. In eyeshadow colours, I've always used more earthy tones although I do love the plums and purples and occasionally green eyeliner to highlight my hazel eyes.
I never wear eyeshadow during the day unless it's a special occasion, but I have discovered that a light stroke of blusher on the lower and upper eyelid, gives my face a great lift. I'm also a blusher girl – I love the peach tones. The only time I deviated, was in my mid 20s during my techno pop phase – I used to wear bright pink eyeshadow and lipstick all the time – hail the 1980s!! During my 50s I went through an eyelash extension phase, until my own eyelashes almost disappeared. That was a rude awakening. I also had my eyebrows tattooed about 5 years ago – best thing I ever did. I have to stop myself being too heavy-handed when adding to my brows. I figure I have dark hair so I can handle it, but I know that sometimes my eyebrows walk through the door first.
Tricks of the trade
Having a separate makeup bag full of stage makeup. I'm always able to use all of my makeup by transferring across to the stage makeup bag. Lipsticks in particular are never wasted — you just need a good lippy brush to get every last bit.
Staying up to date
I'm not grey enough to go fully grey yet, but I'm a stickler for getting my roots done every couple of weeks and I regularly have my hair trimmed and styled. I believe that a great hair style, cut and colour plus good choices in clothing are paramount. Makeup is a personal preference – I'm fully in awe of women who rock the no makeup look at whatever age.
Everyday routine
I'm very strict about both day and night routines. I like a liquid foaming cleanser — before my night shower I remove my makeup with a face wipe and I follow up with the cleanser in the shower. I like a toner, followed by hyaluronic serum then Vit A, Vit B and night cream. I always use an eye cream. In the morning I repeat this routine without the face wipe and I switch Vit A with Vit C and use a day moisturiser with a good SPF factor.
My normal daily makeup routine starts with a light tinted cream, some concealer, an eyebrow pencil to lightly fill in my brows, an eyeliner for above and below the eyes. I then use some cheek blusher also adding lightly above the eyes and lastly, mascara.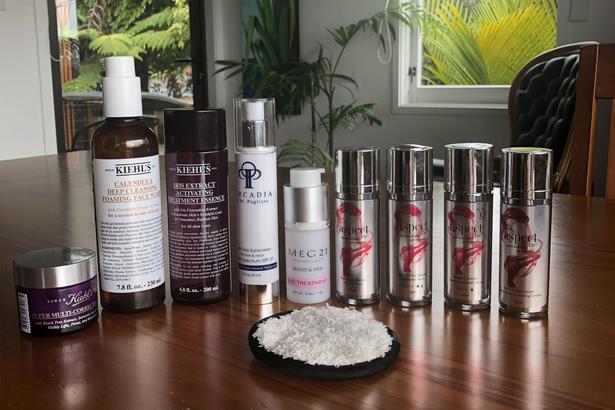 Five favourite products
1. Kiehls Calendula deep cleansing foaming face wash: It suits my skin type, making it feel beautifully refreshed and clean.
2. Dr Aspect Exfol A+ Serum: The days of using a face exfoliator are gone — this serum does the trick — night time only. Since using this I've found that my skin has been smoother and my pores are tighter.
3. Matrix Biolage Sugar Shine Heat Protectant: I swear by this for my hair, prior to blow waving. I have naturally curly hair and when I do blow wave it straight, this product is a saviour, keeping it from drying out.
4. M.A.C Lightful: This is my favourite day-time makeup and has replaced their BB cream. It's a fabulous lightly tinted cream with SPF30, in old school language it's a very light liquid foundation. I don't need much of this to even out my skin tone and colour.
5. Persian Rose by Lumira: I'm allergic to perfume I've discovered, so I now use the most amazing perfume oil. This is my favourite.
Transformation tip
Makeup wise, if I'm starting all over again, everything is heavier [for night], foundation, eyeliner, brows, mascara or false eyelashes if I'm performing plus eyeshadows, highlighters, contour powder — the works. I'll never be too old for this, it's a habit. Or I just go from flat shoes to heels.
Hair and its care
I have naturally curly hair and I can work with the curl to make it look good. I go between straightening my hair and working with the curl and I'm happy to go either way for stage. I like the Matrix Biolage hair products and also Kerastase products when working with my curls. After washing and conditioning my hair I always use a mousse to add body because even though I'm blessed with having curly hair, my hair is very fine. As well as using good hair products that you know work well with your hair, owning a good hairdryer, hair straightener and hair brushes is absolutely essential.
Treatment to try
My current favourite face treatment is Dermaplaning which is a skin treatment that uses an exfoliating blade to skim dead skin cells and hair from your face. Dermaplaning aims to make your skin's surface smooth, youthful, and radiant. It's also used to remove "peach fuzz," the short, soft hairs on your face. Begin with a laser genesis treatment. For me it's right up there with the Vampire Facial, another incredible treatment.
Ageing to you is…
Aiming for optimum health inside and out. Maintaining physical, mental and emotional wellbeing and also finding a meaningful purpose — for me, this has been the work I do as an anti-domestic violence advocate.
Beauty is…
Being comfortable in your own skin at any age. It's OK to have it high on your priority list and it's also OK if you don't give a hoot about it. Beauty really is in the eye of the beholder. The most important person looking at you, is you.
Share this:
More Beauty & Wellbeing / Features & Profiles